The Gift of Gears: Newark Bike Project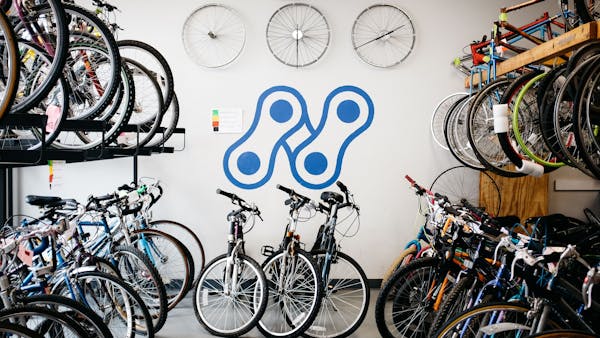 the Newark Bike Project (NBP) has been providing affordable, healthy means for transportation to the relatively small town of Newark, Delaware since 2011. Accepting donations from residents, businesses + collecting discarded bikes from the University of Delaware campus, this nonprofit has cemented itself as a Newark staple, offering a fully stocked bike repair shop, riding lessons + other services to the community. We visited their shop along Main Street and spoke with founders Jamie Magee + Niki and Justin de Leon to learn more about what inspired the creation of NBP + what they're doing to improve bike-life in Newark!
hg: what inspired the creation of the Newark Bike Project in 2011? How did the nearby Urban Bike Project in Wilmington help shape the vision of NBP?
niki: we see the beginning of NBP as taking place in almost two stages. The first stage was that I had been working closely with Urban Bike Project (UBP) in Wilmington as a dedicated volunteer with the youth mechanics + saw firsthand the impact that UBP was having with youth in the community. Knowing this, I wanted it to expand into other areas of Delaware. When I began to do my studies in Newark, it felt natural to expand UBP's efforts there.
Along the way, one of the things that resonated was this idea that…
"…you should always leave a place in a better condition than when you first arrived."
So, when graduate opportunities opened up, I knew that I was going to be in Newark for longer and wanted to impact the community in a positive way.
The second step was finding a handful of other folks that were also willing to work for the creation of a community serving organization. It became clear that there were two main desires that a bicycle organization could meet: providing a sustainable + accessible means of transportation and allowing for a space for community interaction. These two motivating forces pushed the founders to institutionalize a community focus through the mission statement + to build the foundations of a bike oriented nonprofit.
Throughout our time building the organization, we and many of those we interacted with, wondered why there wasn't already a bicycle oriented community shop in Newark. As we began NBP, it became clear that this service in the community was needed, and people were eager to learn, teach + interact at the bike shop. Even after just a short period, NBP already felt like the organization had been around for some time.
hg: in what ways do you encourage + support more biking in the area?
jamie: we offer cycling equipment, tools and knowledge in a no-pressure workshop run by volunteers who love bikes. By teaching people how to select a bike and do their own basic repairs, they can enjoy a better cycling experience, rely on cycling for farther distances and for transportation. We also offer weekend youth programming which empowers kids to use cycling to better their community.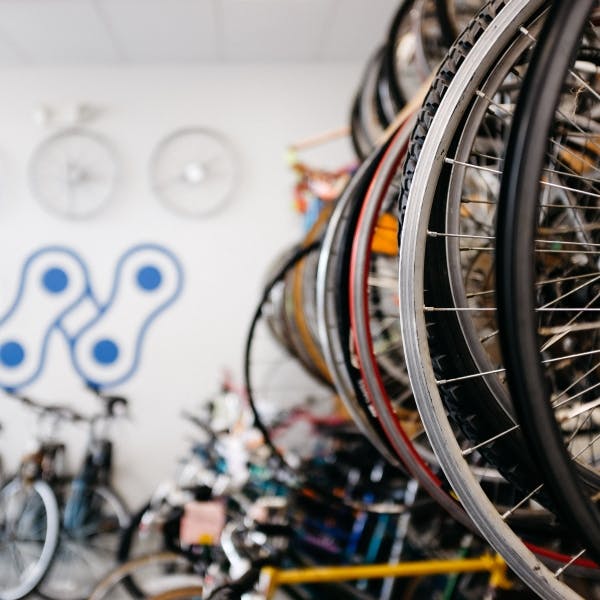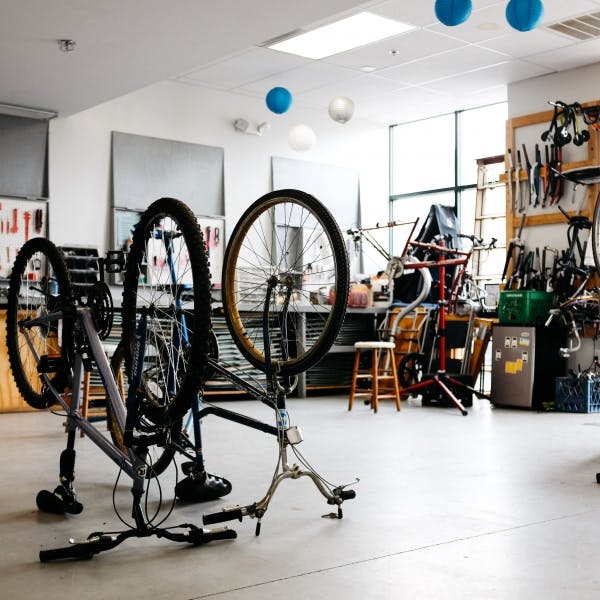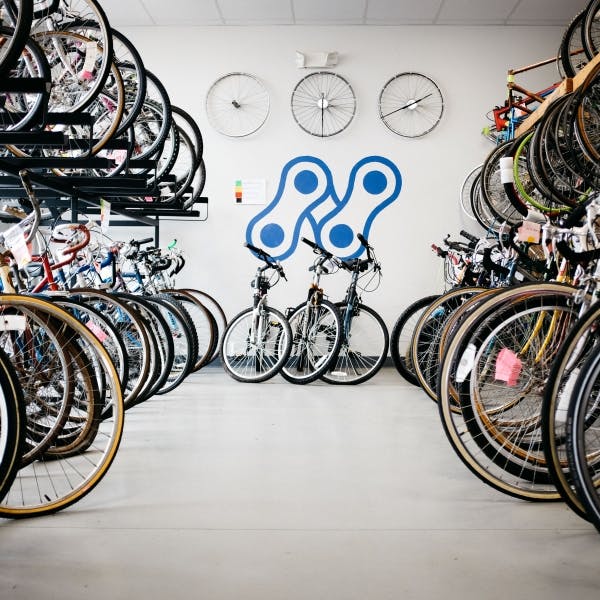 hg: with Newark being such a small town, how bike-able is it? Are there ways infrastructure could be improved to allow more convenient access for bikers?
jamie: the downtown area is fairly well marked with bike lanes on most major roads, and there are plans for a separated lane across the city along Delaware Ave. There are quite a few points where you're mixing in with car traffic, but it's getting better, especially as certain major intersections are being redesigned. More bike parking for the growing number of apartments + retail areas would be helpful. Currently, you'll find overcrowded bike parking causing cyclists to lock up along fences and railings, which is a problem.
hg: is the project actively involved with any city development planning to help promote bike-ability?
jamie: we have enough keeping us busy as the only Newark organization focused on bicycles, repairs + cycling empowerment, so we don't have much time for active planning advocacy. But we have participated in road share planning field trips with local authorities, and we offer our input when asked. One of our leaders, Heather Dunigan, is a principal planner with the local metropolitan planning organization WILMAPCO, and she also helps direct BikeNewark (formerly the Newark Bicycle Committee), an advocacy group, which collaborates with the City's planning + traffic departments, as well as the State Department of Transportation.
hg: do you partner with any other local businesses for events, classes, or in other ways to support each other? If so, who are some folks who've aligned themselves with a more bike-centric Newark?
jamie: we partner with local public elementary schools to provide bikes + equipment for kids to earn need-based bikes and to more easily bike to school. We set up mechanic stations at several outdoor bike-related events throughout the year, such as the Mayor's Ride, UD student move-in day and several safety pit stop events around town. We have also done fundraisers in conjunction with local restaurants, such as our friends at Grain Craft Bar & Kitchen. We have joined several other community based organizations in Newark to work toward a "wellness loop" event that would be…
"…a week of community-oriented events combining art, food, exercise, wellness, and transportation."
hg: what are some tips you'd have for someone looking to bike around the area? Any suggested routes to avoid Main Street, but still access the bulk of Newark's commercial/educational hub?
jamie: Google Maps has a useful "biking" overlay you can turn on that shows bike friendly roads with updated map data for Newark. Cycling is currently not permitted on sidewalks on Main Street between the Newark Library and South College Avenue, or anywhere that bike lanes exist. Main Street can be very bike-friendly if you ride in the center of the lane, especially the right lane since it is marked, although either is legal. There is not really a way to avoid Main Street entirely if you want to get to Main Street businesses, but you can use Delaware Avenue's bike lane eastbound, and—very carefully—on the sidewalk westbound, making sure to go slowly, yield to pedestrians, and call out or ring a bell before passing any pedestrians. We have brochures at our shop on safe riding tips in Newark.
hg: how do you interact/engage with the ever-changing student population of Newark? Do you partner with the university in any way?
jamie: we receive many of the abandoned bicycles from University of Delaware properties that no one claims after three months. We have partnered with the UD Mechanical Engineering Department to offer a one credit workshop in bicycle mechanics for those choosing a bicycle accessory as their second year design project. We have partnered with the UD Assistive Medical Technologies club to do a full overhaul of an adaptive cycle for a disabled child. We have also collaborated with other units at UD for various advocacy, wellness and educational purposes. One of the best events we do is a private maintenance class with the Blue Hen Veterans, a UD student veteran club, in preparation for their annual Face of America charity ride to benefit veterans + adaptive sports.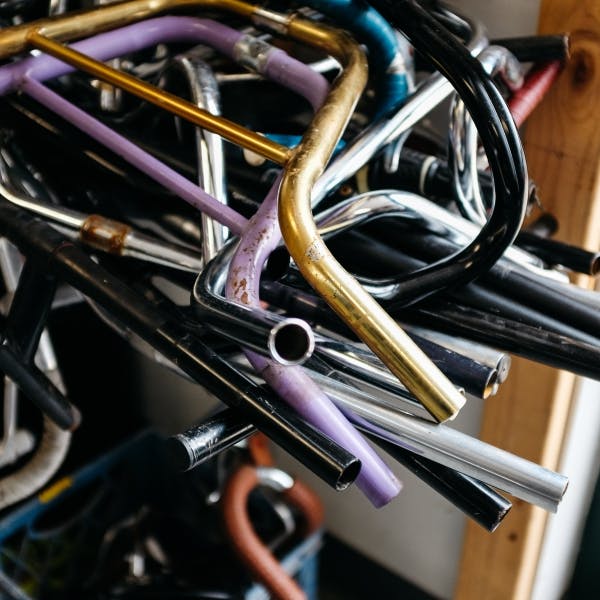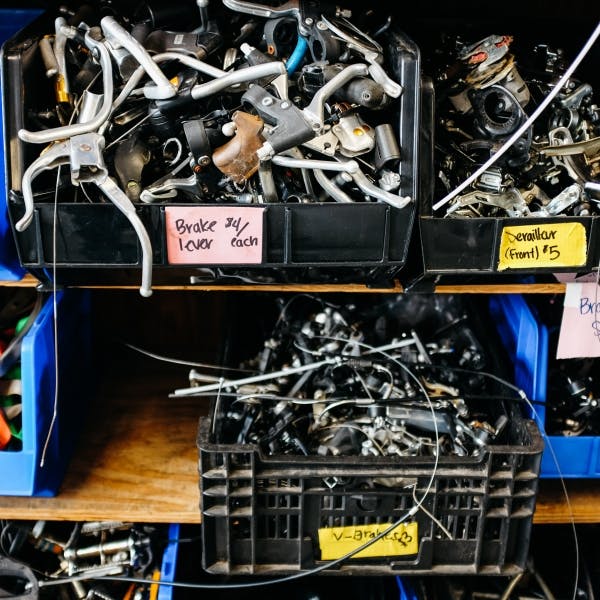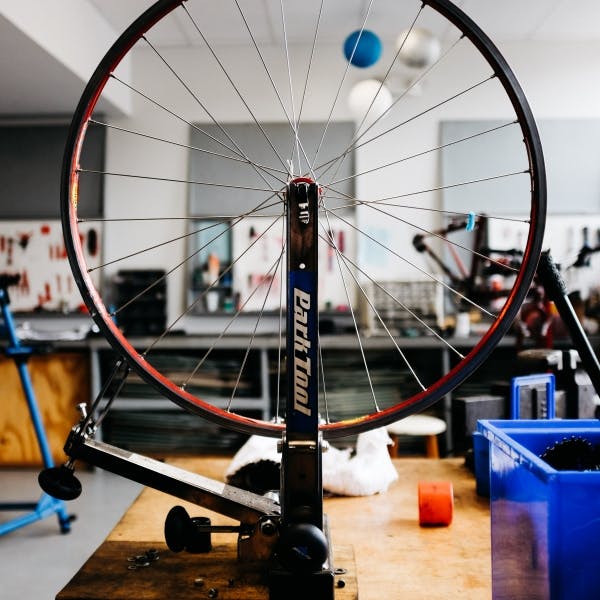 hg: what is biking-life like in Newark when the University of Delaware students leave? Do the residents make their way back onto the streets? Is it easier to navigate in a non-student filled Newark?
jamie: summer is a great time to bike in downtown Newark since there are fewer cars + pedestrians. It's also one of the only safe times of the year to use UD's extensive sidewalk systems, where cycling is legal, however cyclists should always ride predictably + carefully, yielding to any pedestrians. If you think of every bicycle in downtown Newark as one less car, then you can see why cycling is good for the downtown's ability to accommodate more suburban visitors who do need a car to visit.
hg: do you host any group bike rides around the area? Where can we find more information on upcoming trips? Are there any other events or workshops that you host?
jamie: we currently do not directly host many rides, but our volunteers + tools show up on the annual Mayor's Ride, as well as monthly "First Friday Rides," which depart the Newark Shopping Center parking lot every first Friday of the month at the end of the business day. All are welcome, and they always end at a local watering hole for indoor fun too! We may do some beginner friendly bike-packing camping trips or mountain biking rides in conjunction with our friends at Delaware Trail Spinners and / or White Clay Bicycle Club.
hg: how can folks go about donating a bike to the Newark Bike Project? How can they go about submitting a request for a bike which has been donated?
jamie: donations of adult indoor-kept bicycles are always welcome at our shop during published hours. Hours change each semester and sometimes often, so please check our website, Facebook, or Google Maps info before coming in. Those who cannot afford a bike can apply for a free bicycle with a letter of reference from any local social service organization, such as an employment agency, homeless shelter, or human services agency. The Free Bike program is outlined on our website.
visit Newark Bike Project's website or Facebook for more information + to learn how you can donate your own used bike or parts!