Local Suds: Atlas Brew Works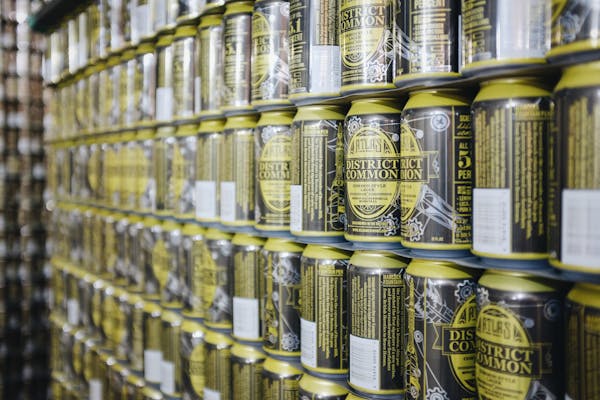 something sustainable is brewing in Ivy City… serving as DC's first + only 100% solar powered brewery, Atlas Brew Works is creating delicious craft beer while trying to set a greener standard for breweries nationwide. We met with Atlas' Founder, Justin Cox, to learn more about their home-brew history + sustainability goals, as well as what food pairs best with each offering.
hg: tell us a little bit about yourself + your background. Was beer always a part your "five-year plan?"
justin: I grew up in Northeast Tennessee + went to school in Nashville. I moved to DC shortly after graduating, chasing a girl up here. Then I started working, doing business consulting stuff for a while, then I went to law school. After law school, I was working for the federal government, doing real-estate finance. In the meantime, when not working in DC, my girlfriend bought me a home-brewing kit, like the little, crappy Mr. Beer kit, and…
"…I became obsessed. I would wake up in the middle of the night to watch the yeast with a flashlight."
I kept getting more and more into home-brewing, and got to the point where I just really hated my day job. I started entering some home-brewing competitions and winning awards—it was sort of the perfect storm of getting affirmation from the home-brewing side + hating my day job, so I said, "Screw it! I'm going to start a brewery!" I got the plan, money + permits together, and opened the doors up in 2013.
hg: what are your specialties in home brewing? What kind of beer?
justin: one of my recipes was turned into one of our flagship recipes at the brewery, Rowdy. Technically it is a hoppy rye, but not really in the traditional category—it's a bit darker in color, and about 15% rye. Not really a rye pale ale either because it isn't pale in color, but it's in that genre.
hg: what inspired the creation of Atlas Brew Works in 2013? Why DC?
justin: well number one, I was living here, but I also thought the beer market was ready. We were only the fourth brewery to open within DC. It was important for me to be within the District proper (even though it's a little bit harder to do business here regulations-wise than to be in Virginia or Maryland) because of the whole DC district pride. When I was looking at the business plan side of things, there were no breweries open, and DC had been a big beer town for a long time. We had a Belgian craze come through in the mid-2000s, and DC has really strange laws in that bars can import their beer without going through a distributor—sometimes without the brewery knowing that they're doing that. We've always had this culture of beer exploration, and I think people were ready for some locally-made beer.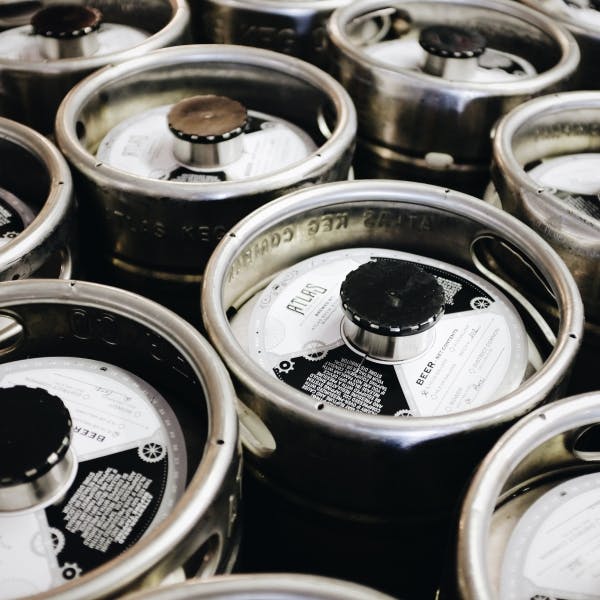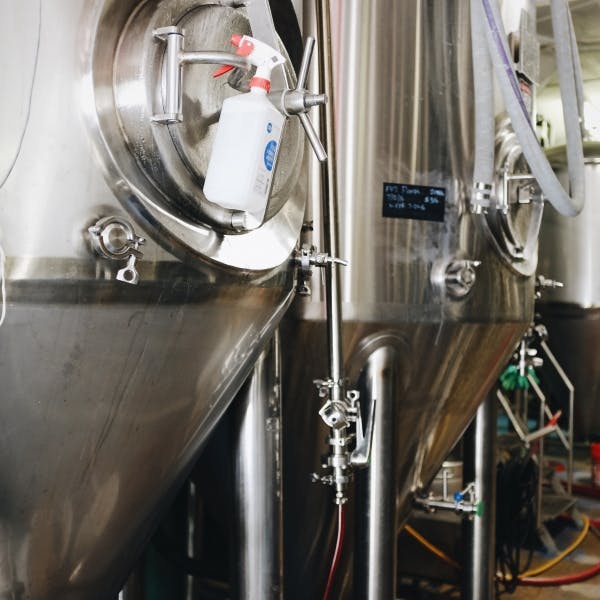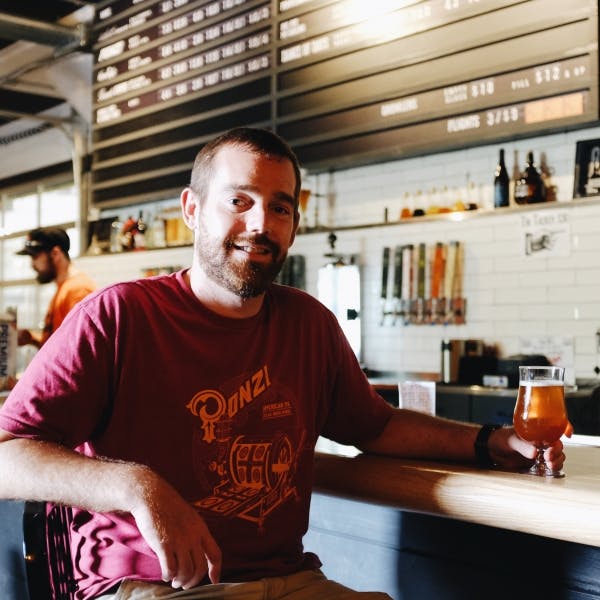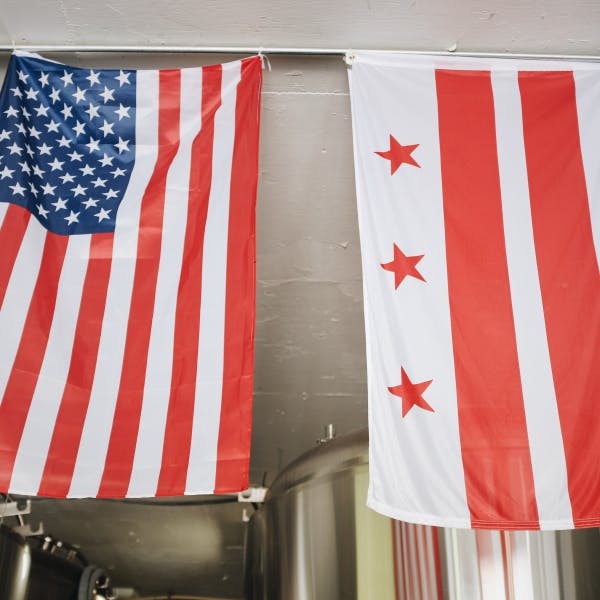 hg: the DC brewing scene seems to be expanding as the city continues to redefine itself as more than just a national tourist spot. What do you feel contributes to this? Is it just the "craft beer movement," or something more DC specific?
justin: I think it's all of those. Craft beer in general is growing crazily because…
"…people are starting to pay more attention to what they're drinking, and they want to drink good beer…"
…which helps in the overall picture. The craft beer movement itself is turning more locally focused. There are breweries popping up all over the country, and beer is a very perishable item. The fresher the better really. People are focusing more on the local side of things in consumables, and especially in beer. The combination of that, along with the fact that DC is exploding population-wise; people are looking for some new hometown-made beers.
hg: describe the DC network of brewers; Is there a camaraderie amongst DC-area brewers? How do you work together?
justin: absolutely. I think there are only six production breweries total in DC. Adding brew pubs in, we are probably at around eleven. There is a formal network. I am on the board of the DC Brewers' Guild. We formed a year and a half ago, which took a while because the scene is so new. All the breweries are so new that trying to get a bunch of people trying to run a new business to take time away to organize a whole separate organization is a bit tough. All the people on the board are people from other breweries, and less formally or so, we're all friends. We all borrow stuff from each other. We try to find excuses to have events together so we can hang out.
hg: what do you feel sets Atlas Brew Works apart from the others in the area?
justin: we have a very unique brewing style. The beers that we brew are definitely not in the traditional categories, but they're not completely out there either. We take a traditional beer style and put our own rift on it. We try to stay in balance with our beers as well, which I know with some of the trends you have to go either super hoppy or make with high levels of alcohol. We're trying to make nice, well-balanced beers that you can drink every day.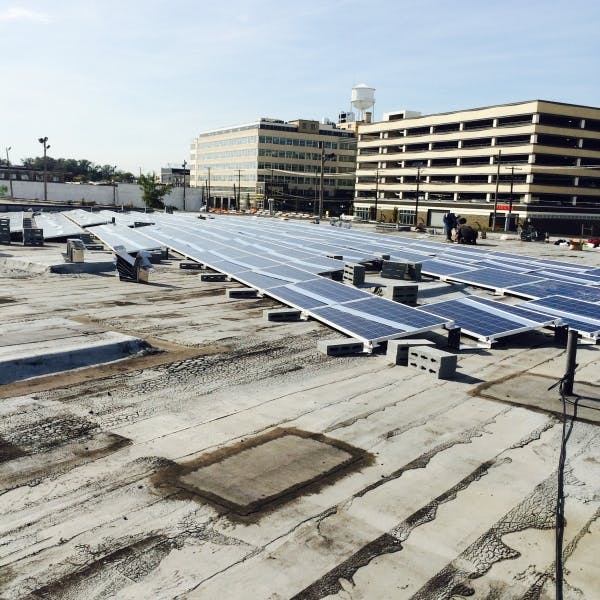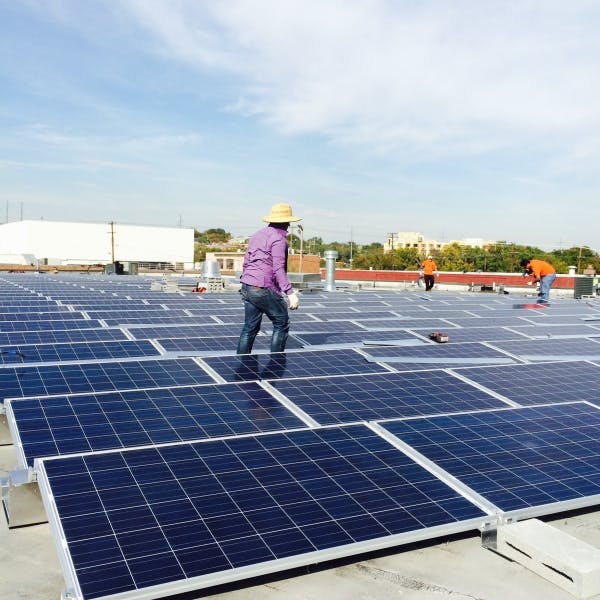 hg: you are DC's first 100% solar powered brewery. What inspired this focus on sustainability + was it a challenge to switch to 100% solar power?
justin: "The inspiration for it was trying to be a good environmental steward. Breweries are hugely energy-intensive beasts."
We just heat things up and cool things down all day long, and for some reason we get a huge pass on the environmental movement because everybody likes craft beer. So we're trying to do our part. We have this beautiful roof that is flat, unobstructed + gets sun all day long, which is perfect for solar panels. It was a little difficult to deal with the landlord. He didn't really understand what solar panels were, and there was some pushback. After finally getting through that hoop, the actual installation + the hookup of it was super easy.
hg: you also choose to can the majority of your beers—is this also part of your focus on sustainability + the brewery's carbon footprint?
justin: the number one reason for canning beer is that it's way better for the beer than bottles. Light + oxygen are the two main enemies of beer, and even in the brown bottle with a cap, both of those are going to get in. With a can, once you put the beer in there and seal it up, nothing is going to get in that was not in there to begin with. The secondary benefit is definitely the environmental portion of it. They're one hundred percent recyclable. They weigh less so we use less fossil fuels when they're being shipped + distributed. That absolutely was a part of that decision.
hg: our South Jersey neighbors, Flying Fish Brewing, also employ sustainable practices. Do you foresee this becoming a trend nationwide? Is this type of practice feasible for even the smallest + largest of breweries?
justin: I hope that it becomes a trend. It is difficult because when you're a small business with very limited resources, you have to be very strategic about where you make your investments. Number one is always trying to grow your business. The sustainability aspect of it is almost a side thought. This may also get into an even larger policy discussion of what the government incentives are out there. I hope people will do that. There are other smaller things you can do. For example, our spent grain, one of the byproducts of our process, we give to a local farmer, who uses it for feed for his animals. Otherwise, it would be going into a dumpster, and there's a lot of it. Little things like that are becoming very standard in the industry, which is a great thing.
hg: what's next for Atlas? Any plans for another location or even more sustainable practices?
justin: no plans to move any time soon. In fact, the tap room you're sitting on now we actually just built this out—we've been open for about six weeks or so. This was a large project that took a while to get up and going. We're pretty proud of it. We're always looking to expand sustainable practices. I don't have any large initiatives on the horizon, but we're always looking internally at little things we do, and making sure we're recycling everything we can. We're trying to build little things like that into our everyday life.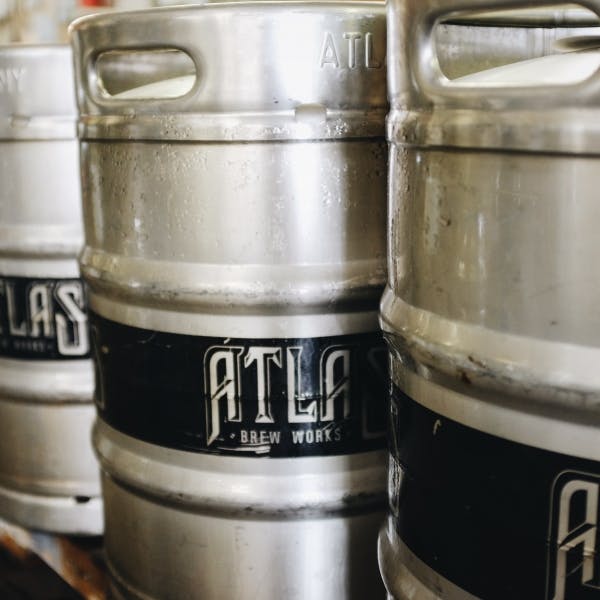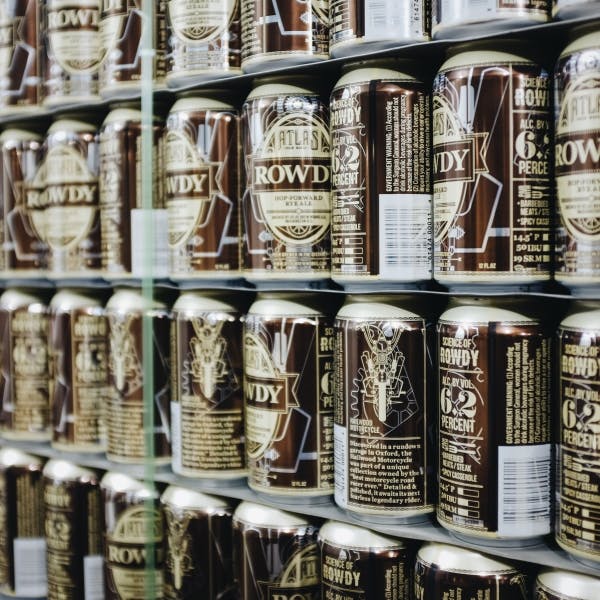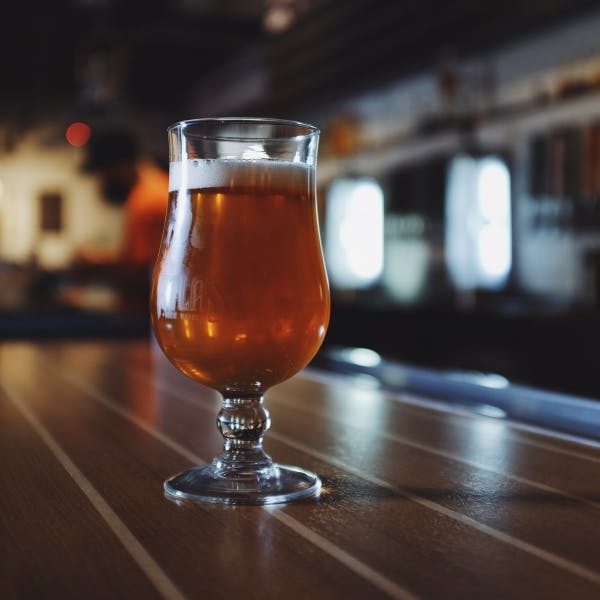 hg: what are some of your top selling brews? What is your personal favorite?
justin: in the tap room, our two top-selling beers are Ponzi, which is our relatively new West Coast style IPA, and that's about even with the 1500 South Cap Lager, which is kind of a German-style Helles. That beer we brew for the Washington Nationals, also the address of their stadium—1500 South Capitol Street. It's a really easy drinking, beautiful, ball-park beer if you're sitting out in the DC heat in the stands, very nice + quenching. Out in the market, it would be our District Common and Rowdy. Our three flagships are District Common, Rowdy, and Ponzi. Of those three, District Common and Rowdy have been even, although they're counter-cyclical. We sell a lot more District Common in the summer than we do Rowdy, and it flips around in the colder weather, which I believe is a reflection on those style of beers—some are more appropriate for heat or cold. Ponzi has been coming up the charts, though. We didn't do an IPA on purpose for a long time because everybody does it, and we kind of wanted to establish ourselves outside of that. Once we did, we decided to make a kick-ass IPA, and I think we did.
Personal favorite is a tough question. It depends on the day, the mood, and where I might be. We're actually releasing three new beers today for the summer. Instead of doing one summer beer in a larger batch, we decided to make three summer beers in smaller batches. They're all pretty delicious. They're all named after songs too. We have Rye Rye My Darling, meant for really easy drinking. We have Should I Stay or Should I Gose, our first stab at a kettle-sour Gose. Then we have Dance of Days, which is a hoppy pale wheat. We've also recently changed up our dry-hopping regime. We're really getting a whole lot more of the aroma and dankness out of hops now.
hg: what contributes to the naming of your beers?
justin: they're kind of all over the place. District Common is a play on the style of the beer—on the California common name and The District. Rowdy—that name we tried to come up with something that flowed well with "rye." We also wanted something to show that it was little bit more aggressive, but not crazy. Rowdy ended up being a perfect name for that. We talked about the ballpark beer. Town and Country is a Belgian strong ale, which we age in some of the local red wine barrels so the name was the idea of beer made in the town with barrels from the country that come from Northern Virginia. Home Rule, which is our India Pale Lager, is the name of the act that allows DC to have its own city council and mayor, back in the late '60s and early '70s. Before we were a straight ward of Congress, and couldn't make any decisions. So that one's kind of an image of the enlightenment in DC. Then we named the summer beer series after a couple of Misfits songs.
hg: any new options brewing as we speak?
justin: not as we speak, but we are hopefully next week installing a three-and-a-half-barrel pilot system. Currently, we have a two vessel, twenty-barrel brew house, so this will be a much smaller three-and-a-half-barrel brew house, but we can use that to play around with + do a whole lot of experimentation. We can put stuff on here in the tap room, and if something hits then we can scale up and put it out and market for a little bit. It's also the perfect size so the yield from that should be good enough to fill up two oak barrels. We've been experimenting with some smaller batches of oak-age stuff. Short answer is yes. Lots of new stuff coming up.
hg: are there any favorite foods to pair with your beers? Do certain brews lend themselves better to different foods?
justin: I love that you asked that question because it's something we pay attention to. We have food pairing suggestions on all of our cans. There is a lot of thought on what beers pair with food, and whether they should complement or contrast. Anything spicy goes well with a nice, large hop presence. Sort of the bitterness of it plays well with the spice. California Common is a super easy drink, and it will really go with anything. It pairs really well with lighter proteins like oysters. The Rowdy is a little bit more aggressive, and has a bit more roast and caramel in the middle, which goes well with grilled meats. That kind of caramelization on the skin of the protein pairs well with the caramel in the middle of the beer.
hg: is there anything else going on in the world of Atlas?
justin: we're also having our third anniversary party on September 10th! We'll be opening up the entire brewery, and we'll have some bands coming to play. We'll have some food vendors come out, and maybe some face painting + things like that. Hpefully, we'll release an anniversary beer as well.
follow Atlas Brew Works on Instagram, Facebook + Twitter for updates on new brews and visit their tap room in Ivy City for a tour of the brewery!