Hgspotlight - Jasmine Chiaramonte, Ultramarathoner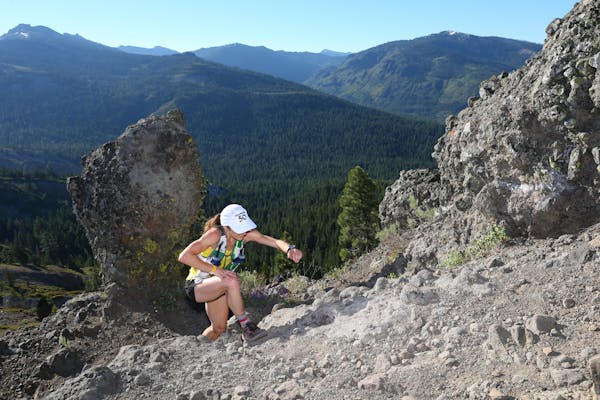 Jasmine Chiaramonte holds more than just the title of honeygrow's VP of Finance - this vegetarian and mother of three is a beyond-accomplished ultra-runner. Needing a flexible method of keeping fit (while also having an excuse to leave the house), Jasmine took to running and was quickly on her way to completing ultra-marathons. Her current personal distance record is 119 miles in a 24-hour event, with hopes to break 130 miles in an upcoming race in May 2019.

hg: have you always been a runner?
Jasmine: Kind of? I ran a little in high school but took a 13-year break to have fun in college and then to start a career and family.
hg: what inspired you to start running such long distances?
Jasmine: After I had my second son, I realized that I needed to start doing something for myself and wanted to get out of the house. Running was easy because it didn't require a set time or place like a team sport or scheduled fitness class. You can run whenever and wherever your schedule allows; having that flexibility made it easy.
hg: what's your secret to training for long distances?
Jasmine: Consistency. The nice thing about long races and endurance events is that you don't have to be a naturally gifted athlete to be competitive; you just have to be willing to put the time into training. Being a little stubborn also helps.
hg: what do you listen to on these super long runs?
Jasmine: I don't run with music very often. During the week, I do most of my training in the dark. I have to wake up really early to run before it's time to get the kids up and ready for school.
hg: do you know how many total miles you've run in your lifetime? Or in the past year, 2018?
Jasmine: I have no idea on lifetime miles, but I joined Strava in 2017 which does track totals. I ran 2,960 miles in 2018, my goal for 2019 is 3,600. I signed up for a 48-hour race in August so I expect to be running a lot this year.
hg: what is your dream running destination or race? What do you think would be the ultimate running experience?
Jasmine: I have lots of bucket list races! Last year I was lucky to scratch one off my list when I got a golden ticket to the Western States at the Georgia Death Race. The Western States 100-mile Endurance Run is the original 100-mile race and extremely difficult to get into through the lottery system. My hope this year is to run the Spartathlon. It's a 153-mile race through Greece that traces Pheidippides historic run from Athens to Sparta.
hg: what do you eat when you are training? Do you have a go-to pre-race meal?
Jasmine: For pre-race meals, I try to keep it simple with a bagel and a banana or some granola with almond milk.
hg: Do you have any advice for someone who wants to transition from marathons to ultramarathons? Dietary/training/etc?
Jasmine: The main training difference for me has been running slower in order to gradually increase my overall volume while trying to avoid any injuries that come with the higher mileage. You also need to practice eating while training to see how your body reacts to different foods. You can get through a marathon without any solid food, but when your races take 5-25 hours, you need to eat!
hg: what's your favorite food to refuel with after a race?
Jasmine: I will basically eat anything that gets in my way unless it's meat! I also enjoy a post-run beer or three.
hg: how long have you been a vegetarian?
Jasmine: 8 years
hg: what's your go-to dish at honeygrow?
Jasmine: Red Coconut Curry with whole wheat noodles or the Make it Grain Salad. And I always add a honeybar.