Give Your Winter Some 'soul'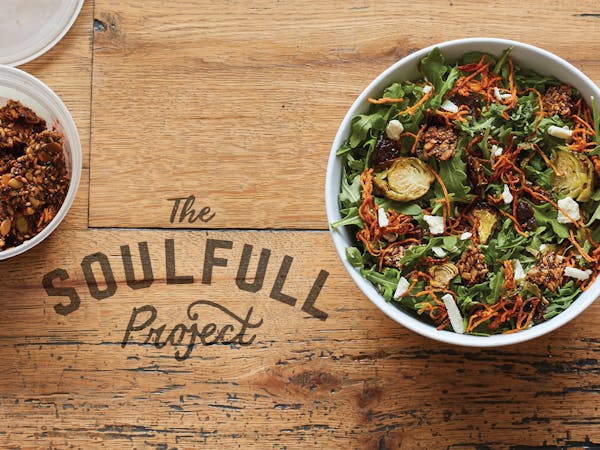 To ring in 2019, we've launched our new Winter seasonal items—the Vegan AF stir-fry + the Soulfull Oats Salad (S.O.S.)—and while we're excited about both dishes, we're especially stoked about the delicious housemade multi-seed crackers in the S.O.S. These vegan + gluten-free crackers are made with Hearty Grains + Seeds from The Soulfull Project. Based right down the street from our HQ in Philadelphia, The Soulfull Project was born to inspire true action + support local communities by donating to local food banks where their products are sold. Thanks to their amazing work, honeygrow will be donating with The Soulfull Project at various food banks based on the quantities of the S.O.S. salad sold this Winter. We got to catch up with Chip Heim + Megan Shea, co-founders of The Soulfull Project to learn more.
hg: what inspired you to start The Soulfull Project?
chip + megan: we started Soulfull because of an experience we had while on a business trip in Texas. We unexpectedly met a family struggling to put food on the table. The mom and her three kids were living hand to mouth and had no food in their home. We left there with a heavy heart and made a promise to do more than just give them extra food + money. We wanted to make a real impact. But to be honest, we got home and back to our everyday lives and didn't follow up on it. Life just got in the way. It's one of those things I think everyone experiences at some point…you mean well, but somehow, you just don't follow through.
So, a year later we were working in a warehouse in Camden, NJ, and there was a knock at the door. It was a Mom and her kids asking for extra food for dinner. We gave them what we had on hand, but as they walked away, we realized…we didn't really help them, and it reminded us of the family in Texas and our promise to help. So, that night we sat down and created The Soulfull Project.
hg: how do you source the ingredients in your products?
chip + megan: we wanted our ingredients to be clean and easy enough to understand that even our kids could read them. We chose things like steel cut oats, rolled oats, chia and flax seed. Everything is non-GMO project verified, and our products are vegan + whole grain stamp approved. We created the blends so all you have to do is add hot water, let it sit for a few minutes + its ready to go.
hg: how did you come up with the recipes for each product?
chip + megan: we had chefs help us develop each product. It was a lot of experimentation and all sorts of trial + error. We are all picky eaters so making us happy is tough. While it took a while to get there, we absolutely love these blends. It's an easy way to get good ingredients into your diet. We all seem to be short on time, but that doesn't mean you have to eat things that taste lousy or aren't good for you.
hg: how does purchasing a Soulfull Project product help benefit local food banks?
chip + megan: we wanted the impact to be meaningful and something you feel good about, but also easy to do. So, we created a local "buy one give one." For every serving of our wholesome hot cereal you purchase, we give a serving to a food bank in that same region. You get a good breakfast, and so does your neighbor in need.
With our new partnership with honeygrow, we can make an even bigger impact! Now whenever you stop into a honeygrow and pick up an S.O.S. Salad, we donate a serving to a food bank in the same region. The salad is AMAZING. The honeygrow culinary team created a cracker with our cereal, and we can't stop eating them. It's a new + delicious way to "buy one, give one."
hg: how are the local food banks chosen?
chip + megan: we were looking for a way to help not just our community, but every community across the country. Feeding America has a network of food banks that cover every community in the US. We partner with the 200 regional food banks in the network. Those regional food banks get the food to even the smallest food pantries in your neighborhood.
But we didn't want this to just be about dropping off food. We wanted to get to know the food banks and see what each community's needs are. So, we have been on a mission to personally visit every food bank partner. So far, we have been to over 100 food banks. We love these visits because we meet the amazing people at the food bank, drop off donations and even volunteer. It gives a chance to connect and really see what impact we can have as our company grows. We documented the first 100 days of The Soulfull Project on our Facebook page in the hopes that the people we met will inspire you too.
hg: why cereal?
chip + megan: we started with breakfast because if you start your day off with something good, then it sets the tone and makes the rest of the day better. We wanted to make the day better for everyone. So, we talked with the food banks and learned that many people who use food banks are considered "working poor" and that basically means that they were living a normal everyday life but one day had a major medical issue or lost their job. Just like us, they need good, wholesome food. We also learned that there is a big need at the food banks for breakfast foods like oatmeal and so we created our line of hot cereals with the idea that we are all equal and we all deserve the same quality food. So, we give the same product that we sell.
hg: what are some unexpected culinary creations that can be made using The Soulfull Project products?
chip + megan: we LOVE to experiment and play with new recipe ideas. You can make all sorts of things with our cereal… Energy bites, Granola mixes, even pancakes and waffles! But if you want to try unexpected…how about our "savory grains with kale + parm" or our "4 Grain Bacon and Eggs," or even our "Hearty Grains + Seeds Fruit Pizza." My personal favorites are the cup hacks, and my favorite cup hack is the cinnamon spice latte. You simply fill our cinnamon spice cup with hot coffee instead of water and then add a little creamer and it's AMAZING! Check them out on our website.
hg: what can someone to do to help?
chip + megan: part of our mission is to inspire people to get involved in their own communities. We have set out to prove that with even 1 hour of your time, you can make a huge impact. When we launched Soulfull, we challenged ourselves to do 100 volunteer events in 100 days with our first three giving partners. Every day we tried a different activity and we saw first hand how impactful an hour of your time can be. From packing senior citizen boxes to helping with the kids back pack programs to picking fresh vegetables at local farms to serving meals at places such as Cathedral Kitchen. We not only learned a lot, but we met the most amazing + inspirational people. They are the real heroes. You can be a hero too. I guarantee you that if you volunteer one time, you will see how amazing it is and you will be back to do it again.
If you check out our website, you can check out the list of food banks and find one close to you. Go to their website and click "volunteer." It's that easy. If you want something even easier, stop by your local honeygrow and try the S.O.S. salad. For every S.O.S. you buy, we give a serving to a food bank in the same region. Or do both!
hg: what's been the biggest achievement for Soulfull so far?
chip + megan: when we started, we set a goal to donate 1 million servings by 2020. We are extremely excited to announce that we hit that serving total a year early! We are now shipping out the 1 million serving donations to the food banks across the country. This is something that means so much to us. We are just the ones making the delivery, but all the people that purchased Soulfull are the ones that are making the donation, and we are proud to be delivering it for them. You can even track the latest donation totals on our website to see the impact you are having.
hg: what's next for Soulfull?
chip + megan: our dream for Soulfull is to create a company that gives you an easy way to help a neighbor in need through every purchase you make. Imagine how amazing it would be. You could walk down the aisle of your favorite food store, buying the things you normally buy, and at the same time, you are feeding a local family that needs your help. Our cereal is where it starts, but it's just the beginning. We are working on new flavors + new products, but whatever we decide to do next, just know it will help someone in need.
hg: where can we find your products?
chip + megan: we are so excited and appreciative to be available at Wegmans, Sprouts Farmers Market , ShopRite, Giant, Shaws, Stop + Shop, Roche Brothers, Fairway and many more.