Featured Artist : Conrad Benner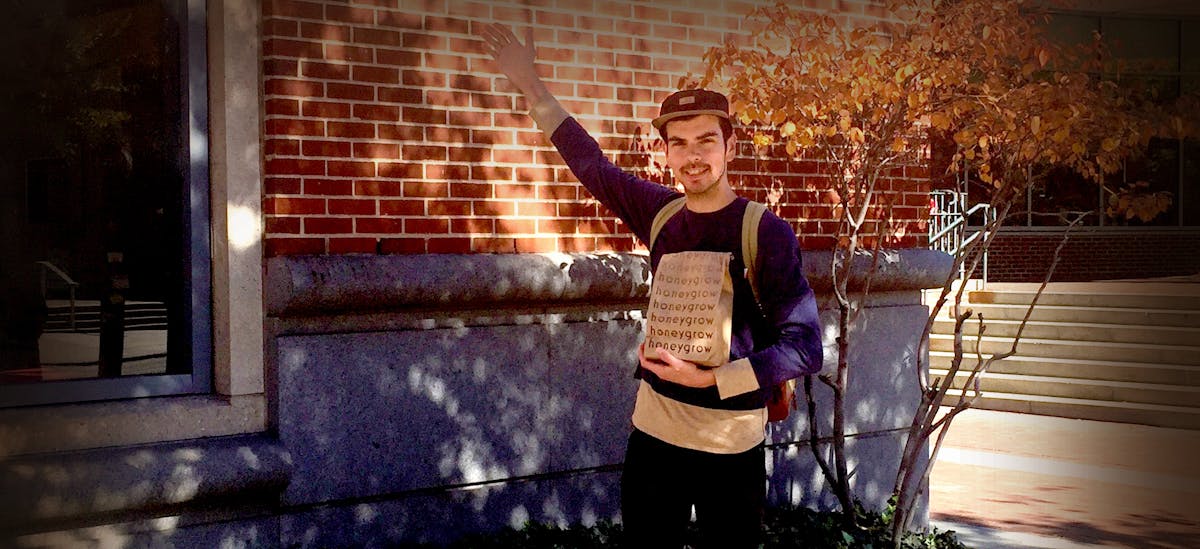 Conrad Benner, lover of all things Philadelphia, is the man behind StreetsDept and the awesome photo series that adorns hgUPenn's walls. They capture his perspective of West Philly as seen through his iPhone lens. As fellow Philly lovers, we had to know more about how he turned his for this city into his career. We spoke to Conrad while he was enjoying a little time on the West coast.
hg: how did StreetsDept get its start?
conrad: I started blogging when I was 21. A friend of mine was an intern at Philebrity and she asked me to co-write a column about what young people were doing on the weekend. I wrote that for her one summer and from there I got a lot of opportunities to write for a bunch of blogs in Philly like Philthy and Phrequency. After a while, it started to feel unfulfilling–I wanted to own something…
"…I wanted to tell a story about Philadelphia and I wanted to tell it the way I wanted to tell it."
Most of the articles I was asked to write were really text based and I was interested in photography. The way I told stories was best through photography and I grew up loving street art, graffiti, photography, architecture and exploring the streets of Philadelphia. So, I started StreetsDept. At the time, there was not a Philly street art blog, and there still isn't one that is based in Philadelphia. I wanted to create a space for our booming art scene and do something I loved.
hg: how has your career progressed since the beginning of the blog?
conrad: once I started StreetsDept, it blew up really quickly. Within the first three months, one of my posts about ishknits was picked up by Etsy; Time magazine bought one of my photos and put it in their actual print edition, and one was in a calendar. Philly ad agency, Quaker City Mercantile, contacted me and they said, 'More of our brands want a presence on social media, and we need someone who knows what they're doing. Would you like to interview with us?' So I became the Global Community Manager for Hendrick's Gin. I had only taken like two college classes, so it was exciting. I was eventually Director of Social Media for the company. I was there for four years.
hg: did you grow up in Philly?
conrad: yes! Born and raised; born in St. Marys' hospital in Fishtown.
hg: did you have any prior photography experience?
conrad: no, I always just loved photography. So, growing up I collected two types of books—ones about architecture and cities—and the others about street art and graffiti. Growing up I never really had a camera, so I would take pictures with my flip phone and text this random number to post on it twitter (laughs), remember that? So, I would take pictures of sunsets and things I found on the streets of Philadelphia. I really liked it and that's where I thought that maybe I should buy a camera. I bought a really cheap point and shoot and within a few months I saved up for a Canon DSLR. I've just played around with it for years.
hg: when do you use your camera vs. your phone?
conrad: It's a mix especially because iPhone cameras are really great now. The blog is primarily photos from my real camera and the Instagram is primarily photos from my phone. But it depends, if I'm somewhere and I stumble upon something great that I didn't expect, I'll use my phone.
hg: tell us about the photos you did for honeygrow?
conrad: I was really excited to hear from you guys. The Schuykill River is really blowing up—it's one of the coolest places to go in Philadelphia. It's becoming sort of a mecca and it was easy to be inspired about. Because honeygrow has a new West Philly spot and the river, bridges and architecture all connect University City to the rest of the city (where hg 16th St. is!), I thought I made so much sense to have this photo series focus on that connection.
hg: what do you love about West Philly?
conrad: it really is a different city. Portland sort of reminds me of it to be honest. University City is obviously really busy but when you go past 40th street, there's big homes, yards with grass and it feels a little slower and more relaxed. There's so much park space…
"…I feel like it's easier to take deep breaths there. And when you walk into University City there's sort of an energy with the students. So much life! And its still laid back and creative."
hg: when traveling, what do you look for in different cities?
conrad: well, I love museums, shopping and restaurants, but I really love just walking around and finding cool murals and art in a public space… or even dynamic architecture and street life.
hg: would you ever move elsewhere?
conrad: No, not anytime soon. I grew up here and I have strong roots here. And I'm lucky enough to have all of these opportunities here. I see myself being here for a very long time. A part of me thinks I need to move somewhere else to grow as a human, but I don't think that will happen anytime soon.
To catch the latest of Conrad's Philly findings, follow the StreetsDept instagram + blog!
Take a look at the series Conrad shot for honeygrow below!