Coffee Culture: A Cup from Elixr Café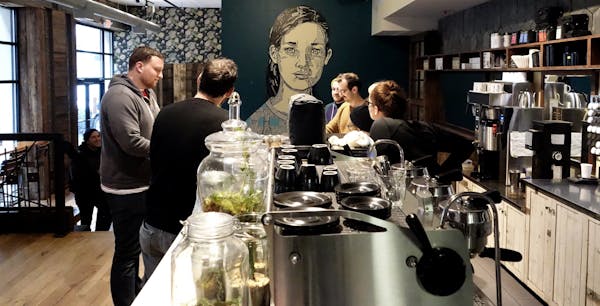 If you haven't wandered down Sydenham Street between 15th + 16th and Walnut + Locust, your coffee break has been missing out. Elixr Coffee Roasters, located in the heart of Center City, specializes in pour-over brewing using Chemex coffee makers. Elixr's coffee has unique flavors that are reminiscent of tea or juice with notes of honey, fruit and spices.
We visited with Evan (founder + owner) and Tom (store manager) at Elixr's roastery to get the scoop on how they're hooking up Philadelphians with amazing small-batch coffee from places such as Brazil, Costa Rica, Guatemala and Rwanda.
hg: When did this passion for coffee start?
evan: It started when I was living in Sumatra, Indonesia where a lot of coffee is being grown. It was a big part of the culture—all my friends and I would hang out at coffee shops until 2 in the morning and it was always a good time.
tom: It took off when I started going to Elixr everyday because I was drawn to the community that surrounded the coffee.
There were like-minded people who were obsessed with coffee like me.

hg: How did you get into the coffee business?
evan: When I got back from Indonesia, I bought a really nice espresso machine and roaster and started experimenting in my house. I really felt like Philadelphia is the perfect community to start a really nice coffee shop, because it was a 'foodie town' already and could support what we wanted to do.
hg: Where else can your beans be bought aside from the shop?
evan: We have about 40 different vendors selling our coffee and you can buy it anywhere from NYC to D.C. In Philly, you can find our coffee at Bohdi coffeehouse, Federal Donuts, Sbraga Restaurants, Girard on Girard and Win Win coffeehouse.
hg: You have featured artists like Yis Goodwin of nosego, Tim Gough and Jason Andrew Turner on the walls of your store. How do you decide what artists to showcase?
tom: Our art director, Ryan Greenberg, finds all of the artists through friends and applications that you can submit on our website. He has an amazing talent for picking them out and is always choosing artists who are about to be (or are already) really popular.
The saddest part is having to paint over all of the beautiful murals. Under each layer of paint was once a masterpiece that had been showcased. Some of my favorite murals are layers deep.
hg: Who's next up on the walls of Elixr?
evan: Andrew Jeffrey Wright, March 7th!
hg: What does your "Elixr Art Program" include?
evan: This program ensures that all of the artists featured at Elixr are properly taken care of which includes holding a reception for them and facilitating their art being sold at Elixr.
hg: In search of great coffee, where are some of your favorite places you have traveled to?
evan: My favorite farm, Finca El Injerto, is located in Guatemala. It's one of those farms that I have respected for years. I knew we needed to get this coffee at Elixr and we did!
hg: What's your favorite coffee concoction?
evan: I do either a pour-over coffee or a nice espresso.
tom: I would say black coffee as well. What we offer at Elixr is great coffee that tastes great on its own. We spend a lot of effort getting quality coffee beans and roasting them so that it's good enough to drink black and still taste great.

hg: You hand-roast lighter coffee that is reminiscent to tea or even juice. Why did you choose this flavor profile?
evan: Because it's interesting and fun to drink something new. If you just wanted something that tastes like roasted chocolate you don't have to spend any time sourcing it; you can just buy some cheap coffee and roast it dark and load it up with cream and sugar.
tom: It's like buying really nice bread and toasting it until it's charred. Might as well just buy regular bread.
hg: Whats your favorite roast of coffee?
evan: Finca El Injerto.
hg: Any plans to expand?
evan: I'm always looking, but nothing concrete right now.
hg: What's the most surprising thing you've learned so far in your coffee pursuits?
evan: It's pretty interesting that you can brew any of these coffees any different way at any volume and it will always taste good. It's also interesting that just by manipulating the grind and how you extract it, you can develop many different flavors.
tom: To me, it was what the coffee community means socially. It's all centered around this really great product. It's what it means, not just to a community in Philadelphia, but to where it's being sold and bought, and how we communicate and create relationships with the farmers.
hg: What food(s) go best with coffee?
tom: Chocolate—not Chipotle, even though it's right next to us.
evan: Any type of pastry—I'll make a blueberry muffin every morning to pair with my coffee.
hg: Are there coffee regions on your "wish list" for places to visit? Beans to pioneer?
evan: One place I want to get coffee from is Eta Beta from El Salvador. She has a couple of farms, but her flagship farm makes a coffee called "Mt. Kilimanjaro" and it's amazing. She doesn't sell to a lot of places, but I would love to have just a few bags.
hg: tell me about your brother-in law, former Philadelphia Eagle, Winston Justice's role in the company?
evan: When we was living here in Philly, he was in the shop all the time and helping out a lot. However, since he has a family and a busy career, we don't see him that often. He's retiring this year so hopefully we'll see him more. I think he misses coming in a lot.

Stop by Elixr's coffee shop to enjoy a marvelous cup of coffee and impressive artwork on the walls both inside and out. These murals are constantly changing and feature several different artists each year making your coffee break that much more enjoyable and enlightening. The space is also adorned with lovely terrariums for sale by Erica Miller. Elixr is a place where art meets coffee and it's a beautiful marriage.
Follow Elixr on Instagram to keep up to date with all mural unveilings, barista throwdowns or just check out what the A-Frame on Walnut St. says today.