Building a Better Philly: MTWB + Urban Roots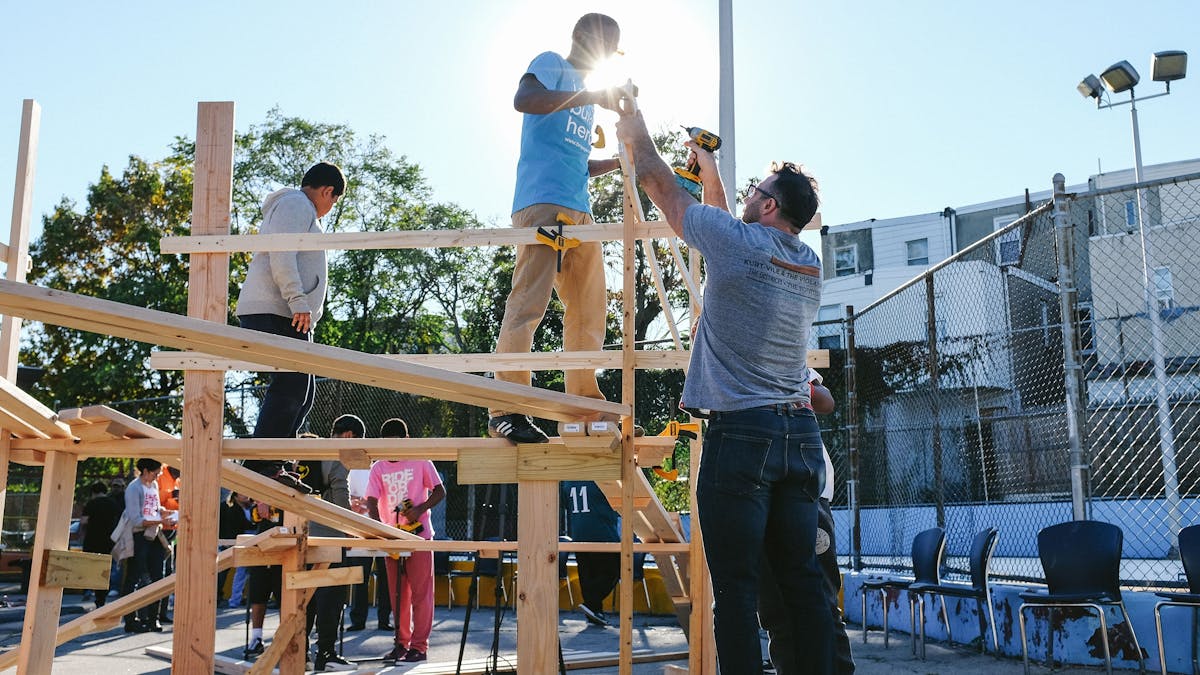 last fall, we joined forces with Philadelphia's Urban Roots + Make The World Better (MTWB) nonprofit organizations to launch the revitalization efforts at West Kensington's Waterloo Playground—the third restoration project under their belt. The team has been working within neighborhoods throughout the city to take the steps necessary to rebuild community parks + playgrounds, ultimately improving quality of life for the residents, especially children, in those areas of need. We recently sat down with Claire Laver, Director of Strategic Partnerships & Projects for both Urban Roots + MTWB, to learn more about what inspired these two organizations to team up + the progress being made on each of their projects.
hg: what was the catalyst for Urban Roots' creation in 2008 + Make the World Better's creation in 2013?
ur: Urban Roots was founded by Jeffrey Tubbs, who also started his own real estate development firm (JDT International) around the same time. Jeff struck out on his own after working at the Philadelphia Redevelopment Authority for 8 years. He really believes in giving back to the community through his business and in particular, he cares about working with young people to help them realize their potential. One way he sought to do this was to show that architecture, construction + engineering career paths are accessible to them. In the early years of Urban Roots, Jeff organized speakers + workshops with youth where they met professionals from those fields and learned more about what it's like in those types of jobs through a partnership with the ACE Mentor Program.
mtwb: in 2013, Connor Barwin founded the Make the World Better Foundation motivated by his belief that communities prosper when young people have safe + ready access to outdoor athletic + artistic play. MTWB (which, by the way, are the initials of Connor's parents) works to build and rehabilitate neighborhood parks in support of this goal, and to…
"…foster a sense of civic engagement + leadership in all communities."
Connor grew up the son of a city manager near Detroit which has shaped his priorities and personal sense of obligation to his greater community. In the spirit of starting locally, the foundation's work is currently focused in Philadelphia.
hg: what factors of a certain neighborhood or park help determine your involvement?
ur + mtwb: we are interested in connecting with vibrant neighborhoods outside of Center City that lack well-maintained parks or green spaces. We are particularly drawn to parks in communities where neighbors regularly use it as a public recreation + social gathering space, but where lack of resources and capacity have resulted in dilapidated or even unsafe conditions. We work very closely with our key city agency partners, including Philadelphia Parks & Recreation, Philadelphia Water, Department of Public Property and various council members to ensure that selected park sites fit within citywide goals related to equity, accessibility, impact + green stormwater infrastructure.
hg: when working to rehabilitate a park or other community asset, how do you keep the community engaged + supportive of the project?
ur + mtwb: our process centers on the mentality that the community members are the true stewards of their neighborhood park, and they should be the ones leading the redesign + decision making process. We make it a goal to have community voices—both youth + adult—present throughout the process. In the upcoming Waterloo Playground revitalization, we have formed a Community Project Team and a Youth Project Team; both comprised of people living in the Norris Square/West Kensington neighborhood. They will be key voices providing feedback; the process doesn't work without their voices. Our role will be to facilitate the exchange between the community members, design team and city agencies so that the final design will be a reflection of the community's core needs as well as wider citywide imperatives.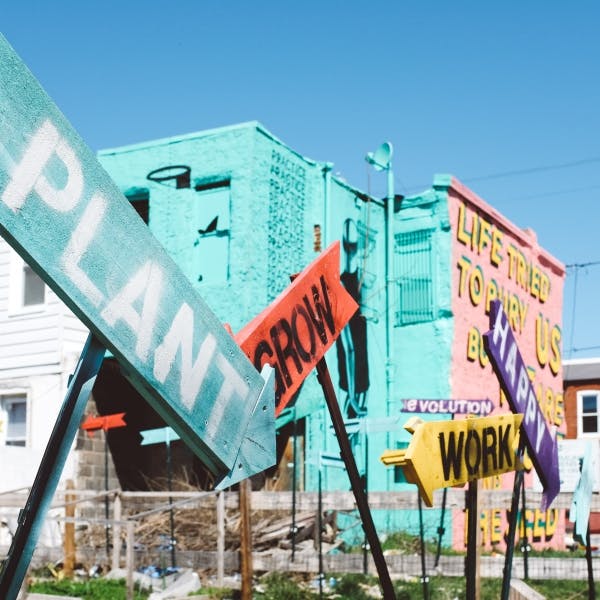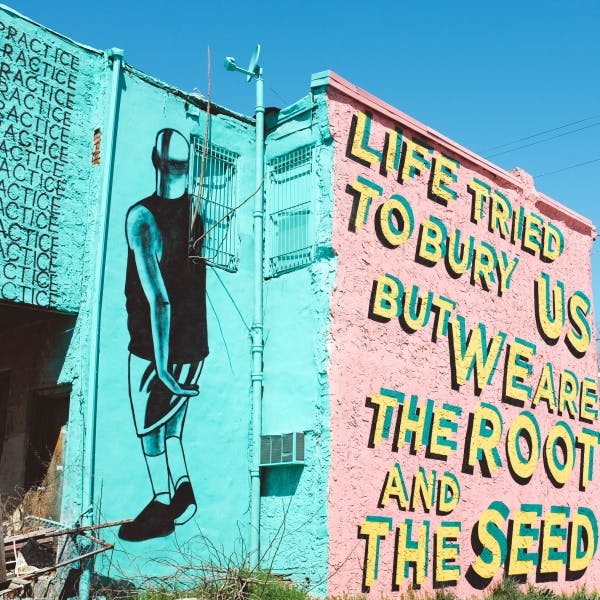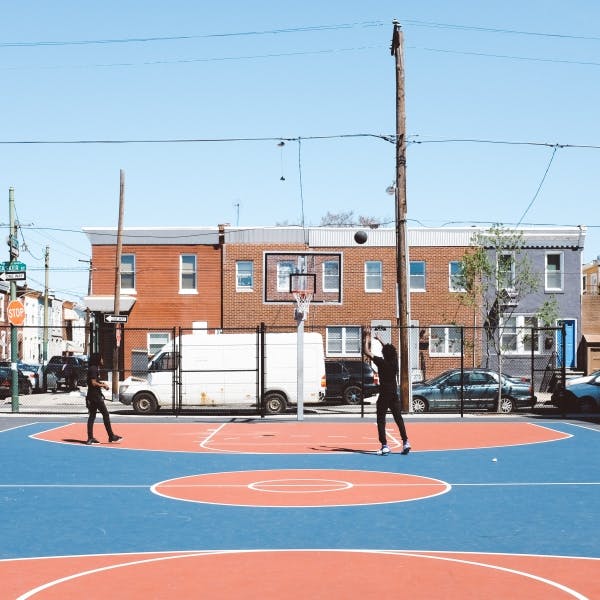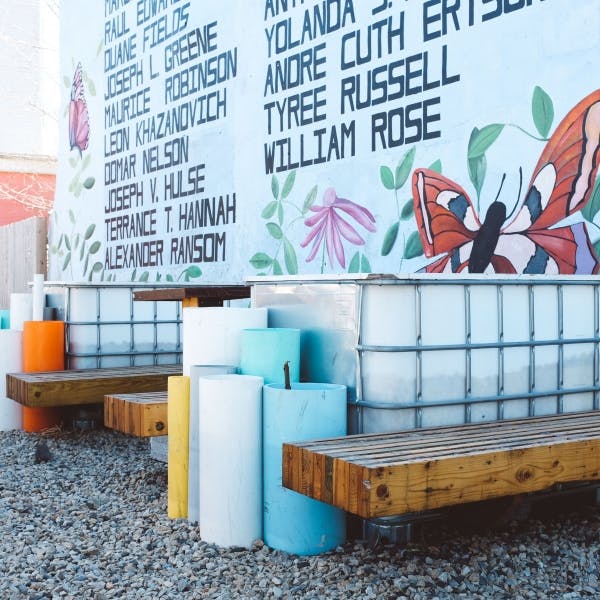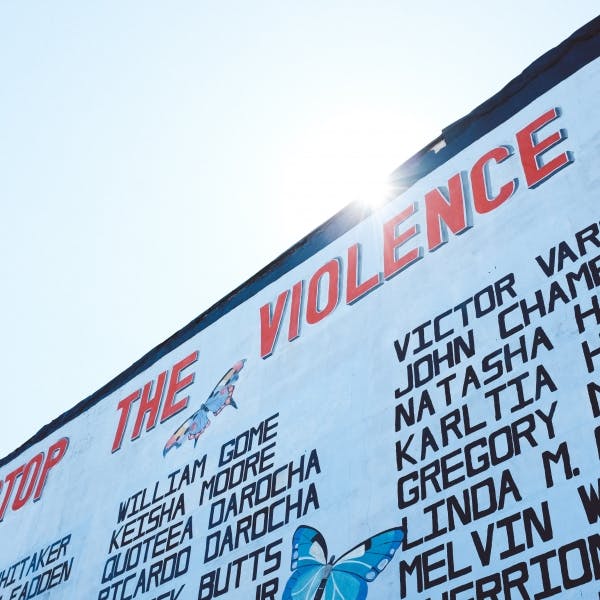 hg: tell us a bit about Ralph Brooks Park (the first project completed under MTWB/Urban Roots) + the impact it's revitalization has had on the surrounding community.
ur + mtwb: the park got its name from a young South Philadelphia resident who grew up there in the 80s. At the age of 7, while he was hanging out at the park, he was shot and subsequently paralyzed. That incident really catalyzed the neighborhood to come together to figure out what had to be done to push out gun violence + prevent it from affecting future generations.
A few years ago, Jahmall Crandall—lifelong Point Breeze resident, regular user of Ralph Brooks Park + founder of I.AM.SP—Jeffrey Tubbs, Councilman Johnson and State Representative Jordan Harris got together to discuss the needs and opportunities at this site. The park also caught Connor Barwin's attention when he was riding his bicycle through the neighborhood, on his way to Eagles practice. He noticed the court was getting really run down, but that there were tons of kids using the space. Urban Roots + MTWB became official partners on the project. We connected with many folks from Point Breeze who really were invested in their neighborhood, and we worked with them to raise money, get people beyond the neighborhood excited and to make the renovations happen. Since the physical improvements were completed (August 2015), the neighbors continue to run a Community Gardeners group and an over-35 basketball league. People are using the park more than ever. It's clear that it has been an important recreational + public gathering space for Point Breeze.
So far in 2017 there has been a community clean-up event at Ralph Brooks on the Martin Luther King Day of Service + just recently on April 8th there was a clean-up and community workday organized by the Community Gardeners group. These events are wonderful illustrations of how a community-led revitalization process can and should create momentum + connections that go far beyond the construction process.
hg: you're currently working on Smith Playground in South Philadelphia, and will soon be starting work on Kensington's Waterloo Playground. What is your hope for these two spaces? How similar (or different) are the projects + communities with which you're engaging here?
ur + mtwb: Smith Playground is a really large space; it takes up two whole city blocks at 24th + Jackson Streets. Due to the large site and wide range of possible activities, the park draws a much wider audience. Waterloo, on the other hand, is smaller and more of a neighborhood pocket park. We've completed phase one renovations at Smith. We are currently under construction on the playground area and are working in collaboration with the Mural Arts Program on a new mural for the space. Later this spring, we will break ground on the final phase of construction to include a new turf football field, new fitness trail + outdoor fitness area, green stormwater infrastructure via PWD, and general site amenities. We are also working with the City's Percent for Art on a call for artists to bring some great public art to the park.
Waterloo Playground is significantly smaller than Smith, but still has a great deal of potential. We are going to let the community project + youth project team members tell us what they want! Waterloo is in Norris Square, which is an entirely new neighborhood for us. But a lot of the bigger picture challenges + opportunities are the same—at the end of the day there are youth growing up in the neighborhood who are dealing with lots of difficult environmental challenges. In Norris Square, there is a much higher presence of drug trafficking and gun violence. Whether it's North or South Philly, the residents of a neighborhood—especially the youth—deserve a space where they can…
"…play, exercise, hang out, and socialize in a public space without worrying for their safety."
hg: what are some of the features in the playground/park that you plan to add to or improve upon with these projects (i.e. basketball courts, football field, etc.)?
ur + mtwb: at Waterloo, again, we are going to let the community project team lead with their input on what they would like to see at the park, but based on initial feedback, we would likely renovate the basketball courts, and also explore opportunities for nature-based play. We will also work with the Philadelphia Water Department, as we have in the past, to introduce green stormwater infrastructure and more green landscape elements with an educational component.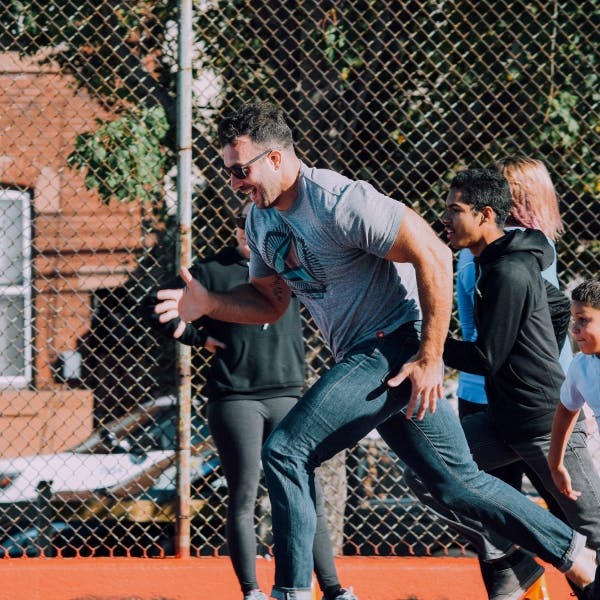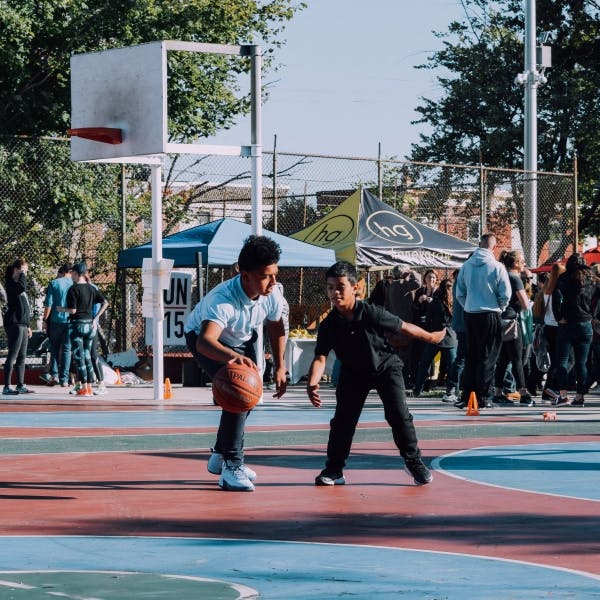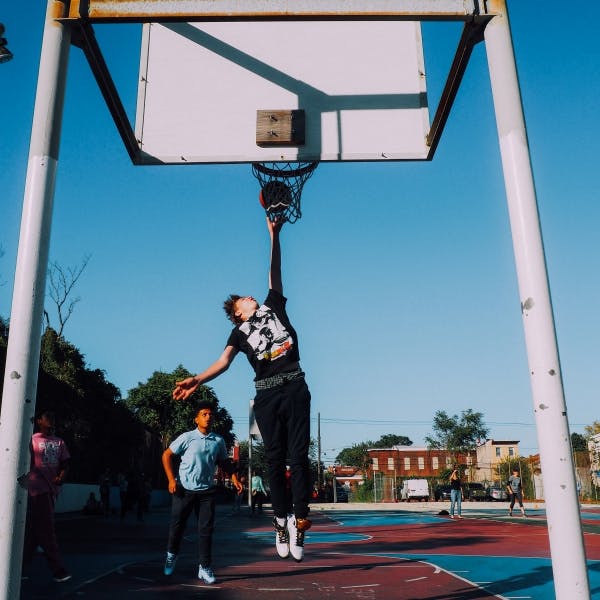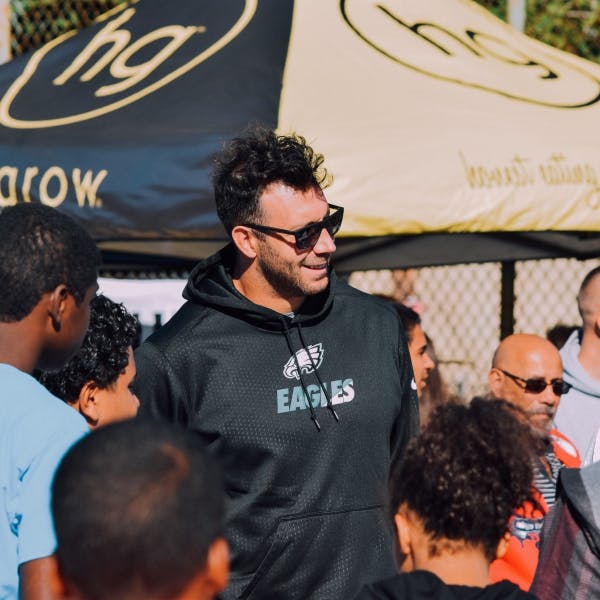 photos courtesy of Adam Englehart
hg: with the Philadelphia Eagles recently moving on from Connor Barwin, how does this impact (if at all) MTWB's current projects + will Connor still be involved in these build events though he may no longer be in Eagles' green?
mtwb: of course we—and so many Philadelphians—were devastated at the news of Connor's release from the Eagles. However, Connor has reaffirmed his + MTWB's commitment to current + future projects in Philly, including the completion of the final phase of renovations at Smith Playground and the renovation of Waterloo Playground. To the extent that his football schedule permits, Connor will also continue to participate in community meetings + events. Our work will continue to grow in Philadelphia, and we are looking forward to our 4th Annual MTWB Benefit Concert later this year.
hg: how can folks help raise awareness, money or even help construct one of these projects? Where can we go to learn more about Urban Roots, MTWB + the upcoming projects?
ur + mtwb: we're fortunate to announce that we were awarded a grant from the William Penn Foundation; it will fund the conceptual design + initial community engagement phases at Waterloo Playground currently underway. Through this process, we will facilitate community, city and design team communication to get us to a design by late summer 2017, and run youth workshops and community events. For the construction phase, we will continue to fundraise through a mix of grant applications, individual donations and fundraiser events. We welcome community members interested in supporting our work with their time, skills, connections/resources or financial contributions.
for more information + updates on the projects, follow both Urban Roots + MTWB on Instagram! If you'd like to learn more or see how you can help, drop them a line at either hello@urbanrootsphl.org or theteam@mtwb.org!