Black Seed Bagels + Honeygrow Collab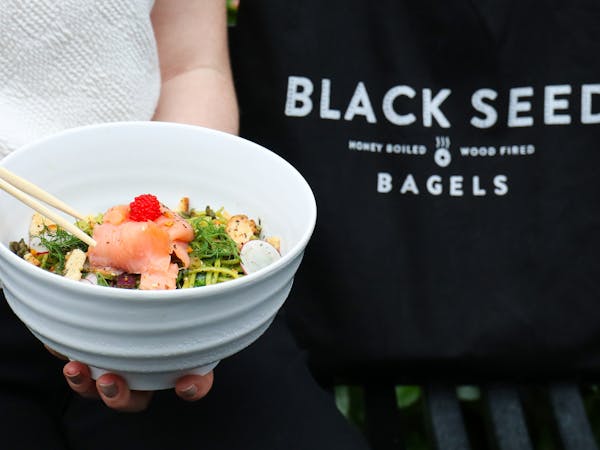 What happens when you cross a beloved NYC bagels shop's famous sandwich with a freshly made stir-fry? Behold—what might be one of the most delicious stir-fry dishes we've ever tasted—the Black Seed Bagels + honeygrow collaboration. Available to order at our Brooklyn + Hoboken locations only, and only via our hg + mg App!
After our founder, Justin Rosenberg met with Black Seed's executive chef, Dianna Daoheung, inspiration manifested a dish that channels a New York City breakfast staple suitable for any meal. The Black Seed Bagels + honeygrow collab ($14.50) is made with our freshly made egg white noodles (crafted in partnership with Sun Noodle), smoked salmon + organic baby spinach tossed in a housemade three-herb pesto (parsley, basil, dill), topped with Black Seed everything bagel croutons, Black Seed everything bagel spice, red onion, fried capers, watermelon radish, fresh dill + tobiko.
Born and raised in New York, Justin grew up appreciating a good bagel and lox sandwich. As a kid, he enjoyed traveling with his grandfather to pick up lox at places like Acme in Greenpoint, and then bagels at Bagel Oasis in Fresh Meadows, while debating who had the best bialys + platzs between Brooklyn, Queens and Long Island. He's excited to debut a unique take on one of his favorite sandwiches with Black Seed—and so is Dianna, "We're really excited to partner with honeygrow to put a unique spin on one of our signature bagel sandwiches. We bounced around a couple of different ideas, and this one really stuck out to us. The flavors are reminiscent of a bagel with cream cheese + lox, but it is its own thing, which is pretty cool!"