Main content starts here, tab to start navigating
FAQs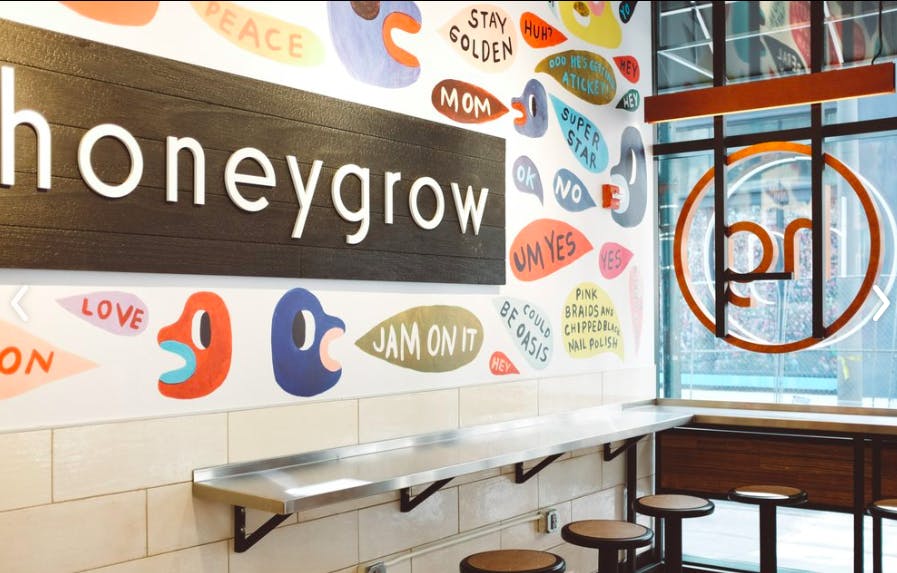 Restaurant FAQs
What is honeygrow?
We are the original "Create Your Own" stir-fry, salad, honeybar and juice specialists. Everything is made from scratch and fully customizable (excluding our juices), thanks to our proprietary touchscreen technology. We feature local + seasonal produce whenever we can. We visit nearby farms to ensure the highest quality products. We are transparent about what we're serving and where it's sourced. From sustainably raised meats to our homemade recipes for our sauces + dressings, our Culinary team ensures every ingredient shines. Though we got our start in Philadelphia in 2012, we are committed to connecting with every community we serve in meaningful + sustainable ways.
How was honeygrow started?
Our founder, Justin Rosenberg, came up with the idea in 2009 while working full-time and getting his MBA at Temple. He left his day job with the dream of creating a place with colorful, dynamic, customizable options that would fill a gap he discovered by going vegan at the time. He took his business plan to 93 investors before the 94th one gave him a chance. On June 8, 2012, our 16th Street location opened and we currently have 26 total locations from Boston to DC.
Where does the name "honeygrow" come from?
honeygrow is a play on the phrase "honest eating + growing local" — the phrase succinctly illustrates our commitment to providing the freshest food possible, while working with local purveyors + partners whenever possible. The "growing local" aspect extends into our community activations + partnerships, where we work alongside like-minded businesses to improve each community we call home.
What does "honest eating + growing local mean?
This is our primary tagline. The name honeygrow is derived from a play on these words. It means we are committed to sourcing as locally and as seasonally as possible. It means we are committed to giving back to the local communities that we are a part of as much as possible. This 'honest' approach extends into how we present the brand—with as much transparency as possible. We 'tell it like it is' because everyone deserves the truth.


Does honeygrow franchise?
No, we are not a franchise as we own and operate all of our own locations. We prefer to ensure the highest quality possible across all of our locations and strive to truly connect and engage with every community we enter.
What are the hours of operation?
Hours vary from store to store and can be found on the locations section of our website.
Does honeygrow deliver?
We deliver from most of our locations through delivery partners like Door Dash, Caviar, Uber Eats and GrubHub to bring delicious stir fry and salads right to your door; when possible, use our App to order for pick-up or delivery to keep earning rewards!
Does honeygrow cater?
Yes, we offer catering! We have special packages to fit any office meeting or party you are hosting. Refer to honeygrow.com/catering for more info.
Where can I find honeygrow nutritional information?
Our nutrition information can be found on the "Menu" or "Contact" pages of our website.
Do honeygrow products contain peanuts?
Our restaurants do not carry peanuts or peanut products at any time. Our founder's wife is highly allergic, so honeygrow recipes were built to exclude all peanut products.
What gluten-free options are on the menu?
Our rice noodles and brown rice are all gluten-free bases for our stir-fry. A number of our delicious salads are also gluten-free. All gluten-free options are labeled with a "(GF)" on our menu.
What vegan options are on the menu?
Our rice noodles, brown rice, and whole wheat noodles are all vegan bases for our stir-fry. All vegan options are labeled with a "(V)" on our menu.
Star Wars or Star Trek?
Star Wars (sorry, Trekkies). May the Force be with you...and for god's sake, LET THE WOOKIE WIN!
Where do you source your ingredients?
This varies by each location and changes due to seasonality. We showcase a "local list" in each of our restaurants that outlines where all of our local produce comes from that season.
Where can I buy gift cards?
You can conveniently buy gift cards in any restaurant or online via our website.
Do you have online ordering?
Yes! Order for pick-up or delivery (delivery zones vary by location) through our app!
Do you use any products with GMO's?
No, honeygrow sources all of its produce, meat and dairy from non-GMO vendors and suppliers.
I'm interested in becoming a supplier, who should I contact?
Select the appropriate option on our contact form and fill out the requested information.
I have a new location recommendation! Who do I contact?
Select the appropriate option on our contact form and fill out the requested information.
What types of fundraisers and donations does honeygrow support?
We aim to support organizations with a commitment to a similar mission of nourishing health, creativity and activity in our communities. We cannot support organizations that discriminate against a person or group on the basis of age, political affiliation, race, national origin, ethnicity, gender, disability, sexual orientation or religious belief. We are unable to host fundraisers for organizations that fall into the following categories:
Individuals or individual study, travel and research grants
For-profit ventures
Religious groups for religious purposes
Capital campaigns, endowment funds or memorials
Lobbying or political activities
*If your organization falls within our guidelines, you can apply to host a fundraiser with us via the "Contact Us" section of our website.
*Due to the number of requests received on a daily basis, we cannot fulfill all requests, but try our best to do so when possible. We do not provide monetary or unsolicited sponsorship donations at any time.
What is your animal welfare policy?
At honeygrow, we care about animals and believe that strong animal welfare policies are the cornerstone of any responsible restaurant. We are committed to holding our suppliers to the highest standards possible and ensuring that the food we're serving comes from trusted sources.
We are also committed to continuing evaluating and improving our animal welfare standards. Thus, by 2024, we will source only chicken certified by Global Animal Partnership (GAP) and require all chickens to be processed in a manner that avoids live-dumping and live-shackling, and instead utilizes a pre-shackle, multi-step controlled-atmosphere processing system that widely hailed as more humane.
Why are you so delicious?
Probably due to the locally sourced ingredients combined with our unique homemade recipe dressings + sauces…probably.
Mobile App FAQs
If I make a purchase in a honeygrow location at a kiosk, how do those points get to my LevelUp account?
Our kiosks support your LevelUp account + transfer points ONLY when you choose "Pay by App" on the checkout screen. Pull up the QR code on your app, scan it on the kiosk, and you're good to go!


How do I see my transaction history?
There is a transaction History tab under your App's settings. please check here to review all past orders made through the App.


I need a receipt.
You will receive an emailed receipt for every purchase you make via the App; please check the email that you used to register for the App (not sure which that is? head into the profile section under your App settings!). If you do not see the receipt in your inbox, please check your spam folder.


I made a purchase without my App; can I still receive credit?
Good question--there's no better way to experience honeygrow than by growing loyalty and getting amazing rewards including app credit, free meals, surprise promotions and more! Keep your receipt, and reach out to us at marketing@honeygrow.com. Once we can confirm that you have the app, we'll make sure to add your points to your account. Moving forward, always remember to use the app for pickup/delivery and to pay whenever you are in the restaurant!


How do I earn a reward?
Most rewards are unlocked automatically and added to your account on your behalf. If you receive an email about a reward, make sure to read through it to see if you need to claim your reward onto your account! You'll always be able to see your available rewards within your App as well.


How do I use a reward?
Rewards will be redeemed automatically towards your next purchase via the App. Neither you nor the cashier need to do anything extra to redeem your reward!


Where can I see my loyalty progress?
Head to your rewards tab to review your progress towards your next reward!


What are the different levels of rewards I can earn?
You can check your status levels screen in the rewards section, but here's the breakdown of your rewards goals:
you're new here!
win-win — earn $3 for every friend you refer that signs up + spends $10+
happy birthday to you! receive a free honeybar reward on your birthday
Bronze - earn 10,000 points
Silver - earn 50,000 points
$10 upon reaching silver status
$5 for every $100 spent after silver status is achieved
Gold - earn 200,000 points
$15 upon reaching gold status
$5 for every $100 spent after gold status is achieved
Platinum - earn 500,000+ points
$20 upon reaching platinum status
$5 for every $100 spent after platinum status is achieved
special surprises + other prizes


Where can I see my available rewards?
Your available rewards will be listed on your rewards screen. Please review any emails you receive regarding rewards if you have any questions on eligibility or availability, or if you do not see it in your rewards tab.
Help! The App said I unlocked a loyalty reward, but it didn't apply it to my order.
Loyalty rewards Apply to the next transaction you make after the one on which it is unlocked. Loyalty rewards are not earned and redeemed towards the same transaction.


I received an email about a reward, but don't see it in my App.
The email you received may have a button to click to add the reward to your account. otherwise, your reward may only be redeemable during a certain time of day (for example, breakfast or dinner). If that's the case, the reward will only be visible during the times you are able to redeem it.
What happened to Timespan?
We are working on a new + improved gaming experience which will include the return of Timespan + more! thanks for being one of our loyal fans—if you have game ideas, feel free to share them with us via our contact us form.


Where can I find nutritional info?
Nutritional info for honeygrow can be found on the "Menu" and "Contact" pages on our website.
Help! I've been charged twice: once through the App and once directly in the store!
We don't want that, either; please send a picture of your in-store receipt to honeygrow@thelevelup.com, tell us what happened, and we'll help you out.


How do I update the credit/debit card on my account?
Head into your App settings and tap the option to manage your card or payment method. When you add a card to your account, it will automatically replace your previous card on file. Please follow these steps even if you only need to update the expiration date on your card, as information cannot be edited after the fact.


I want to pay cash/I don't want to link a debit/credit card but still want to earn points.
Rewards are earned and redeemed as part of the payment process, so a valid debit/credit card does need to be linked to your account. We triple-tokenize your card information when it is entered and send it to a secure, third-party banking institution. Neither LevelUp, nor honeygrow, nor any of the locations you transact at with your App have access to your full card number. Not even you as the card holder can see your full card number after it's entered (go ahead, try it!).


I just placed my order at the wrong location, what do I do?
Please reach out to our team immediately.
I just ordered ahead, but need to make a change to my order or pick-up time.
Please reach out to our team immediately.


How do I share a concern about the quality of my food or service in an hg restaurant?
Please reach out to our team on the "Contact" page of our website.


How do I request a refund?
Please reach out to our team on the "Contact" page of our website.


How can I ask questions or give feedback regarding a specific restaurant or menu?
Please reach out to our team on the "Contact" page of our website.
Don't see your question?
Please refer to LevelUp's support page for additional troubleshooting options or to contact the team directly.