You Got This: Amberella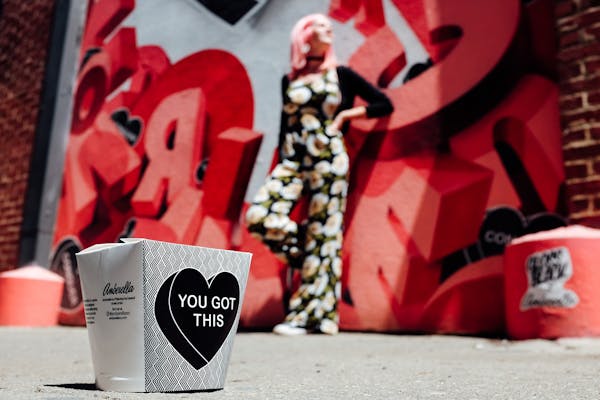 we're excited to announce the return of our original, iconic stir-fry container — available now at all locations!
when brainstorming the return of the stir-fry box, we wanted to elevate it beyond just a container for our stir-fry. We wanted the box to, in some way, represent the creative elements + artistic pairing of flavors you'll find inside once you open it up while sending a motivational, empowering message. Hence, for the first time ever, our collaborative artist series was born!
for our first artist collaboration, we teamed up with Philadelphia-based street artist, Amberella. We had previously worked with Amberella on our Front Street Walls mural project, with her most recent mural, 'CONQUER', a collaborative piece between her + well-known artist, GlossBlack. The partnership was a natural fit — Amberella is a honeygrow fan with an electric, colorful, friendly personality that blends perfectly with our core values. She is a leader in the community + an outspoken advocate for certain issues, all while empowering individuals (men + women alike) through her art. We recently sat down with Amberella to learn more about her background, mission + inspiration, including the meaning of the message found on our stir-fry box, 'YOU GOT THIS'...
hg: what first ignited your interest + passion in the arts, specifically street art?
amberella: "I've been a nonstop dreamer since I was a child and I'm lucky to not have lost that."
Dreamers naturally become creators if they can surrender fear. I'm not afraid to fail—failure is one of our biggest strengths in life. It's very uncomfortable, but the chance to begin again is very real + that is what is so rewarding.
Around 2009, I had a body of work that conceptually I felt needed to be shared publicly. I had remembered learning about wheat paste in college so I decided to hit the streets. I fell in love with the quiet time spent alone, pasting my work around the city. Getting off my chest what I needed to "say" and then disappearing + leaving it for whoever stumbled upon it to have a connection with it was key. This felt organic and was almost a more important platform than a planned show at a gallery.
I was putting things out there and letting the universe take care of the rest. I still feel that way.
hg: explain the background of your popular 'Goth Heart' design. What is the significance behind the messages themselves? Are they meant to be motivational? Do they come from personal experience?
amberella: The Goth Hearts came from feelings and emotions related to relationships I'd been in, the phrases coming from a very real and vulnerable place (phrases such as 'UR ALL I NEED', 'LET ME LOVE YOU', 'U BLEW IT').
The Power Hearts series, (such as 'YOU GOT THIS') came when I was coming out of a really dark place. I had just started therapy + decided to do the body of work completely for myself. I put up these encouraging Power Hearts in places I frequented as reminders to myself to 'KEEP GOING', 'YOU CAN', 'YOU ARE POWERFUL', 'YOU ARE NOT ALONE' — to name a few.
You can gather that literally ALL of my work comes from personal experience. That is the reason I create—to get it all out + work through life. What I'm sharing has shown to be quite universal so it's been really special to hear from people how they have connected with my work and why.
hg: you're the first featured artist for honeygrow's stir-fry box design series, gracing the side of the package with a bold 'YOU GOT THIS' heart. Could you explain a bit into what factored into that message?
amberella: The 'YOU GOT THIS' Power Heart felt like the perfect fit for the stir-fry box. Not only as a literal comment about your delicious honeygrow-in-hand, but also as a positive affirmation to walk out the door with you for the rest of the day. I hope that people enjoy this literal pick me up. XO
hg: honeygrow's mission is to "nourish creativity" in each of the communities we call home. How does this new featured artist series of boxes help artists reach new heights? What was it like to collaborate with honeygrow on this project?
amberella: I'm honored to work with a company that truly lives up to their mission. Every honeygrow that I walk into has commissioned artwork + that says something LOUD and CLEAR! The artist series of boxes is really an incredible reach for the artists involved — honeygrow is spreading our work across the country.
hg: you've also worked with us previously on our Front Street Walls mural project in Fishtown, Philadelphia. Your mural wall has gone through several changes, with the most recent version being a collaboration between you + GlossBlack. The heart prominently features the message, 'CONQUER' — what is the meaning behind this particular message? Why is it important for artists to collaborate + support each other, especially in such an active community like Philadelphia?
amberella: at the time that this mural went up, I was being bullied heavily online + my commissioned work was being targeted and destroyed... the original honeygrow mural I had up being one of those. I reached out for support from the artist GlossBlack, who is particularly popular with the kids that were defacing my work. We decided to redo the ruined mural for the community to enjoy + to show our resilience as members of the community. On behalf of the community, we decided on 'CONQUER'. GlossBlack stepping in to collaborate with me spoke volumes about the type of people we are + how much we care for Philadelphia and our neighborhood. The community was so upset about the original mural being destroyed that the new mural was completely funded by Fishtown residents (THANK YOU!). Showing support to fellow artists always leads to something good. Collaboration breeds new ideas, always. I'm grateful to GlossBlack for putting himself out there on my behalf... what a great human.
hg: your hearts have also made their way to the recent marches + rallies, particularly the female-led marches + demonstrations as part of the NEVER AGAIN movement. What message do you hope your designs convey to women, especially young girls?
amberella: Strength, Resilience, Power, Worth, Unity, Support, Love = a recipe for action + change.
I have the honor of using my art as a voice + I take that very seriously. I will always put my business on the line to support or share what I believe in. My voice as an artist is an obligation I feel strongly about.
hg: if you could "set the record straight" with some of the common public misconceptions based around street-art, what would you say?
amberella: I would say to take note of how a public piece of artwork makes you feel. Is it bringing something to the community? Is it destructive or disrespectful? It could all be a matter of opinion, but for the twenty years that I've lived in Philadelphia, I've always seen art move into a neighborhood before everything else, sparking excitement + bringing beauty to spaces that may otherwise have been overlooked.
hg: besides the hearts, what are some other designs of yours that we can find installed around the city?
amberella: a series called FORTUNATE can be found around Philadelphia, Atlanta, and Los Angeles. The pieces look like traditional cookie fortunes + speak to self-care, self-love, depression + anxiety. They are extensions of the Power Hearts in a sense. An example would be:
YOU WILL BE HAPPY AGAIN
There are about 20 in the series + only a handful have been released so far.
hg: in what other cities can we find your work? Are there any cities on your list which you'd love to visit + install in someday?
amberella: Chicago, Los Angeles, San Diego, Oakland, Nashville, Atlanta, Miami, Kona, D.C., Orlando, Brooklyn, Venice, Asbury Park, Las Cruces, NYC, Baltimore, Portland + more!
I'd love to head out to Austin, Denver, and Detroit!
hg: you've recently been promoting merchandise that is graced by your heart designs. Where can we find these items? Any other pieces of swag in the works?
amberella: you can find some of the items on my website and if you're local, be on the lookout for pop-up shops, (including one at Tattooed Mom — the Bloodmilk night market, which is Saturday, June 9th, 7-11PM)
You can also check out Urban Outfitters online for a special tee + stay tuned for a collaboration with Spiritual Gangster in 2019.
to learn more about Amberella, visit her website + follow her on Facebook + Instagram for updates!