Welcome to The Jungle: Ryan Psota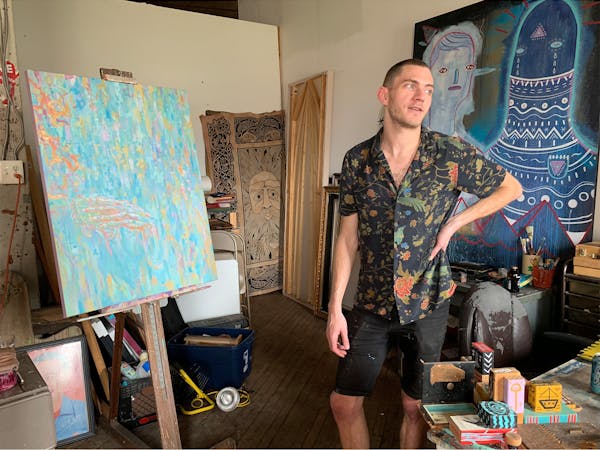 One of the first artists who came to mind for the interior of our third Delaware location was fellow Philly-based friend, Ryan Psota. We've partnered with Ryan in the past, asking him to contribute a mural to our Front Street Walls, which he designed + painted in collaboration with in the Mural Arts Program. For our newest restaurant in Christiana, we gave Ryan two walls + asked him to make something bold + colorful. Needless to say, Ryan did not dissapoint. We caught up with Ryan in his studio in the Vox building to learn more about him, his style + what was going through his mind when he thought of these designs…
hg: hi, Ryan! Tell us about yourself.
ryan: I'm a freelance visual artist living in Philly. I grew up on the Eastern Shore of Maryland in Salisbury. I've always been an expressive individual, finding a unique joy in creating images and music. I loved Art class as a kid + created my first "artwork" around age 12—a construction paper collage. I moved to Philly to attend the University of the Arts in 2007. The Illustration Dept appealed to me because it allowed me to focus on the business of making pictures. I'm not inherently business-minded, so that's perpetually been a point of improvement. After graduating, I decided to call the city home.
hg: how did you get into mural painting?
ryan: Mural painting came to light a year or two after graduating. I've always been attracted to street art. There's a very raw + intriguing attitude projected by graffiti + street art. I decided to put up a few wheat pastes in South Philly back in 2014. About a year later I applied to the mural program at Elixr Coffee and started my first mural the next Summer. It was such a new + empowering experience. I received a ton of support from friends, family, the community + people passing by. That mural led to the next one, and the next, and so on…
hg: how did you come up with the moniker Lemon Sparkle Fantasy?
ryan: The name was originally meant for a party my friend was throwing. I decided to use it for my artwork once I started developing a consistent style after school. It represents organic freedom + simply having fun with what you're doing. I've always had a silly (and often crude) sense of humor. I think that playfulness sneaks its way into my artwork.
hg: how would you describe your artistic style + creative process?
ryan: my style is always shifting. It adjusts to my growth as a person as well as the materials I'm using. My work is playful, often colorful—incorporating graphic shapes + inspired by folk art. I'm still trying to refine my process, but I think it depends on my mood every time. I generally start on paper with thumbnail sketches + doodles. When I have a general idea I bring it into Photoshop to format it to the shape of what I'll be painting on. I add color digitally with a graphics tablet. When I paint murals, I overlay a grid + transfer the sketch to the wall. I'd like to get a digital projector for future jobs.
hg: do you look to any fellow artists for inspiration in your designs? If so, who?
ryan: I'm inspired by a lot of art, both old + new. Hokusai, Hiroshige, Basquiat, Haring, Egon Schiele, Alphonse Mucha, Noriyoshi Ohai, Frank Frazetta, Lane Smith, Stephen Gammell, Vania Zouravliav, Naoto Hattori, Charlie Immer…the list is endless!
hg: do you ever collaborate with fellow artists on designs or installations?
ryan: Collaboration is a beautiful thing + I'd like to do more of it. I've had the pleasure of working with Sarah Cassano aka Odetta Blue on a couple mural projects for the restaurant owners of Bing Bing + Nunu in Fishtown.
hg: does Philly inspire the pieces you create? What is it about the city that attracts you?
ryan: The urban landscape of Philly provides a lot of inspiration + feeds my creative mind, but not fully. I need to experience natural landscapes as well to center + focus my mind's eye. The city is full of wonderful textures. Chipped paint, grit + grime, fabulous old architectural elements and buildings stacked on top of each other.
"Philly is a place you can find inspiration from other street artists doing what you're doing. I love the sharing aspect of street art."
hg: tell us a bit about your experience in the Philly creative community. Is it generally supportive of its members/artists?
ryan: This town is full of sweethearts! The creative community here has been enormously supportive, and I couldn't be more grateful for all the love I've received. Robert Perry, owner of Tattooed Mom has connected me to a lot of opportunities + been very supportive. Conrad Benner of the StreetsDept blog has also been a huge proponent of my work + has become a friend in the process.
hg: speaking of Conrad, this Fall you were part of an exhibition he curated at Mission taqueria titled Queer in Public. How does the LBGTQ community influence your work?
ryan: Being a G (for gay) is a part of who I am. What I create expresses who I am, but not in any specific capacity. I'm very blessed to be accepted by others for who I am, but most importantly I accept myself. Many LGBTQ individuals struggle with identity, guilt and judgement. I put my art out there for everyone regardless of age, gender or sexual orientation—regardless of species! I want someone to see my art + escape for a moment. It's important to be yourself + love yourself, flaws and all.
"Art is for everyone + I want to extend anything I can to someone who feels lost or in pain."
hg: for our new Christiana location, you painted two incredible murals of foliage, a bird-watcher + a toucan. How did this design come to you?
ryan: It was summertime, and I was in a tropical mood. I had also been drawing a lot of plants on my own before the assignment. I wanted a colorful, vibrant aesthetic for the space. The unique shape of the opposite wall led to the toucan's beak.
hg: you've installed a number of murals around Philly. Do any stand out as favorites?
ryan: The Elixr mural will always be my favorite, but it's since been covered by many other beautiful murals. The one I did at the hgHQ as part of Front Street Walls is another fave.
hg: is there anywhere you want to install your work someday?
ryan: I aspire to travel internationally and put up work anywhere I can. I want to do more editorial work, as well. A book cover would be SICK. I want to work on more interactive, dimensional public pieces in the future too.
hg: where else can we find your work?
ryan: 5th + Bainbridge on the sidewalk, 7th + South on a utility box, Emerick Street in Fishtown, Bing Bing on Passyunk, Broad + Snyder sidewalk, 12th + Oregon sidewalk, Nunu in Fishtown, or wherever I might have an exhibition at the time.
hg: where can we find you when you aren't working?
ryan: Tuesday night karaoke at Ortliebs with Pat Pharrari!!!