Visual Rhythm: Silvia López Chavez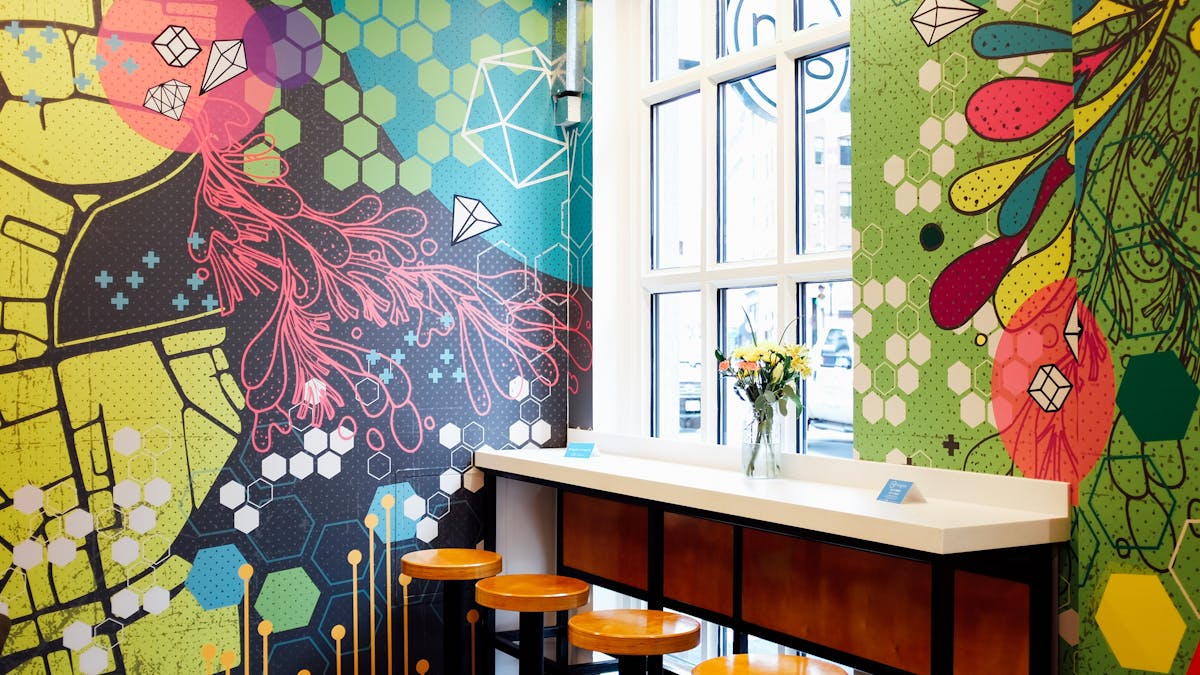 our new minigrow location on Summer Street in Boston's Downtown district is graced with an excellent exterior — the grand former main entrance to the 125 Summer Street building — but it's the interior artwork that elevates the space to the next level. Completed by local artist Silvia López Chavez, the vibrant, detailed mural wrapping around our interior boasts an intricate map of Boston, even including a special shout out to our #mgSummerSt location alongside other geometric items + patterns. We recently sat down with Silvia to learn more about her artistic background + motivation, as well as her other works around Boston (which include an enormous installation at Northeastern University)…
hg: hi, Silvia! Tell us a bit about yourself + your artistic process...
silvia: I am a interdisciplinary artist based in Boston, MA, earning a BFA in Illustration from the Massachusetts College of Art + Design. I am very motivated by the power of the creative process as an agent for change + interested in the intersection between art + design.
With roots in the Dominican Republic, I draw influences from all around. My work has gradually grown into the public realm as part of my social practice.
hg: describe your artistic style + creative process — what (or who) inspired these elaborate, geometrically complex designs that are often filled with vivid colors?
silvia: I use my artistic practice as a tool to make connections. Through my art, I seek to connect with myself and also help others connect in multiple levels.
"I believe art and the creative process have the capacity to bring positive change."
I have a multilayered process that includes experimenting with medium, color, line, repetition + form. In my studio practice, I combine traditional methods of drawing and painting with experimental techniques in printmaking and collage, finding balance between representational and abstract. My work has gradually grown into the public realm as part of my social practice.
There are always lots of vibrant colors on every piece I create!
hg: do you look to any fellow artists for inspiration in your designs? If so, who? Do you ever collaborate with fellow artists on designs or installations?
silvia: inspiration is everywhere for me. It can be a simple drop of water on a sunny leaf, a book I may be reading, or a song playing on the radio. I am curious about human behavior, how we interact with each other + with our environment to create meaning and storytelling.
I am a big collaborator and have partnered with artists, organizations and educational institutions to create art pieces that bring community together, uplift and spark curiosity + joy.
hg: how have your Dominican Republic roots played a role in the designs you create? Do they merge with more American themes to create something culturally unique?
silvia: it is no secret that my bold palette color comes from an environment very different than the one in New England. I grew up in a culture filled with vibrant hues, where bold color is on the architecture, landscape + the food. The joy and optimistic views in my work also come from a culture where no matter how bad things might be, there is a simplicity and ingenuity to addressing problems, then you put on a merengue and dance your stress away. Community + connection are very engraved in the Dominican people; everybody is part of everybody's business! All of these things are part of my makeup as a person and as an artist.
I have lived in Boston for 20 years, and there are always things that rub off on you after being in a place for so long ;)
hg: similarly, how does Boston inspire the pieces you create? What is it about the city that attracted you to it, eventually leading you to call it home?
silvia: I love how multicultural this city is, full of beautiful people from all over the world. Boston is beautiful. I love the architecture and the fact that it is a coastal city inspires me. I grew up on an island, and living close to the water brings me joy + reminds me of home (only in summer time though!). I enjoy how the city is big, but also small, with enough time, you can pretty much walk or bike anywhere.
When working on a mural, it is always a site specific piece, which is designed to live in that particular space. Before starting to create the art, I always ask myself, "Who uses this space? How is it used and why? What kind of light does it gets? Northern? Southern? Direct sun? What does it look like at night vs. day time? What's around it? What role does it play within the surrounding architecture? How will the elements impact the work on that particular space?"
My work is informed by personal narratives + responds to my identity as an immigrant, educator, artist and designer. Environments, people + situations inspire the work I do, and Boston is no exception to the rule.
hg: tell us a bit about the Boston creative community… is it generally supportive of its members/artists? In what ways could it improve, in your opinion?
silvia: Boston is not an easy place to connect with strangers. You have to be introduced or subscribe to a membership of a specific group, which then allows new associations and connections to take place. Even though there is a lot of innovation + discovery happening right here in many areas, it is difficult to open doors for yourself unless you are connected to people that can help you open those doors.
There are so many walls an immigrant has to climb when you first need to learn the language, a new culture and figure out ways to finance your dreams in a very expensive city. It has taken me years to better understand how to navigate the complex art world in Boston, which feels fractured and compartmentalized. But I am grateful for the opportunities I have had, which allow me to be where I am today and do what I love.
Boston has been taking baby steps towards making this city more artist friendly, but it has a long way to go before it becomes a city where artists can thrive. It needs to provide more opportunities for artists to create and exhibit their work, create jobs, affordable live + work spaces, simplify bureaucracy and processes for more public art to take place, and also provide affordable options for health insurance + incentives for artists to be more embedded in the fabric of the city.
hg: you're our featured artist at our new minigrow space on Summer Street in Downtown Boston. What elements inspired the design you installed in the space? Did the minigrow menu or interior design lend any inspiration during the creative process?
silvia: I love to play with geometric shapes contrasted with free-form lines to create visual rhythm, symbolism + meaning. It's like abstract storytelling! For Boston's Summer Street minigrow, I wanted the main focus to be a map of downtown Boston, which includes the financial district. The design reflects the urban aspects of this location along with beehive-like hexagon patterns + gem designs, but also brings organic lines of natural elements, such as seaweed and flowers inspired by the nearby waterfront.
"The balance speaks to me of the idea of happy, healthy living and eating."
hg: you've installed a number of murals + designs throughout Boston — do any stand out to you as favorites? Or perhaps any that hold a special place in your portfolio?
silvia: every project has its own character + connects with me in different ways, but I do have a soft spot for 'Patterned Behavior', a mural on the Charles River Esplanade, which was commissioned by the Esplanade Association and curated by Now + There. The project allowed me to paint at one of my favorite places in Boston, and it gave me the opportunity to work side by side with six other female artists who assisted me throughout the process. Being there was fun, energizing + empowering. As we worked on the mural, people going by would thank us so many times a day for bringing beauty and color to that space. The piece has brought so much joy to people using the bike path ever since.
hg: where else in Boston (+ beyond) can we find your work? How about outside of Boston — any notable installations elsewhere in the United States (or in other countries)? Have you installed any works in the Dominican Republic?
silvia: I recently completed the largest wall I've ever painted at Northeastern University, which was a lot of fun and I am very proud of it. There is also a mural in Allston, known for its student population, created just in time for the graduation season. There are other murals in the north shore, including one for the Punto Art Museum in Salem.
I've been pretty focused on making it happen here in Boston, but starting to make my way to other cities. I have exhibited my work in several galleries in the Dominican Republic + have plans to install my first mural there soon!
to view more of Silvia's work, check out her website + to stay updated on upcoming projects, follow her on Instagram + Twitter!
check out her mural in person at our minigrow Summer Street space — now open at 125 Summer St!