The Spicy Salad that Joe Made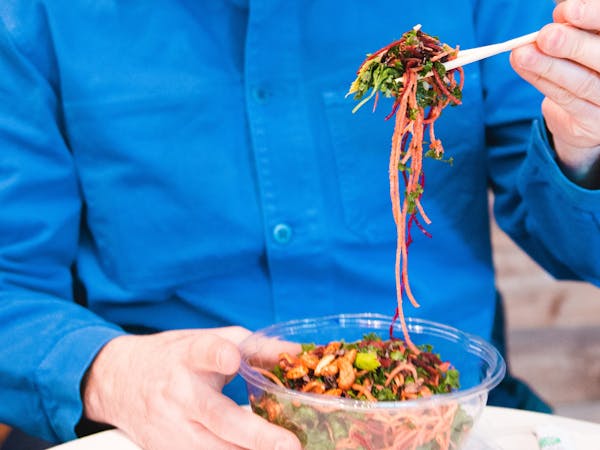 Fishtown local, pizza dude + all around good guy, Joe Beddia of Pizzeria Beddia, provided the inspiration for 'the spicy salad that joe made' on our new Winter hgTestKitchen menu. Lauded by Bon Appetit as the Best Pizza in America, Joe's new spot down the street from us in Fishtown opens in early Spring. We are psyched to have his delicious, crunchy, spicy salad here, and we had the chance to catch up with him when he made a guest appearance in our hgTestKitchen…
hg: we are beyond excited about having you as our first hgTestKitchen guest chef! Have you been a 'guest chef' anywhere else?
joe: I've been a guest chef a few times, most recently in Portland, Oregon at Lovely's fifty fifty back in October. We made pizzas, lots of them. I don't even know how many, maybe 100? There was a crazy line. But it's not like I'm that well-known nationally. I collaborated with Sarah Minnick. I went to them when I was making wine in Oregon.
This was my second time out there making wine. There's a couple from Philly out in Oregon making wine, and for my first trip, I came to work with them—to see if I wanted to do that. And while it's not too much work, it is definitely a lot of work in a small amount of time. I decided to come out here once a year, do a small batch—a ½ ton of grapes to start—and made a barrel of wine. This past year I did a full ton of grapes. These grapes were from a biodynamic grower—chardonnay aged in a neutral oak barrel for 13 months. On November 1st, we bottled it—it's a small run, but we'll have it at the pizzeria—'Beddia Bianco'
hg: what was your inspiration for 'the spicy salad that joe made'?
joe: I think it's like how the guy from the New York Times Sunday cooking section (Sam Sifton) mixes n' matches between a bunch of ingredients. I like anything really spicy, and I'm into the fish sauce thing. I was thinking it should be slightly Vietnamese in its flavors, as long as it's a spicy, heavily flavored dressing that could almost be put on anything. I did a pop up at R&D, and I took raw summer vegetables and tossed it in that dressing. I don't know yet if we'll serve something like that in the pizzeria—everything doesn't have to be Italian.
hg: we know you're into natural wines, what kind of wine or other beverage would you 'pair' w/ this salad?
joe: ooooh that's a good question—something natural, something light, like a good Riesling.
hg: while we know you're insanely talented + your pizzas are amazing—what is your favorite food that is not pizza?
joe: anything Japanese…raw fish—yea, that or pasta!
hg: when you were a kid, what did you want to be when you grew up? And today, what do you want to be when you grow up now?
joe: I think the first thing I wanted to be was a lawyer, then I wanted to be a beer brewer (and I did that). And now, I don't know—I did the pizza maker thing for five years and that was enough. I like to do different things all the time.
hg: is there a type of food or ingredient or drink or dish that you cannot stand?
joe: I don't like hard-boiled eggs, and I don't like liver.
hg: if you could make pizza for anyone in the world, alive or dead, who would it be + what toppings would go on the pizza?
joe: Domenico De Marca from Di Fara—he's gotta be in his 80s now (editor's note: he's 83)—and it would probably just be a plain pizza. It's my favorite, that or the tomato pie with anchovies.
hg: where do you draw inspiration when you're formulating a new recipe?
joe: I'm inspired by other chefs—like that guy from Estela, Ignacio Matos. And the chef at The Four Horsemen in Williamsburg.
hg: we are almost as passionate about music as we are about food, what do you listen to while cooking?
joe: generally I like some sort of cool jazz, like Bill Evans or Thelonious Monk. Something easy that's not too distracting, with wine of course.
hg: we know you are a bit of a Philly 'celebrity,' who's another Philly celebrity you would like to meet?
joe: that Philadelphia Eagles guy, Michael Bennett.
hg: what's a question that you wish people would ask when interviewed?
joe: I like to collect things—furniture, art. I got this sculpture—it's a Philadelphia Wireman. Back in the early 80s, on trash night, over 1000 of these little sculptures were put out for trash. They're represented by the Fleisher Ollman gallery. They still haven't figured out who it was, and I got one at an auction because they're too expensive to buy at a gallery. I love the one I got, but they're all unique and so interesting because there's so much that is unknown.