The Official Granola of Hghoboken : Bounty Batch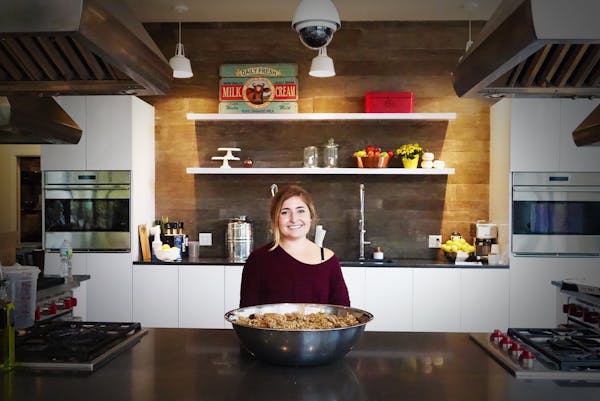 hgHoboken serves up a granola that is a little different than the rest of our locations. This delicious, locally made, crunchy honeybar topping is made by Nicole (and her very helpful, but modest mother!) of Bounty Craft Granola. It is handmade, packaged + labeled! We wanted to get the story behind this local Hoboken treat, so we chatted with Nicole and mom at their prep kitchen, Hudson Table!

hg: how did you get your start?
nicole: we had a recipe which we thought was great, and people kept telling us to sell it. It was one of those things where you talk and talk and talk about starting a business and then—I just did it! The intention was to provide a home-baked good to the local community that's really tasty and different than what you find on the store shelves. Our goal is not to go to a 'co-packer' and mass distribute all over the country. We want to remain a handmade product, so we can pay attention to every detail, and we never lose the flavor.
hg: what were you doing before hand?
nicole: last July I left my corporate job. I was a business consultant for IBM and I wanted to make the jump into the food industry. I studied economics in college, and I realized it wasn't really where I wanted to be. So, I left IBM (Mother was surprised) with somewhat of a plan. I started working at a specialty food store in Chelsea called Foragers where I learned a lot about product sourcing…
"…I started to realize what people enjoy about a product—and why I love this industry—is that people really care a lot about it. I mean, you're giving someone food..so, that's great."

hg: how did you get involved with Hudson table?
nicole: we had previously been producing at a more industrial kitchen. We wanted to be made in Hoboken because, to us, geographical branding was important. My friend actually took a class here [at Hudson Table] and I thought they may not have as much going on during the day. I contacted them; they showed me the space, and it's beautiful. We've been here since March, and I recently started helping with their classes, so I'm learning about the cooking school. It's a really fun atmosphere.
hg: where can we get our own jar of Bounty Batch?
nicole: I do a lot farmers' markets Thursday through Sunday. They're slowing down for the winter, though. They're in Jersey City, Ramsey, New York City and all over the state. It's been a lot of fun because I get to see people taste my product directly in front of my face. So, you're seeing an honest reaction. [editor's note: a few Hoboken stores include Sobsey's Produce, bwè kafe, Black Rail Coffee, Washington General Store and The Little Grocery]
hg: tell us about the special spiced blend for honeygrow.
nicole: since you were looking for a nut-free granola (for allergy issues), it took us a bit to find the right blend of spices, grains + seeds. This is probably the most recipe testing we've ever done and it was great! It has a chai spice blend so it has some warmth to it and tastes nutty without actually having nuts in it.

hg: what's next?
nicole: we're making a Christmas blend that we're calling 'Hoboken Harvest' with the honeygrow recipe as the base. It's got cranberries and dried apples.
hg: so Mom, what is your favorite way to eat granola?
mom: it depends on my mood. In the evening, I'll eat the chocolate. It's got a Belgian chocolate chunk in it, but I have to hide it from Nicole's dad because he will demolish it. In the morning, I'll eat it with some Greek yogurt. I'll use the rosemary fennel. It's sweet and savory and people are really gung ho about it.
To get your hands on a Bounty Craft Granola topped honeybar, stop by hgHoboken or drool over the delicious photography here. Residents of Hoboken can order online (free delivery to Hoboken + Jersey City!)