The Curiosities of Curio Spice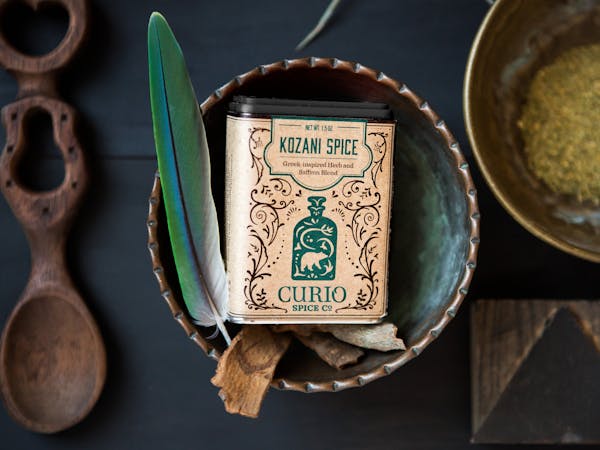 as lovers of all things culinary, travel + adventure, we were stoked to be able to sit down with Claire Cheney, founder of Curio Spice Co. Founded in 2015, Claire is a self-taught cook who's spent the last decade visiting spice farms + communities over 12 countries sourcing the best spices to bring back to New England. Tucked into a cozy space in Cambridge, MA, the shop is like taking a step into a global adventure full of treasures + stories—Claire's adventurous spirit echoes throughout every spice blend + object.
hg: thank you for having us in your beautiful space—what inspired you to create Curio?
claire: I'm glad you could visit! The company was born out of a deep passion for spices + the way they can transform a meal, while also telling a story. I have always loved traveling, but not just to typical tourist destinations—I prefer finding my way to farms + odd markets where I can discover incredible spices. In creating Curio Spice Co., I wanted to source unique spices + make awesome blends, but also make an impact in the world—as a benefit corp., we are dedicated to ethical sourcing which includes finding socially + environmentally responsible producers around the world to work with directly.
hg: what are the general 'types' or classification of spices? does each type of spice have a 'season'?
claire: spices are classified generally as dried parts of plants—be they seeds, roots, barks etc. Herbs are thought of as the leaves + green parts of plants, but I also consider herbs a spice. Flowers are spices. Dried limes are considered a spice. There are a dazzling number of aromatic + edible plants in the world, so it's hard to categorize them all efficiently. Salt is a mineral, so technically not a spice, but often is treated as one, given its own variations.
hg: what's the most common question you're asked about spices?
claire: two commonly asked questions are: 'how long should I keep this?' and 'what should I do with it?' Ground spices should be kept for six months to maximum one year, whole spices two years. And you should cook with it! Don't be afraid to experiment.
hg: from all of your world travels, do you have a favorite place + favorite spice from that place?
claire: I love Sri Lanka + the cinnamon that grows there. It is sometimes called 'Ceylon' cinnamon, for the old name of the country and sometimes 'sweet' or 'true' cinnamon. I learned how to peel cinnamon on a farm there + it was a crazy beautiful experience that I'll never forget.
hg: what are some unexpected uses for spices? perhaps beyond seasoning or finishing in cooking a dish…
claire: drinks! I love getting creative with mocktails + cocktails. When I was pregnant last year I used spices to make interesting simple syrups to make my own flavored sodas or teas. Even just putting a few whole spices in a teapot is delicious—try coriander + fennel + a cinnamon stick.
hg: where is the most unique place you've traveled on your spice journeys? Is there danger in the quest for these spices?
claire: haha, well I'm sure there is danger lurking everywhere! But I've travelled a lot, and even as a solo female traveler I've always felt very safe. Traveling just requires a lot of common sense, planning + precaution. A few unique places include: Greek Macedonia (Northern Greece) to work on a saffron farm, NE Madagascar to source vanilla, central Vietnam to learn about the coffee + cocoa trade there, among others!
hg: tell us more about Curio being a mission driven public benefit corporation? How does sustainability play into your trade?
claire: it plays a huge role + it's why I started the business—I was dissatisfied with the lack of ecologically conscious + socially responsible gourmet spices on the market! We try to source our spices directly from farmers whenever possible (ensuring a fresher product, as well as values that match our own) and organic certified.
hg: what do you carry at Curio that is sourced locally?
claire: lots! Seaweeds, chile peppers, mushrooms, herbs and salts. Our "Supeq Spice (Umami Seaweed Salt)" is made from 100% New England grown ingredients.
hg: tell us more about the name 'Chili Today'—the spice blend we'll be using in some of our upcoming Summer seasonal menu items?
claire: the name comes from the phrase, "Chili Today, Hot Tamale!" which was a phrase often said by the grandfather of our production manager, Leah, about the weather here in New England. We thought it was a perfect way to honor him!
hg: what's the most surprising thing you've learned since starting Curio?
claire: that anything is possible!