Sharing the Love: Emma Fried-Cassorla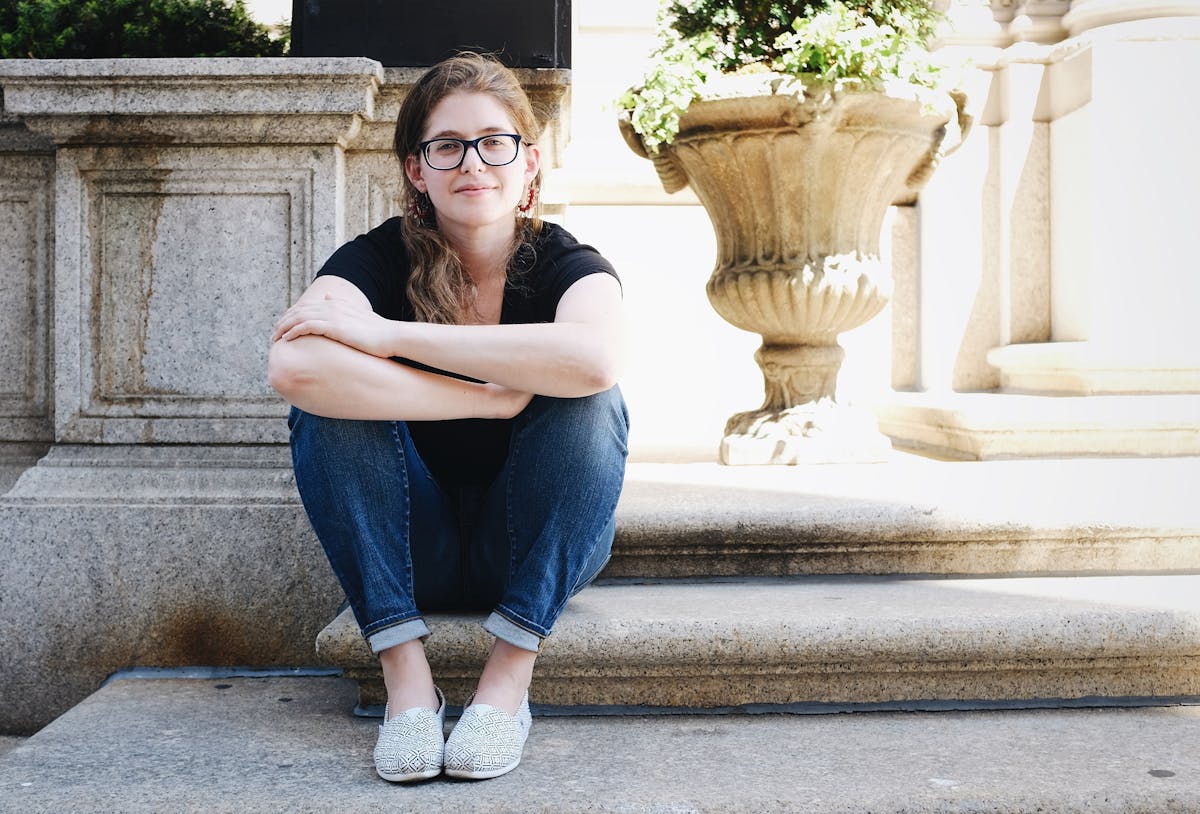 if you could write a love letter to your city, what would it say? Would you even write one? How passionate do you feel about your hometown? Why do you feel this way? Emma Fried-Cassorla took all this into consideration when starting Philly Love Notes in 2012—a blog used to collect, share + put into words the love affair many of us have with Philadelphia. To this day, thousands of people still share why they love Philly through her hashtags. Though Philly Love Notes ceased operation in 2015, Emma has found other ways to express her love for a city that is forever linked to the term. Read on as she walks us through the Philly Love Notes era, the inspiration for her laser cut maps, and what is inspiring her to look for love outside of city limits every so often.
hg: hi Emma! Tell us a little about your background—what was your focus prior to pursuing your Philadelphia-based ventures? Are you a lifelong Philadelphia resident?
emma: before Philly Love Notes, and the world of communications, I managed a neuroscience lab at the University of Pennsylvania studying the development of fish eyes (seriously). I was born and raised in Germantown and Cheltenham, so yeah, I like to consider myself a lifelong resident at least for now.
hg: on May 11, 2012 the first-ever "Philly Love Note" was posted to your website, PhillyLoveNotes.com. It reads:
Emma Fried-Cassorla
Favorite Spot: Hardena Restaurant
Neighborhood: Point Breeze?
Address: 1754 S Hicks St, 19145
I am: a scientist, student, foodie
Years in Philly: Off and on for 29. Almost 30. Getting old.
Current home: South Philly, the promised land of pho and Mexican food
upon that initial posting, did you ever feel this project would reach so many people? What was your original goal with this project?
emma: (laughs) No. I thought it would be a fun little project for my friends and I to find new, cool places in the city. It took on a life that I never expected.
hg: how has your love for Philadelphia changed since that initial post?
emma: "Philly-love is complicated."
There are times that I love living here immensely, and others that make me want to move the next day. I think that's been a constant since starting the blog 4 years ago. I guess what's changed is the general conversation around Philly pride. People (and I) talk about it more openly. You're allowed to be proud of living here now, and no one will make fun of you for it. That's not how it was four years ago.
hg: when did it occur to you that Philly Love Notes (+ it's companion #whyilovephilly hashtag) was a "hit" within the Philadelphia community?
emma: my friends started introducing me as Philly Love Notes (which is weird). I noticed #whyilovephilly's success more recently because it's continuing despite the blog not running and there being no activations (contests, parties, campaigns). It's become a constant way to talk about the good things in Philly on social media
hg: describe one love note which stands out to you among all others:
emma: Chris Bartlett, who wrote about the Church of St. Luke and the Epiphany. He wrote about how the church was one of the only places who would bury AIDS victims during the epidemic in the 80s. The pastor, who's still there, would preside over the funerals. I cry every time I read it. I will never pass by that church + not think about its importance in Philly's history.
hg: you posted your final love note, #300, in September of 2015, thus ending the three-year long endeavor. New projects arose in its absence; one such venture being your Philadelphia woodcuts. What was the inspiration behind this massive, meticulous undertaking?
emma: the story is kind of similar to that of Philly Love Notes. . .
". . . big idea, little thought about strategy, immediate implementation."
I decided I needed a side project + something to help solicit more love notes for the blog, so I thought it would be cool to paper cut the entire city. Three months and 85 blades later, I finished the entire thing. I gave one away through a contest and kept the other copy for myself. Before framing it, a very smart friend (Sean Martorana) suggested I scan it for posterity sake. He helped me realize all the cool things I could do with it, so I joined NextFab and learned how to use the laser cutter.
It's funny thinking about these projects because I've always thought of them as side projects + that's always been their intention. I loved working in the lab, at the Waterfront and now at J2 Design, and I love having something to do in my free time.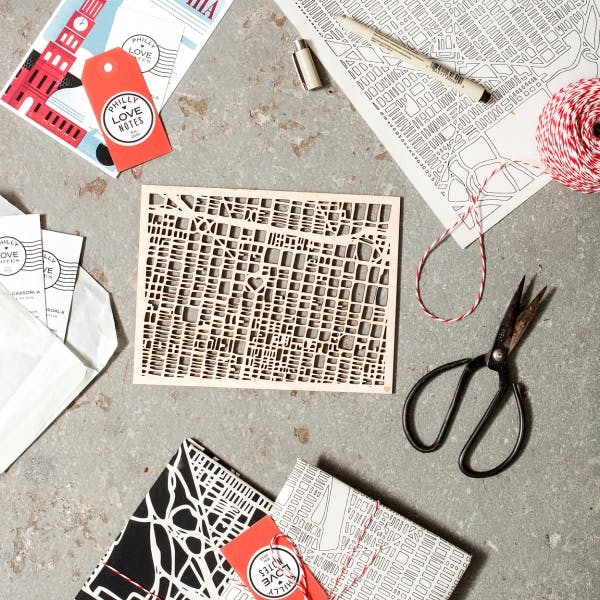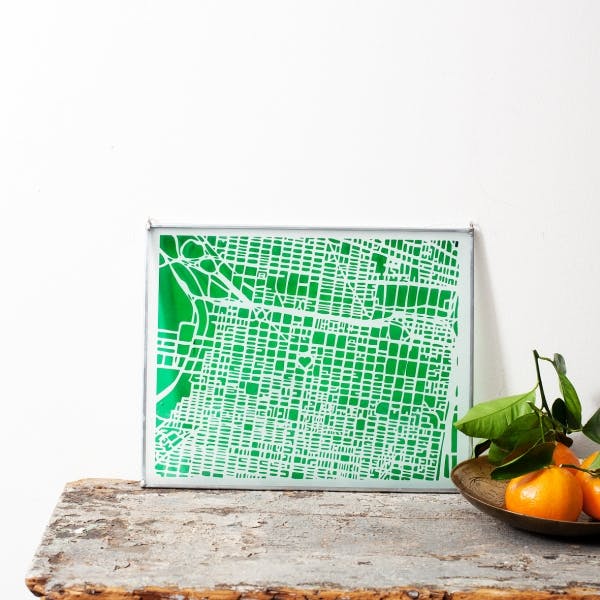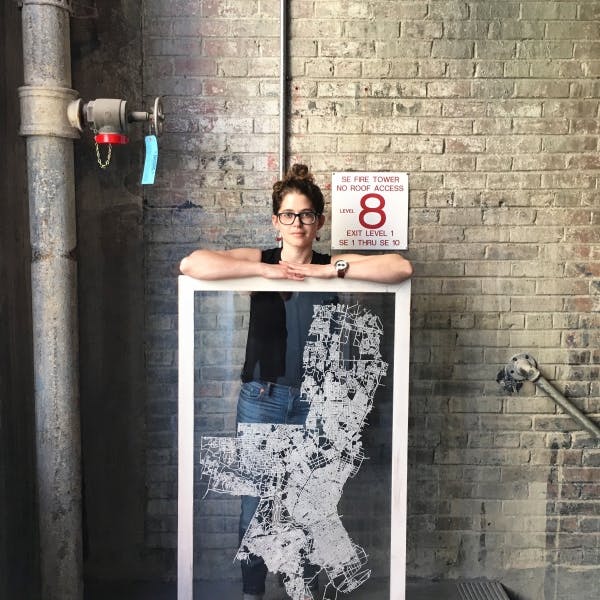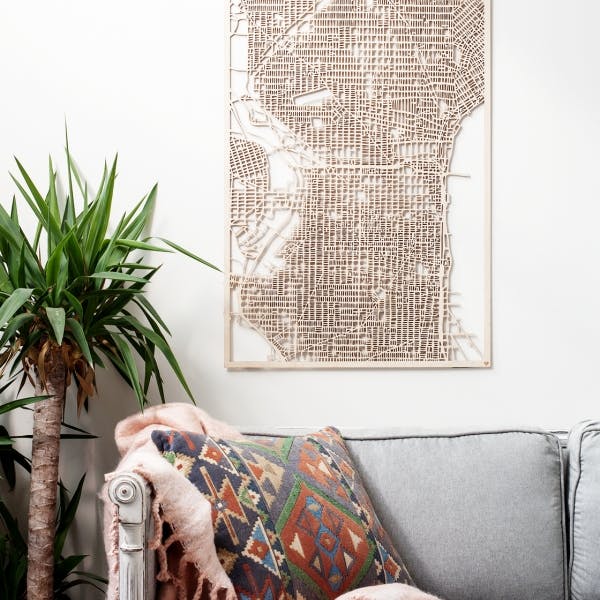 Photos: Heidi's Bridge
hg: what is the process behind creating one, singular woodcut? How much time + energy does it take to create such a detailed piece of art?
emma: the giant paper cut one took three months. Now I use that as my template. When people ask for a map, I can go into the file and manipulate it, and then use the laser cutter at NextFab to do the actual cutting. I have to be there to oversee everything and sand them down at the end. The standard ones take about 45 minutes on the laser. The bigger ones can take up to three hours. During the holidays, I'm at NextFab three nights a week + both weekend days. Right now, I'm usually there once a week.
I've also been working with a glass artist—Cooper O'Neil. He's been making the maps on colored glass. It's taken the project to a whole new level.
hg: are these woodcuts available only online?
emma: yup. Only online on my Etsy page. Almost 95% of the orders are custom, meaning they're special sizes, or they're located around specific neighborhoods with icons on special addresses. It's hard to sell a "standard" one because the customizing is what makes them unique.
hg: recently, you've been profiling non-Philadelphia retreats via your @PhillyEscapes Instagram—what was your inspiration here?
emma: I just wanted to find a good vacation spot with some hiking and a fireplace/firepit that's within three hours of Philly. Turns out it's way harder than I thought, especially if you want a place that's a beautiful cabin. I decided to start a list and open it up to the public for additions.
I lived in Montana for a long time and I spent a lot of time traveling around the country. It's hard to constantly live in a city, especially in my neighborhood, where there's very little green space. I get very itchy feet. The long distance train travels that I've done have been really nice. I really need weekends out of the city + I feel that most people would enjoy weekends out of the city, so this was an attempt to aggregate all that stuff. It's not anything more than that yet (+ IG account), but I'd like to make it into a website at some point, if I have time. There's two really good ones for New York, one's called Escape Brooklyn + the other is called And North—they highlight awesome AirBnBs + other bed and breakfasts. I would love to do something like that, but again, if I have time…
hg: what are some of your favorite destinations thus far? Which areas are you most looking forward to visiting next?
emma: I love the Hudson Valley. I want to spend more time exploring around there + the Upper Scenic Delaware. In the back of my mind I'm always looking for some land or a cabin to buy.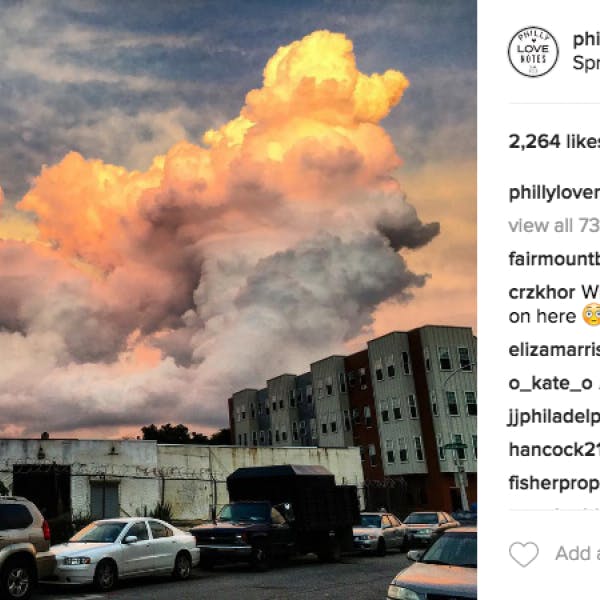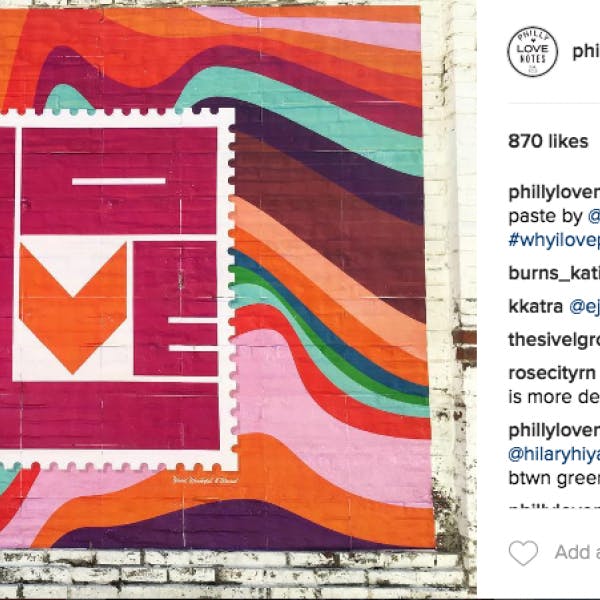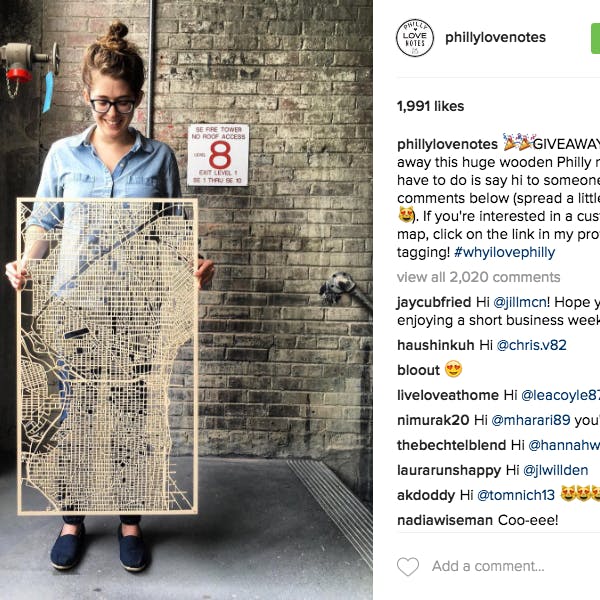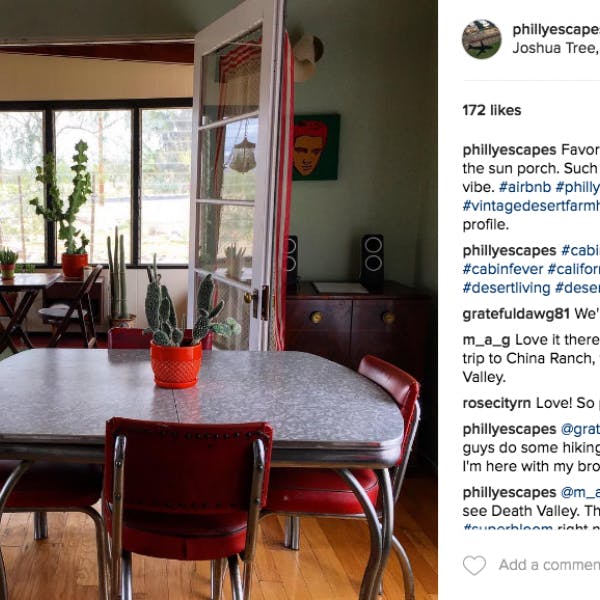 hg: why do you have heart eyes for Philadelphia as opposed to other cities such as New York, DC or Chicago?
emma: because I'm from here, and. . .
". . . I've spent almost all my life watching it turn into an incredibly vibrant/fun city."
hg: no city is ever quite perfect. Where do you feel Philadelphia can improve? What issues within the city do you feel strongest about?
emma: oh man. Philly has a lot of problems, especially around education, economic segregation + poverty. When I worked for the waterfront, I felt like I was doing something great for the city that gave people something free + beautiful that was open to everyone. Now that I've left that job, I definitely would like to start doing some work with the issues above. I haven't figured out exactly what that is yet.
hg: what are your thoughts on the Philadelphia community as a whole? We're known for "Brotherly Love + Sisterly Affection," but what other aspects of Philadelphians that stand out to you—what separates them from non-Philadelphians?
emma: I don't think that the Philly community is necessarily different from any other city. People here are really close, especially if you're nicely embedded in the community. I don't know what that's like in the other cities, but here there's an Instagrammer community, a tech community, an Indy Hall community. Once you're in them, you have this solid group of people that you can hang out with. I think that Philadelphians sort of loath to talk about Philadelphia in a good way, but that's changing. There's also a very, very strong sense of pride living here. I think that's different in New York or DC where there are a lot of transplants. I think Chicago is the other one with that hometown pride.
hg: what are you most looking forward to in Philadelphia (event, construction, pop-up, etc.)?
emma: The Rail Park, but I'm biased because it's in my backyard. The Civic Commons Project is pretty cool—it'll be interesting to see how that pans out. There's not any particular development that I'm looking forward to, because there's so much development. It's nice to see, but it's hard to deal with sometimes. Development of the waterfront is important to me of course. There's a lot of big projects that are planned that will hopefully come in + maintain waterfront character and bring more people there.
hg: what's next for not only yourself, but your Philadelphia Woodcut + @PhillyEscapes projects?
emma: probably something more with Philly Escapes, and maybe something that re-invests my time into the city. To by totally honest, I don't usually know until the night before.
follow @PhillyLoveNotes + @PhillyEscapes on Instagram for Emma's latest updates and check out her Etsy page to order your very own, custom laser cut map!