Sesame + Sisterhood: Soom Foods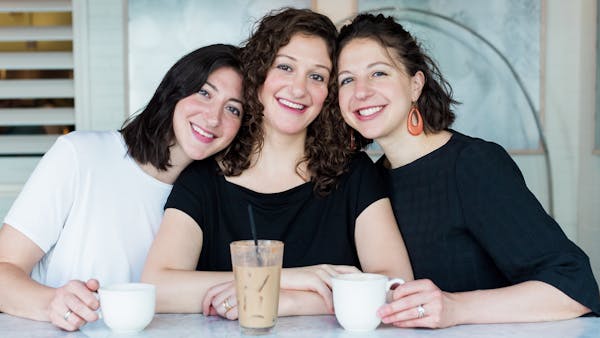 Soom Foods' tahini has been featured on the honeygrow menu for years, used to create sauces + dressings, such as our original Lemon Miso Tahini stir-fry sauce (which is once again available, but only at our 16th Street location) + our popular Sriracha Tahini dressing. We also now feature Soom tahini on our minigrow menus with our Black Pepper Tahini sauce. We last chatted with the Soom sisters — Shelby, Jackie and Amy — back in 2014, and since then their brand, story + product line have grown as more + more chefs, restaurants + home cooks turn to their versatile tahini as a vegan ingredient in dishes (and not just hummus, as we discuss below). We recently checked in with the sisters to learn how they've expanded their operation over the last few years + to learn more about the benefits + unique attributes their tahini offers...
hg: tell us a bit of how Soom Foods was started + what ignited your love for all things tahini… (plus, what does "Soom" mean?)
soom: 'soom; means 'sesame' in Hebrew…
our love of tahini started, well, with love. Specifically, our middle sister, Jackie, falling in love with her (now) husband, Omri. Omri has been in the tahini/sesame industries for over a decade! The idea for Soom Foods sparked when our oldest sister, Shelby, was first introduced to Omri, and Omri first introduced us to delicious tahini. Good tahini was used for everything from hummus to sauces to ice cream + baked goods! Shelby's business background prompted her to question what tahini was available in the states… and whether the American Market was open to having a better tahini option.
hg: before we get into the Soom-specific questions, tell us a bit about tahini + how it's created, as well as the different varieties of products you offer.
soom: tahini is an ingredient made from roasted + pressed sesame seeds. Soom tahini is pressed from 100% Ethiopian White Humera seeds — no added oils, salt, or preservatives. The sesame seeds are hulled (the shells taken off), roasted + then pressed down — the natural sesame oils are extracted with the "meat" of the sesame seed into a delicious, silky-smooth paste.
Soom also sells a nut-free, vegan chocolate spread — with just three ingredients, it's our guiltless indulgence. We've recently launched our first non-sesame product, Silan - date syrup. Made from 100% steamed + pressed organic medjool dates, grown in an agricultural oasis in the southern desert of Israel.
hg: what're some of the health benefits that tahini provides?
soom: sesame is one of the best non-animal sources of protein, calcium + iron. They're filled with vitamins + minerals, such as B vitamins, magnesium, phosphorus… super nutritionally dense!
hg: are there any practices in tahini-making that are specific to Soom? Where do you source the sesame used in your recipes?
soom: every batch of Soom is tasted by Jackie (our sister in Israel) for approval of flavor + consistency. Jackie's husbnad, Omri, sources our seeds from the northwestern, Humera, region of Ethiopia. The variety of seeds is called White Humera.
hg: how do you incorporate Israeli techniques, flavors + other qualities into your products?
soom: we've kept our manufacturing of Soom tahini in Israel because they have the best techniques. Same goes for our new product, Silan. In general, though, Israeli + middle eastern cuisine, with their unique approach to incorporating tahini in practically everything, has inspired us since day one.
hg: Soom is unique in that all three of the co-founders are sisters — making it a powerful example of a woman-led, family-owned business. What are some benefits of working alongside your family members? Likewise, have you faced any adversity or challenges due to this unique factor? Also, you all seemed to have had very different kinds of careers in the past. Was there a particular event that shifted you all into creating Soom?
soom: we're lucky in that Shelby, Jackie, and I have very different skills + interests, so we have complimentary (not overlapping or contradicting) roles in the business. We each get to do what we're good at and enjoy (well... most of the time what we enjoy, but let's be real… owning and operating a business means doing a little bit of everything).
Being family owned — we grew up with the same morals, values + parental examples that have shaped us into the business owners we are today. We never sat down as kids and said, let's go into business together one day. No sister lemonade stands or car washes… but we did grow up with two entrepreneurial, self-employed parents, so I think owning our own business ran in our blood.
hg: being based in Philadelphia, you can find yourself in the midst of many different cultures and influences. How has being in the city influenced your brand and how you interact with the public?
soom: being in Philadelphia lets us meet a lot of people (most people!) who don't know what tahini is, and if they do — they may not know its full potential beyond hummus + sauce. It's a constant, great, reminder that our mission will always come back to consumer education.
"Having our office/warehouse in North Philadelphia has kept us humble + driven."
It's not a fancy space (although we are finally investing into some new furniture + painting the walls, and such!) and is quite different from what people might expect Soom to be or "look like" based on our packaging + social media/marketing.
hg: given the current political climate, why is it so important to support + encourage female leaders + entrepreneurs? How do you help motivate young women who may be looking to start their own business one day?
soom: coming from a family of three (athletic) daughters/sisters, it's always been at the forefront of our upbringing that women/girls should be encouraged to become leaders. Everyone should be encouraged to become a leader in their own right. But, as I think Justin can verify, it's really not easy for anyone to start their own business.
Shelby was a mentor in Own Your Awesomeness + we are all open books to any aspiring entrepreneurs!
hg: similar to honeygrow, Soom advocates for fresh, real ingredients in your products. Why is it important to Soom to maintain its commitment to this practice?
soom: we've always been taught to "practice what you preach." Or in this case, preach what you practice.
"We choose fresh, real ingredients for ourselves + our families, because we believe it will lead to a better life…"
...there is no other option than building our business around the same.
hg: are there any particular favorites for the Soom crew on the honeygrow (or minigrow) menus? As a longstanding partner of ours, is there a way of using tahini at honeygrow or minigrow that you'd like us to try in the future?
soom: we LOVE that Sriracha Tahini dressing. The nutty/creamy consistency of the tahini mixed with the fresh herbs is such a nice balance to the sriracha heat! I'd love to see Soom on the honeybar — tahini and honey is one of our family's favorite combinations! Our new Silan (date syrup) could also be a vegan option on the honey bar — date syrup is also an amazing sweetener to a tahini vinaigrette.
hg: where else can we find your products — either incorporated into recipes or available for direct purchase?
soom: it's hard for us to call out a select few restaurants + chefs that incorporate Soom onto their menus — we appreciate and admire all of our partners! But a couple that stick out to me (around Philly, our hometown) are the hummus at Zahav/Dizengoff, milkshakes at Goldie, Burmese Cold Noodles at Stock, and Citrus Shaved Ice at Cadence.
You can find Soom at Mid Atlantic Whole Foods Markets (Northern Virginia through Southern New Jersey), MOMs, and about a couple hundred specialty + natural stores throughout the country.
You can also purchase on our site, here or via Amazon Prime.
hg: are there any upcoming projects or recipes that you're particularly excited about?
soom: Soom Silan has us really psyched in the office, but we're all constantly experimenting with new ways to grow our recipe database.
to learn more about Soom Foods, where to find their products or to purchase online, visit their website!
follow them on Instagram, Facebook + Twitter for updates on new products coming soon!