Sensational Soy: Phoenix Bean Tofu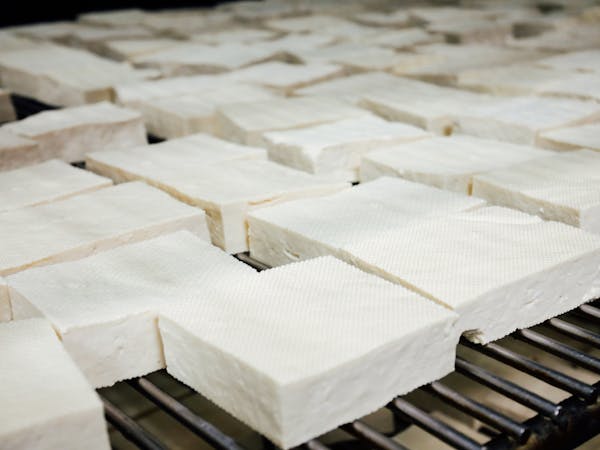 With honeygrow's (+ minigrow's) Chicago arrival, we worked with the team at Local Foods to identify area partners + farms who shared our commitment to delivering high quality, sustainable ingredients to the Chicago community. One such partner is Phoenix Bean Tofu. Based out of the city's Edgewater neighborhood, Phoenix Bean supplies both honeygrow + minigrow with the tofu used on each menu (roasted for honeygrow, marinated for minigrow). We recently caught up with owner, Jenny Yang, to learn more about Phoenix Bean's history, sustainable practices + how they blend Asian + American techniques to create a top-of-the-line product using locally sourced, non-GMO soybeans…
hg: Phoenix Bean has been a premier supplier of tofu to the Chicagoland area for more than 30 years. Tell us a bit about the company's history + what inspired you to purchase the company in 2006.
jenny: I discovered Phoenix Bean during one of my neighborhood walks with my new daughter.
"Seeing, smelling and tasting their products made me think of all the great tofu dishes I grew up with in Taiwan."
It excited me, and our family quickly became a customer + friend. One day, the owner told me he was thinking of retiring and closing shop. I lamented the loss of such a wonderful artisanal Asian product. Where would we go to find tofu? At the time, I was also burned out from commuting and working long corporate hours. I had this bright idea that maybe working at a little business near home would give me more time with my family — little did I know that it would grow into what it did!
hg: explain to us a bit about your tofu making process + how it differs from your competitors or colleagues in the industry.
jenny: the key to our products is our commitment to freshness + high quality. We have direct relationships with all of our soybean farmers + personally work with them to ensure they are growing and selecting the perfect soybean for making our tofu. All of our soybeans are organically grown and non-GMO certified. Our staff processes whole soybeans each morning to produce soymilk that is hand curdled + formed into different styles of soybean curd, commonly called tofu. We make + deliver our tofu fresh every day, so we do not use preservatives or artificial additives to keep our tofu fresh. Many competitors do not use whole soybeans and may use UHT pasteurization to keep the product shelf stable.
hg: how has this process changed since you bought Phoenix Bean back in 2006? What steps are you taking to reduce your impact on the environment?
jenny: tofu is made from curdling soymilk made from soybeans + water. That simple recipe has not changed, but we have updated our production to make a better, more sustainable product. We source our soybeans directly from Illinois farmers to support local agriculture. Our factory has tankless water heaters + modern grinders to reduce our energy + water consumption. We work with local community organizations, universities + farmers to use the remaining soy pulp (okara) as a food ingredient or natural fertilizer. We continue to sell our products directly at local Chicago area farmers markets to help educate customers about the taste, nutrition and environmental benefits of plant-based protein. Our products are grown, produced and sold closer to our customers' homes than some produce found at farmers markets. That is local sustainable eating.
hg: just like honeygrow, you've made it part of your mission to use nothing but fresh, quality ingredients when making your tofu. How do you identify the proper partners to work with or ingredients to source? Has this mission ever been difficult to uphold?
jenny: the bulk of soybeans in the U.S. are grown for animal feed + commercial soy protein/oil production. These fast growing GMO varieties yield low-cost, high-volume crops, but are not ideal for making tofu, so we switched to non-GMO soybeans shortly after I bought Phoenix Bean. Currently only 6% of U.S. soybeans are non-GMO, and this was even worse when we started out, so consistent supply was difficult. To alleviate sourcing issues, we found a nearby IL farmer willing to try organic growing practices for us. This required sacrifices by both of us to eventually develop the desired crops over several growing seasons. Now we partner with three IL farmers to provide all of our high-quality, nutritious soybeans.
hg: your tofu is featured on both the honeygrow + minigrow menus in Chicago. Where else can we find your tofu around Chicagoland?
jenny: our tofu can be purchased at many retailers, both small + large, throughout the Chicago area. There is also a limited distribution to select markets in other nearby Midwestern states. Our products are now branded to include our original Phoenix Bean products and our organic Jenny's Tofu products. We also have booths where you can sample + purchase our products at a number of Chicago area farmers markets. Check out our Tofu FAQ page on our website for more specific details. Besides honeygrow + minigrow, our tofu is also on the menu at many other fine dining + ethnic restaurants throughout the city + suburbs.
hg: tofu serves as a blank slate for flavors + cooking techniques: what're some of the more creative uses you've experimented with recently? Any suggested recipes to try with your tofu?
jenny: our newest product, yuba (tofu skins), is created by boiling soymilk until the soy protein coagulates to form a thin surface skin. These thin sheets of tofu can be used as wrappers for making spring rolls or sliced into strips and used like pasta. We are excited see what other uses our customers find for our yuba. Our most popular ready-to-eat dish at farmers markets is our spicy stir-fry. A version of that recipe is listed on our website, and we encourage people who like spicy foods to try it. We are constantly trying new recipes and some find their way to our farmers markets as ready-to-eat dishes. Our ready-to-eat Vegan Mapo Tofu dish adds ground soybeans to the sauce instead of pork for a new twist on an Asian favorite.
hg: in what ways have the Chicago + Chinese cultures been integrated into your business + brand as a whole?
jenny: I am proud we have retained traditional Chinese methods for making our tofu. We still support our loyal Asian buyers, but look to the broader Chicago population as we expand. Our newer customers want more nutritious + sustainable food choices. Chicago's diverse food scene is perfect for adapting an ingredient like tofu that comes in so many textures and readily soaks up flavors. Not only is our tofu on the menu at numerous Chinese, Thai and Japanese restaurants, but you can find it in local eateries as diverse as a Mexican taco, to a vegan cheesecake produced by our partners at Eli's Cheesecake.
hg: similar to honeygrow/minigrow, community plays an important part of who you are as a brand. In what ways do you educate + engage with the local Chicago community?
jenny: "Chicago is our home."
We are currently in the process of expanding our production, and just invested in additional space on the same block as our existing factory in our Edgewater neighborhood. A retail shop is opening this year with additional production facilities coming soon. Our sustainability practices are a big part of our local involvement by supporting local farmers markets + businesses. Our staff at farmers market offer samples of our products while discussing ideas for how to prepare + use tofu. A recent project with Loyola University's Institute of Environment Sustainability tested the use of soybean pulp for raising mushrooms. We regularly support school + charity events where we provide tofu entrees, as well as host school groups in our tiny kitchens to learn about tofu production.
hg: any lesser-known tofu facts or tips + tricks you'd like to share?
jenny: our Smoked Five Spice Tofu + Yellow (Turmeric) Tofu make terrific pizza toppings. Our customers love sampling a white pizza with the Smoked Five Spice Tofu and a red sauce pizza with the Yellow Tofu at one of our farmers markets. These are firm tofu varieties made with less water content so they can be frozen + defrosted for use without breaking the curds, making the tofu easy to keep on hand in the freezer.
you can learn more about Phoenix Bean Tofu on their website + follow them on Instagram, Facebook + Twitter for updates!