Screen Time: Jd Deardourff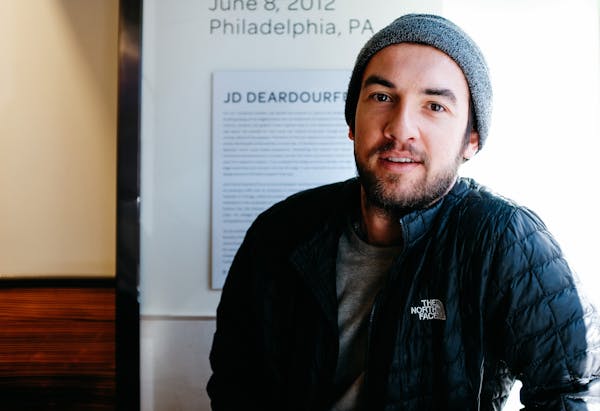 each of our locations feature a different artist local to the area—it's our way of further connecting with the community + reflecting its importance in honeygrow's story. Our Chinatown DC location is the first to feature a bright, sprawling mural running the length of one of our walls. This piece, which transports the viewer through various seasons + scenes, is the creation of JD Deardourff—a DC-based screen print artist who combines a relatable "comic book" visual style with bright pops of color to bring his artwork to life. We met with JD shortly after opening our 15th location to learn more about his artistic journey, the screen printing process + how pop culture (such as comic books and Star Wars) influence his style.
hg: tell us a little bit about you + your journey from the School of the Art Institute of Chicago (SAIC) to Washington, DC.
jd: I grew up surrounded by women—my Dad traveled a lot for work; we lived on the campus of a girls only boarding school in Northern Virginia where my mom worked and I had three older sisters. I attended SAIC from 2010-2012 to complete my BFA (I took a few years off before that) and returned to DC on a whim. I've been making art and doing freelance design here ever since.
hg: your pieces strike a familiarity with scenes seemingly inspired from comic book pages. Explain your appreciation for this style of art, and why you chose it as your to focus.
jd: "I started looking at comic books before I could read."
One of my uncles gave me his whole huge collection one Christmas, and I was a super nerd about them for most of my life. However, I sort of rejected them, especially in my artwork, before and for most of my time during art school. I thought the work I was making then was super deep and that comic books were sort of "off limits." The work I was making at that time was all grayscale and pretty emo (and embarrassing in retrospect), but I was doing a lot of collages from magazines and that sort of led me back toward comic books. On one of my vacations home I drove back to school with a bunch of my old comics and started using them for collages—that's sort of how this body of work started. That was in 2011-ish and I started using those collages as the basis for screen prints a little bit later. I like the way the screen print process sort of artistically/conceptually mirrors the way old comics were printed. My current work is sort of returning to some of those collage elements and a more painterly approach.
hg: are you a comic book fan yourself, or just a fan of the art style? If you're a fan of the material—what're your top three comics or comic book characters?
jd: I'd say I'm about as big a fan as you could possibly be. I know all the characters and their secret identities and stuff. In general, I'd say I'm pretty much as nerdy as you could get—I love any sort of fantasy type stuff like X-Files, Lord of the Rings, Star Wars, etc. I go to Fantom Comics in DC like almost every week and they hook me up with some sweet discounts, but I don't really keep up with the newer stuff. Usually I'm just digging through the back issue bins looking for hidden gems. The only current comic that I'm really following and eagerly anticipating every month is Doom Patrol by Gerard Way and Nick Derington. It's this awesome contemporary take on some obscure, cult classic superheroes from the 60s and the writing is really far out + psychedelic, but it's juxtaposed with a really clean, retro art style. That's a book that I'd definitely recommend to people.
I like the art in the older stuff a lot more. It's a lot simpler and sort of awkward + yet graceful at the same time. Plus, the colors are way better. In the late 80s they changed the way they printed comics—added a lot more color—and now the colors are way too overdone.
I'm also not solely into comic books. I love all kinds of visual stuff, from fine art, movies + magazines to sports to Instagram. I love Instagram; I love Pinterest; I'm a big consumer of visual content.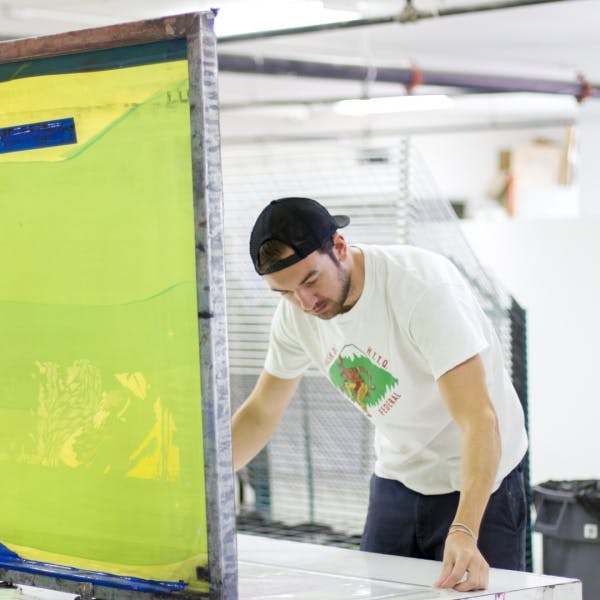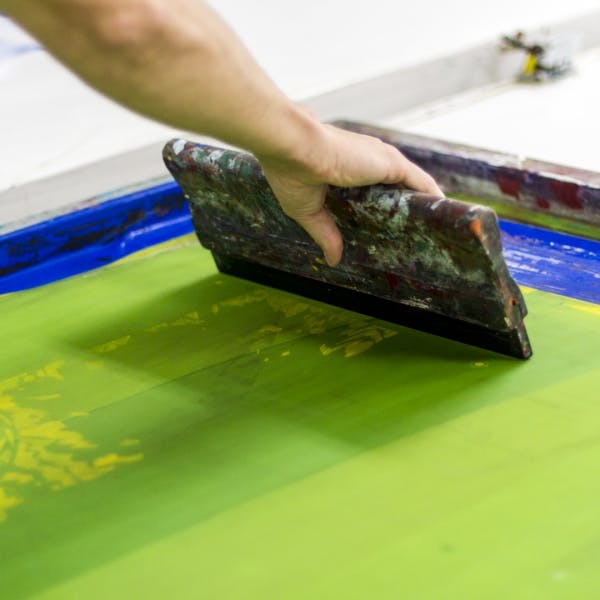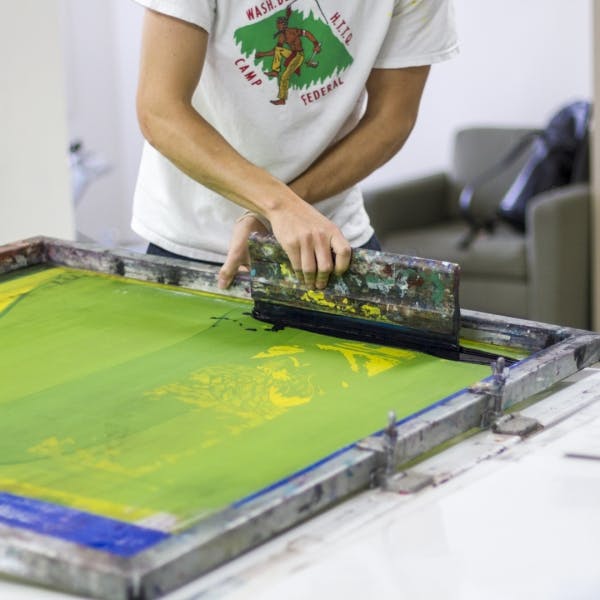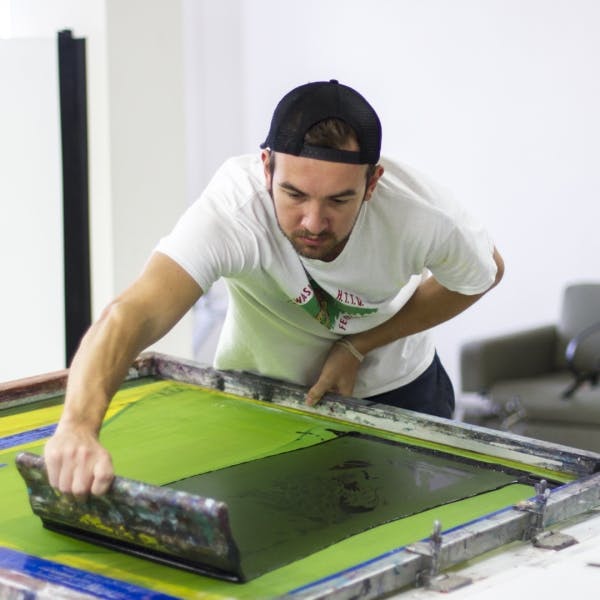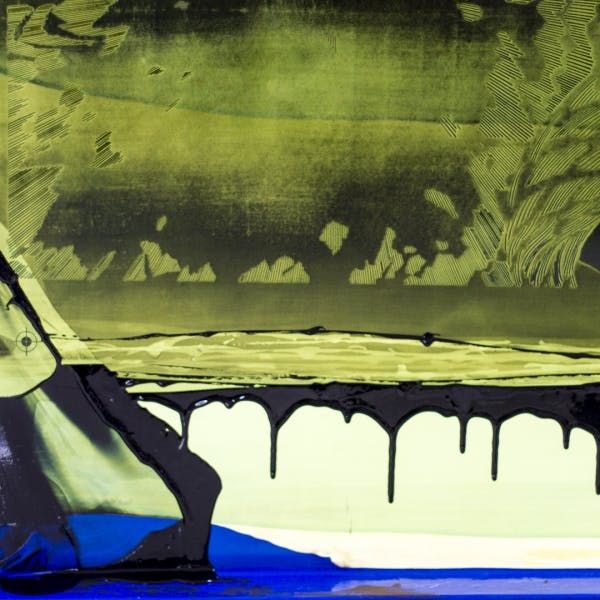 Images courtesy of @wildernessbureau
hg: why do you utilize screen printing as your medium as opposed to other methods of creation? What are the benefits (and hurdles) of a screen-printed piece?
jd: part of it is because it sort of mimics the way comics were printed. There are a shitload of benefits to screen-printing, among them that you can have more than one copy of something cool and thus more people can see it/potentially have it. So it's easier to disseminate. Also I just enjoy doing it. There's a sort of visceral quality to printmaking; it's physical, like doing construction. It can also be very zen. Then there's a whole conceptual quality to screen printing—where you're putting one layer down at a time + sort of building an image through layers of color. How the layers interact—how a transparent yellow over a pink will make an orange that you didn't expect.
"Each layer is sort of a surprise, and sometimes that can be a magical feeling."
Another benefit is that you can print on anything, a poster, shirt, hat, canvas, piece of wood, etc. I'm trying to do more of that lately, utilize that aspect of the process.
But there are also tons of ways to mess up, and it can take forever, and in general it's like sort of a tedious + outdated technology. You could easily just print something on a laser jet printer and 50% of the audience probably wouldn't be able to tell the difference (especially through the lens of the internet) and that would literally take like five minutes as opposed to five days. There are even people who have an automatic screen print set up which doesn't require them to do it by hand. However, I get sort of a perverse joy out of doing it the hard way, and I embrace the imperfections that happen doing it by hand versus the alternatives.
hg: explain a bit about the screen-printing process for those who may not be familiar with how it works. How does the process you use vary from the process that t-shirt or poster manufacturers use (if at all)?
jd: I'm not great at explaining the process and the best way to learn about it is to come to my studio where I'll show you first hand. It's super simple on one level but also can get super technical quickly. But here's the basics: Originally these mesh screens were used to sift flour in industrial mills in the mid-to-late 1800s. Eventually they were adopted for industrial design + sign painting when people realized you could push ink through the screens in that same sifting way. Ultimately, in the 1960s, the process was sort of adopted into fine art, especially by prolific pop artists like Andy Warhol.
The best way to think about it is that the screen is basically a stencil, and you push one layer of color through the screen at a time—building an image through layers of colors.
hg: you are the featured artist in our new Chinatown, DC location. Your featured mural helps our new space "pop," with a burst of color + intense scenes. Could you explain your inspiration or vision for this piece?
jd: the inspiration for this mural came about due to food and growing ingredients, which ultimately led me to the idea of the seasons. Those ideas sort of combined with the fact that the wall was long and horizontal. The basic idea is that the mural is an abstract, energetic depiction of the seasons changing. I tried to design it so that each season section was separate but still connected to the full image.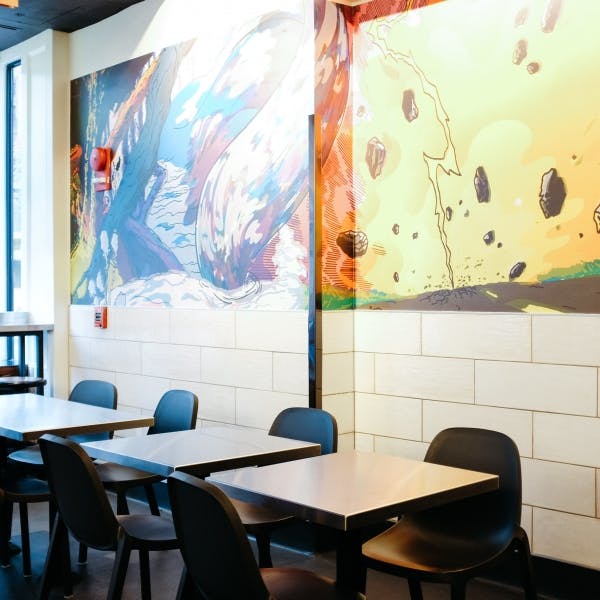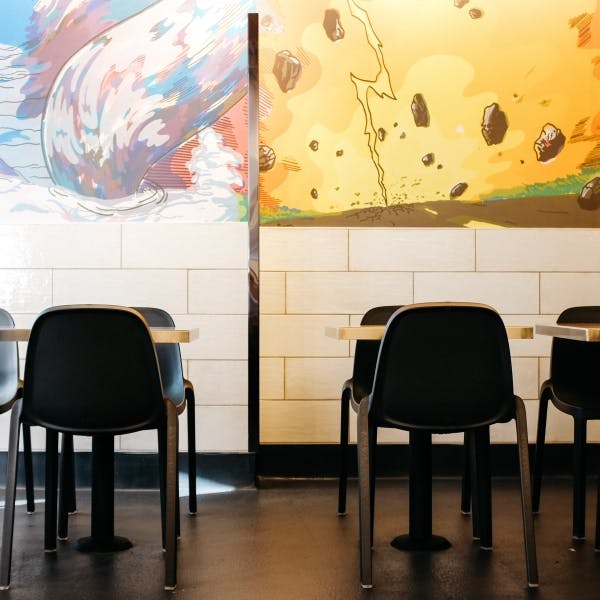 hg: have you completed a piece of this scale/size before? Were there any challenges you faced while working on the honeygrow piece?
jd: I have worked at this scale a few times. But the basic ideas don't really change whether you're working at a like 10 inches tall or 10 feet tall. In general, the challenge was just making it. The actual art in the piece is pretty complex, and there was a lot going on, plus it's a little bit more pressure when you know you're working for a larger audience.
hg: is there a common theme which can be found throughout your work? Perhaps something that separates your pieces from others. Furthermore, what are some of the messages you aim to convey through your work?
jd: there's definitely not a specific message in any of my work. I personally don't think that's a good approach. I'd prefer for people to just look and interpret for themselves, rather than try to force them to feel a certain way. I think it's okay for the "message" to be ambiguous or be different for different people.
hg: where else can we find your work (publicly, privately, etc.)? Do you display your work in a "street art" sense (i.e. do you wheat paste your work on walls, hang it, etc.)?
jd: hopefully in more places soon. I'm working on a solo show, hopefully for the end of summer/fall. We also have open studios at my studio, which is aptly named Open Studio DC. If anyone in DC ever wants to come check stuff out in person. I try to keep my website and Instagram updated with documentation as much as possible.
Not sure if I should admit to wheat pasting, but yes, there might be a lot of my work on electric boxes and in alleys in DC.
hg: you've worked with a number of popular brands (other than honeygrow) such as Burton Snowboards. What are some of your favorite projects to date? What are some projects or brands you'd love to work on or with someday?
jd: the snowboard for Burton was cool, especially because I like snowboarding. Sometimes when I'm riding I'll bump into someone on the mountain, and they'll have my board. That's a cool feeling.
The coolest commission/partnership I've done is was with the DC Department of Public Works. I did a design for their new fleet of recycling trucks, so there's a recycling truck that looks like I bombed it out with spray paint that drives around DC all day. It also happens to be the truck that picks up my recycling, so I see it every Wednesday morning and know the dudes who drive it.
visit our new Chinatown DC location to see JD's mural in person + visit his website or Instagram feed for more of his work!