Recipe for Success: Union Kitchen
how do you transform your culinary idea into reality when space, capital + resources are difficult to come by in Washington, DC? That's where Union Kitchen's commissary, storage space + distribution efforts come into play. We met with Co-Founder, Cullen Gilchrist, to learn what the space offers + how a surge in cookie demand prompted the creation of one of DC's most valuable culinary assets.
hg: tell us a bit about your culinary journey. Where were you prior to Union Kitchen? How did you end up there?
cullen: I jumped into the food industry almost as soon as I got out of school. I had an interest in working with food because I saw it as a field that was merit-based, to some degree, where you did well if you did good things. You would see growth + progress. I was excited about that, not to mention that I loved food and cooking—I thought it would be a fun and very rewarding way to work.
I started in Boston working in some restaurants, working for food service companies, running some cafeterias in the city there—just trying to get my hands in as many things as could, whether it was bouncer, a dishwasher at a restaurant, a line cook or what-have-you. Then, I had the opportunity to come down to DC where I started doing the same thing—working in restaurants + coffee shops. During that time, I learned how to make coffee and developed a food program there. Eventually, in 2012, my partner + I started our first business, The Blind Dog Café.
hg: we read that Union Kitchen opened due to the popularity of the cookies served at The Blind Dog Café—could you further explain the link between the two projects + the original goal for Union Kitchen?
cullen: The Blind Dog Café was a pop-up inside of a bar. We were there during the day and the bar was there at night. It was an opportunity for us to figure out what it was like to run a business. We got that started and almost immediately started meeting all these people in the food industry. I started thinking, "Hey can could we do this? Could we make cold brew coffee? Could we make cookies?" We started looking around at other opportunities. We eventually came across a big kitchen, certainly larger than anything we could ever do. We figured if we wanted to run our own business inside of this kitchen, we could share it with these friends. That's where the idea of Union Kitchen came from.
"Instead of a space for our business we found a space that enabled us to share + grow with others."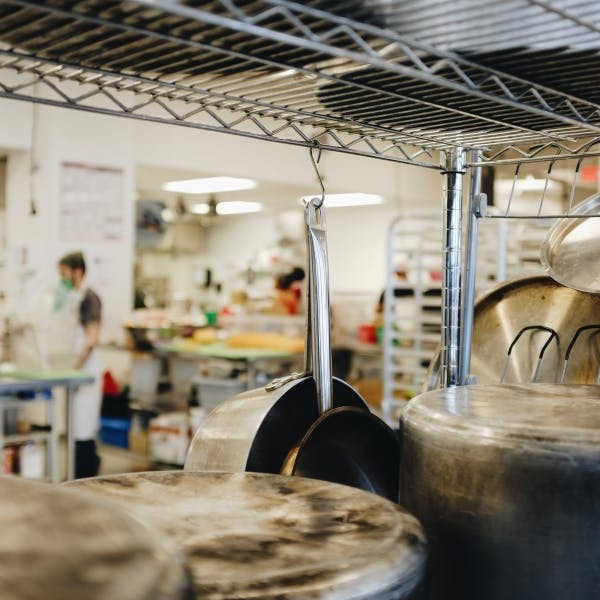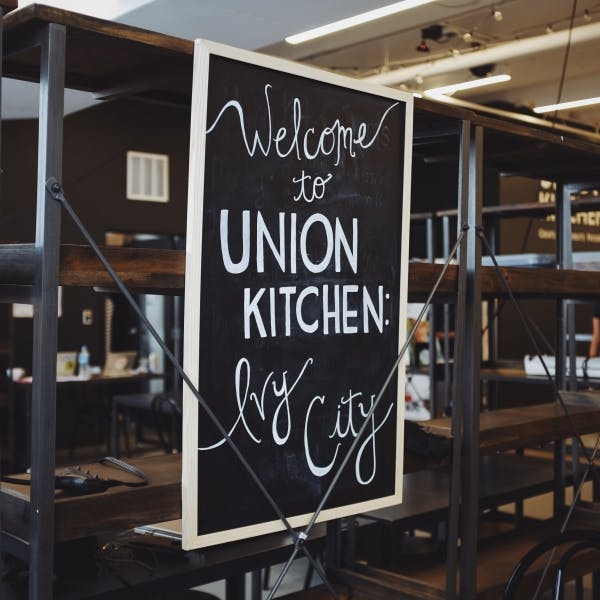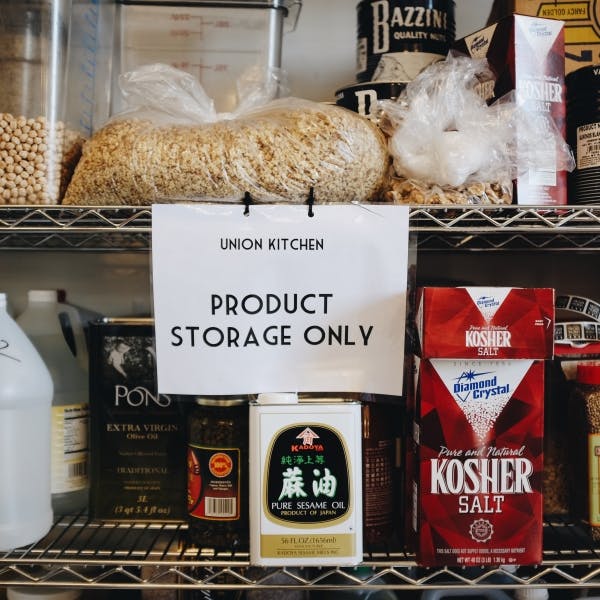 hg: what served as the "catalyst" for opening the second Union Kitchen in Ivy City in 2015?
cullen: we have been trying to grow successful food businesses, and that's what we had done with our first location. We filled it + we kept adding new services to help these businesses get better. In doing so, we saw an increasing demand for this type of service. We wanted to build another kitchen to be able to support this demand. What was really exciting about the second kitchen was that we inherited a much larger space. We could build it to the model as opposed to putting a model inside of the space. We got to design + build it the way that we thought best way for a shared space to be used most effectively—to grow these businesses beyond the level that they were at. Here they could really pursue large-scale growth + distribution.
hg: how many members/businesses do you currently host? Any local stars you'd like to give a shout out to?
cullen: we work with about 100 businesses right now. We have worked with about 200 combined businesses over the last four years. Thirty of those have opened up their own storefronts around the city, which is really exciting. Over 300 products have been distributed in markets in the area, including 150 products in Whole Foods.
In the kitchen, we work with companies like Ice Cream Jubilee, which has two stores around the city, and they are really fantastic. Mason Dixie Biscuits is in our space and quite popular. We also have a company called Go Chews who make these raw bites that are really taking off in the area. We could certainly sit here for hours and call them out all day, but those are the three that come to mind.
hg: you recently expanded your operation to work with businesses not only local to DC, but nationally as well, that include your new distribution warehouse. What features/practices are you incorporating into your distribution model to better serve these growing businesses?
cullen: well the distribution model is just that. Having a distribution of local businesses is not something that necessarily exists—it certainly didn't exist before we started running our company. Creating that distribution infrastructure, along with a marketplace for these business to be able to sell their products, are some ways that we further aid their growth.
hg: is distribution typically difficult for small businesses in the food industry? How do the aforementioned services help bridge that gap?
cullen: I think it doesn't occur because we are used to the globalization of everything. Doing things on a small scale is difficult. It is just harder to do.
"Our whole kitchen is based around that concept of bringing resources to small businesses where they can be successful."
hg: your local footprint now includes a grocery store in Capitol Hill, with a second on the way in Shaw. How does this retail front help nurture + raise awareness for your members? How receptive has the DC community been to a locally sourced grocer?
cullen: we see it as an opportunity to create a vertical change for these companies to grow within. These being convenient locations where local people can find local food on their local shelves. That's important. We are seeing that when people go out to the grocery store, they are buying these local products. We've put them next to Coca-Cola, next to Doritos. People are making decisions everyday + we are seeing a lot making the decision to buy local products, which is really fantastic.
hg: from production in the kitchen, to distribution + now sales via the grocery operation, Union Kitchen seems to serve businesses from their very inception all the way to launching their product in store. Explain the importance of your role for these start-ups + how it enables more + more businesses to enter this type of market.
cullen: I think it ties back to what we were saying about making these services + tools. Enabling these larger companies to grow, but applying that to these smaller companies. We really view our role as creating a system + creating a community where companies can find success because they have tools + opportunities that they can grow within.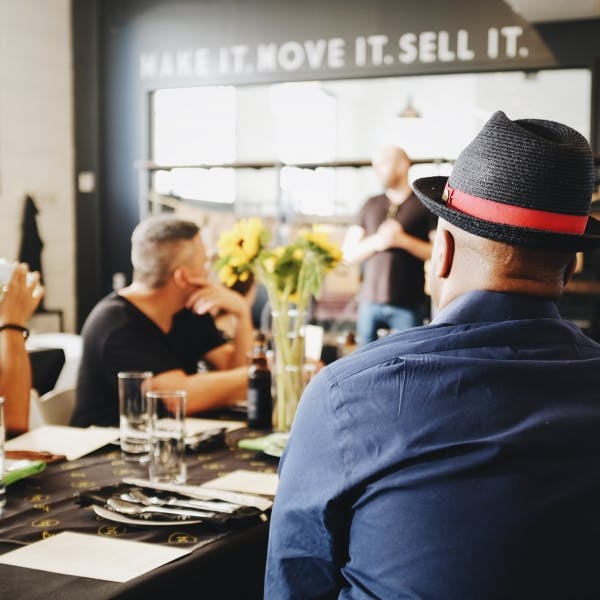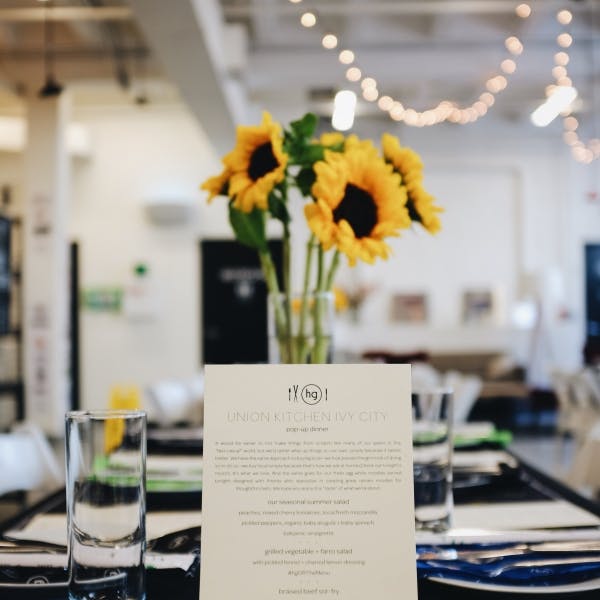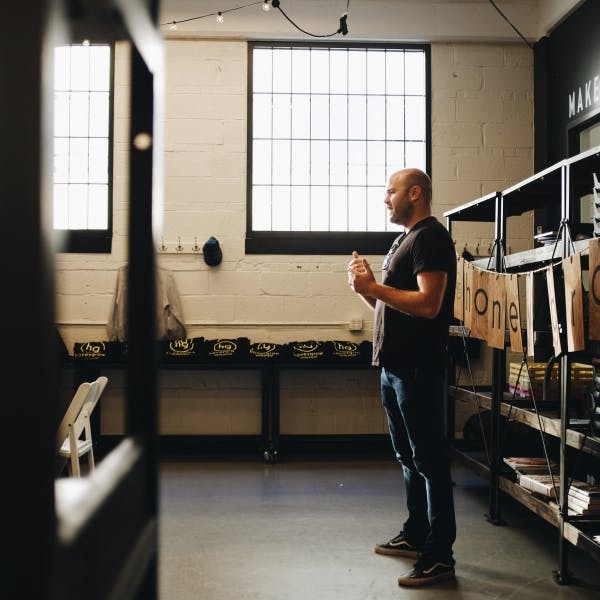 hg: you welcomed honeygrow to the area by aiding us not only with a space to prepare our menu items for our Union Market Pop-Up, but by also providing a setting for an intimate dinner at your Ivy City location (thank you!). Do you find that these type of engagements with out-of-town businesses helps positively boost their awareness in the area? Is this a strategy that you'd like other businesses to seek out?
cullen: we love that; it's a fantastic opportunity + it was great having you guys there. For us, we see it as an opportunity to expand the community. Having a space like this is really valuable to people + we're able to have a lot of fun in the space. Ultimately it broadens the DC food community overall.
hg: let's touch a bit on the DC food scene—it's evolved a bit over the past few years. What are your thoughts on where it is now versus where it was, let's say, in 2012?
cullen: there has been significant growth in the amount of restaurants and the amount of food manufacturing in the city. I moved to DC in 2009, and since then, the scene has been explosive. I think it's good to see, but I also think it has been a bit difficult on the infrastructure at times—the people working those jobs are still developing as the economy itself continues to develop + build at a slower rate than the restaurant openings have happened. You see the interest—I think that is the best part—you can see people inspired to start and grow their own businesses in the industry.
hg: are there any notable businesses who've emerged as success stories thanks in part to Union Kitchen?
cullen: I think what is important is that we provide a service to help them grow. We've engaged with over 200 businesses and an enormous amount of them have found success. I think some of the ones that really stand out, Ice Cream Jubilee, does quite well for themselves, Takorean has a number of places. There have been a lot of businesses and restaurants that have opened. Jeremiah Langhorne had used our space for awhile, and he just got nominated for some awards with his restaurant, The Dabney.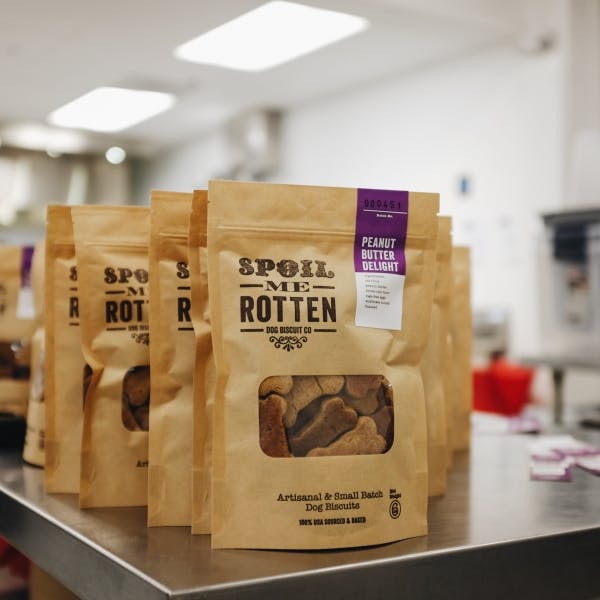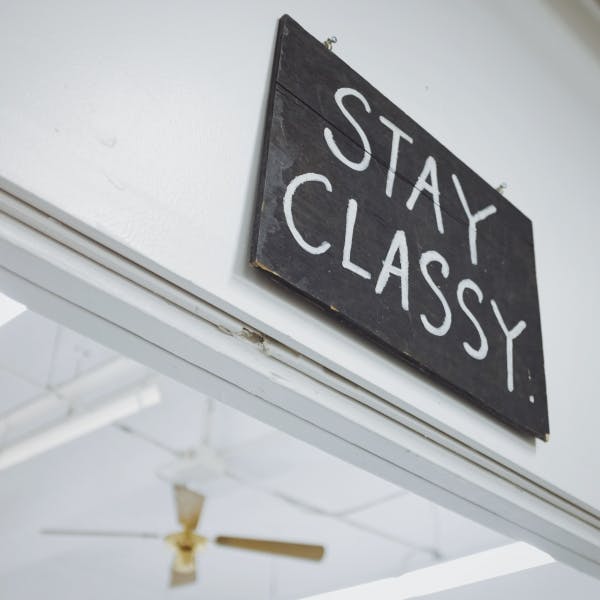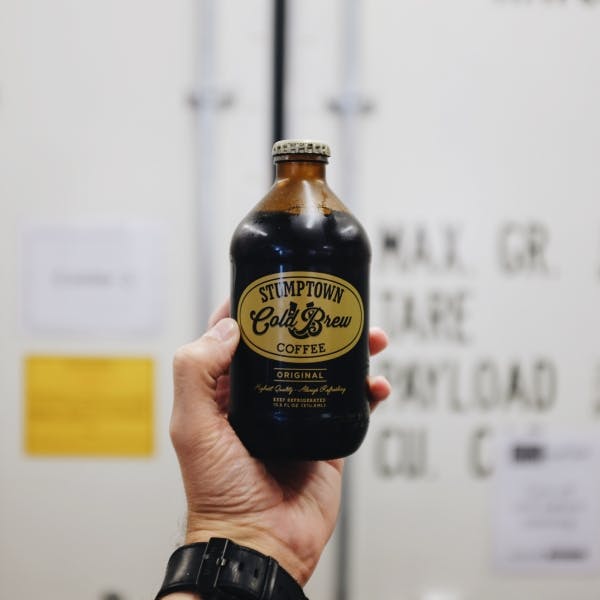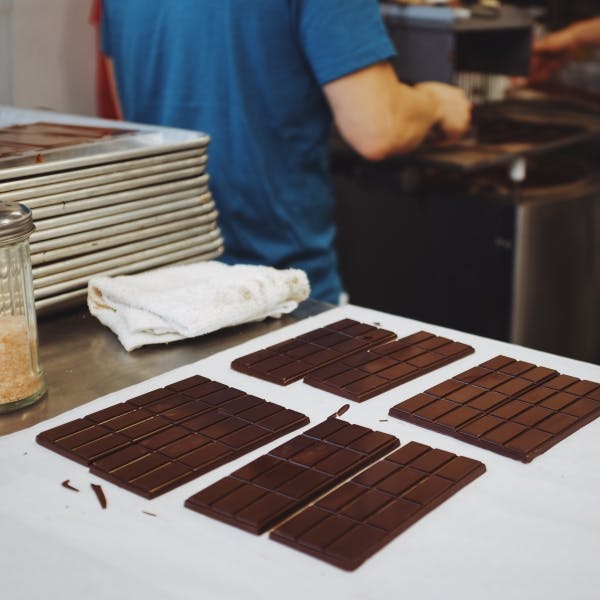 hg: what's coming up next for Union Kitchen? Any plans for additional locations or additional features within your current ones?
cullen: to try and build successful food businesses. We want to expand on what we can do for food businesses, whether it's providing them more services, helping them access capital, or helping them find investment. On the physical end, we're looking to grow the amount of grocery stores, which will improve access to these products.
"If there are local products on more corners in the city, then more local products are bought and we have a stronger local economy."
hg: where do you want to see DC itself in the next 3-5 years?
cullen: I would like DC to grow + continue to grow. People want to come here because it is a place to grow businesses or engage with new + exciting things. It is also just fun place to live. Also, it is a progressive place, it is a place we are proud to live in. I think the charge of those things are lead by the small businesses who enact all of these things.
follow Union Kitchen on Instagram, Facebook + Twitter to see how they can help advance your culinary dreams and be sure to pick up Union Kitchen-enabled products either at their grocery outlet (their new location opens February 1st) or other supporting stores in the area!