Rawk U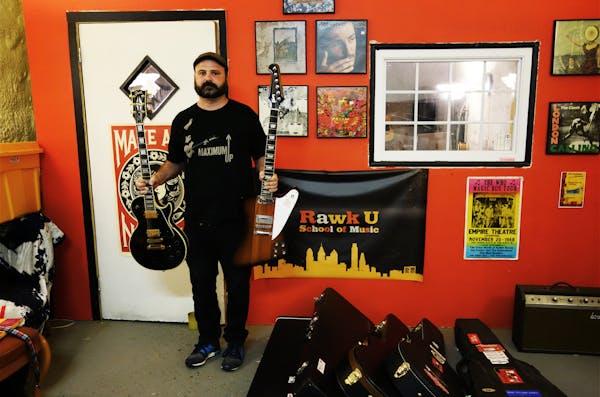 You don't have to grow out your hair, rip your favorite pair of jeans, or get a cheesy tattoo to become a rocker. Instead, put that time and effort into the something a bit more constructive, like taking a class at Philly's own school of music, RAWK U. Born from his love of Music, owner + profound musician, Daniel Cullen has set Rawk U apart by teaching his students the real—and underground—side of rock­and­ roll. There is no room for cliché songs nor the latest Top 40 in his studio, only the truly soulful and authentic rock is taught and played.
By teaching a variety of classes and orchestrating student bands, Daniel keeps his business growing day and night, so we jumped on the opportunity to join him in his comfortable East Falls studio to talk all things punk rock. Here's what he had to say...
hg: how did you learn to play?
daniel: I was inspired by my Dad. When I was about ten years old, I was digging around in his closet and found an acoustic Gibson guitar. I asked him to teach me how to play, so he showed me a little Rolling Stones riff because that's all he knew. He then signed me up for music classes where I was able to learn much more than just that riff. And, from there, I developed a life­long love of music.
hg: what were you doing before you opened Rawk U?
daniel: before working at music schools, I was actually a photographer.
hg: how did Rawk U all start?
daniel: I grew up in a family where everyone was their own "boss." My mother, brother and grandfather all own or owned their own businesses. Being exposed to that the entrepreneurial spirit early on made me realize that pursuing my passion—and making a living from it—was a risk, but obtainable.

hg: how does Rawk U stand apart from other music schools?
daniel: "the material I choose for my students is way different than most schools. I dig deeper into the well of influences and never teach my students cliché songs. I also make sure I spend time teaching a strong foundation of technique to my students, as opposed to just giving them a song to memorize."
hg: what does Rawk U teach?
daniel: guitar, bass, drums, keys + voice.
hg: what classes are you currently offering?
daniel: we offer a variety of classes like Rock Band + one­ on ­one guitar classes. We also just started an 'Outlaw Country' class based on musicians from the 70's who were outside of the factory ­produced, 'Nashville sound' norm.

hg: how can learning to play the guitar enrich other facets of one's life?
daniel: if you have to spend an hour a day learning something, I think it teaches you a deeper sense of patience that you might not have for other aspects in life. You might be more respectful of other people's time—and your own time—after understanding what goes into learning a new skill. It also...
"...takes an enormous amount of discipline to learn an instrument. That discipline can cultivate a stronger work ethic and attention to detail, while instilling confidence in yourself and your art."
hg: what's your favorite song to play?
daniel: Ten Years Gone by Led Zeppelin
hg: what songs would you recommend for beginners?
daniel: a really easy but interesting song is House of the Rising Sun by The Animals or Into Your Arms by The Lemon Heads.
hg: what's your favorite band?
daniel: I can't choose just one, so I'll give you my top three: Queen, The Beatles + Nirvana.
hg: any upcoming events?
daniel: our next student show is October 10th at The Fire.

hg: any past students you would like to brag about?
daniel: one of my former students Sarah Zimmerman, and her partner from the band Striking Matches, has made music for ABC's Nashville!
Rawk U's classes are suited for rockers of all ages—check out their class schedule + student work on Facebook or their website, and feel what it's like to be a true rocker.