Rainbow on The Record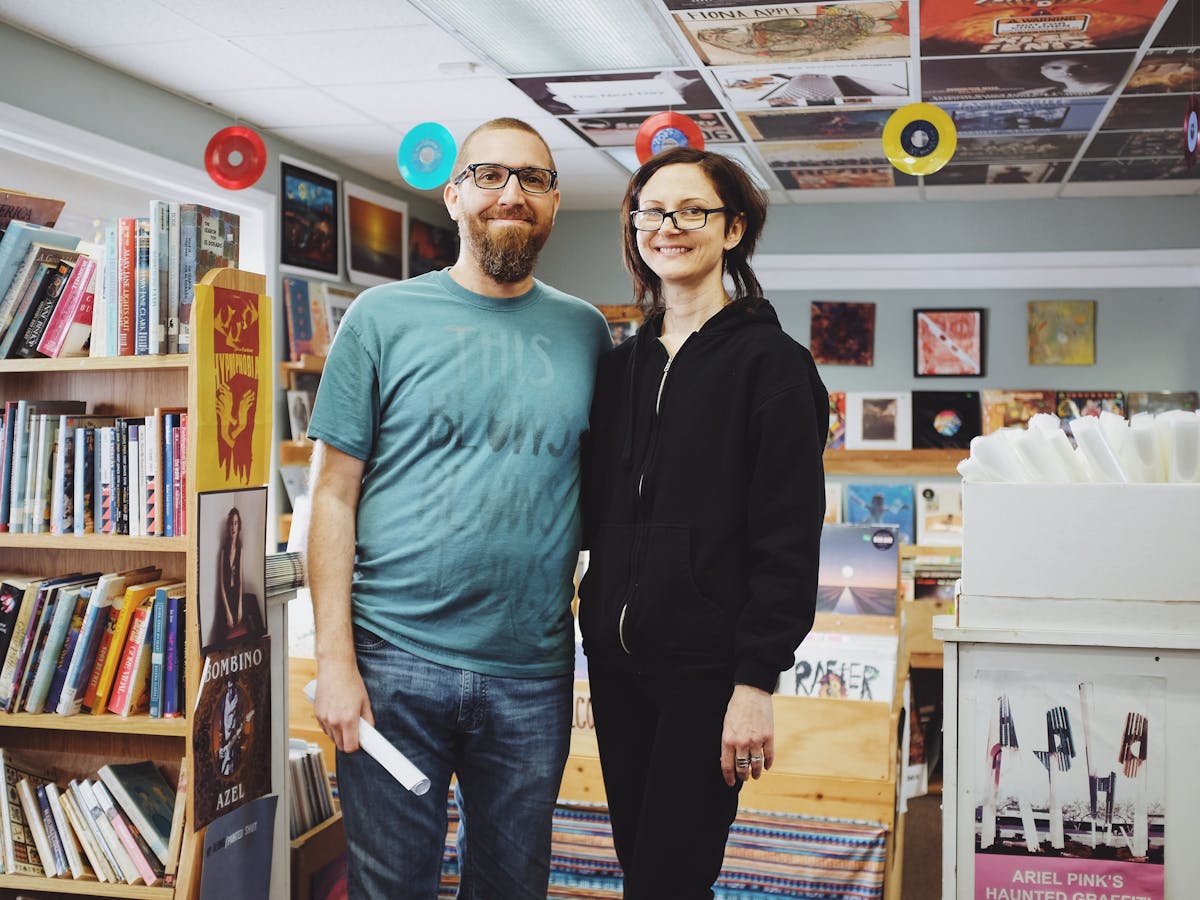 Tucked away in a tiny Newark alley, just past a colorful mosaic bulletin board mural, lies Rainbow Records. The shop, owned by Todd + Miranda Brewer, has endured and evolved along with the small Delaware town over the years, without ever losing focus of its goals—to provide the community with easy access to quality music + books while supporting local art of all kinds. We had coffee with Todd at the neighboring Brewed Awakenings [editor's note: blog coming soon!] to discuss the Newark music scene + how the shop has maintained a constant presence for over three decades.
hg: could you share with us a bit of history on Rainbow Records? Where did the inspiration to open the shop come from? Why Newark, DE?
todd: this is the original location—it's been here for 35 years. This became a pretty big chain through the 80's + 90's, but it's always been a local business. I'm pretty sure they had up to seven or eight locations all throughout Delaware. We are the third owners; the first were the original owners, then one of their employees took over, and now you have us as new, fresh faces. So 32 years in that initial family/group, then three years with us. We're trying to really maintain the integrity of the name, and we've been doing some remodeling to help keep it fresh.
Personally, I've wanted to open a record store since I was 14 + I've been interested in business my whole life. I worked for the same retail company for 22 years, and my dream was always to open some sort of business. A lot of my friends were opening businesses in the last five years, so I had an opportunity to learn from them + they helped me a lot in this process.
"Music is something I've always been inspired by."
I've been going to shows since I was 13—it's just something that has always been a part of my life.
hg: the record shop has been around since the 70's! Congratulations! What to do you attribute to its continued success over the years?
todd: I think a lot of it has to do with being involved with the community. Recently we installed a "Support Local Music" section in our store, which is really important to us. We also host free shows on the weekends for the college kids.
Most of the time, if you want to play a show in Newark, you have to play in a bar. We asked, "What do you do if you're not 21?" Three or four times a month we have a free local show where people can come in, check out local bands + maybe buy their stuff. We usually do it donation only, so the bands are paid based on donation. It's been really successful.
We're also going to be featuring all sorts of music. We'll be featuring blues + hip-hop. We have a punk show coming up; we try to cater to everybody and we can also special order almost anything. We're kind of constrained since we're such a small shop, but with our ability to special order something for you (so long as it is active or current) you'll get what you're looking for within a few days.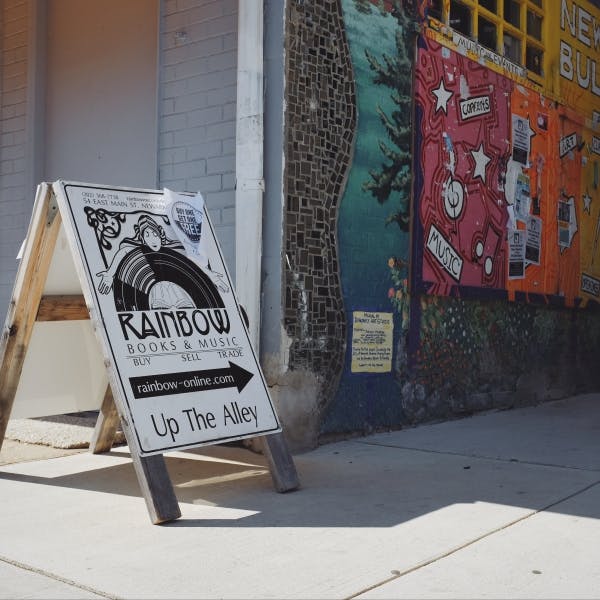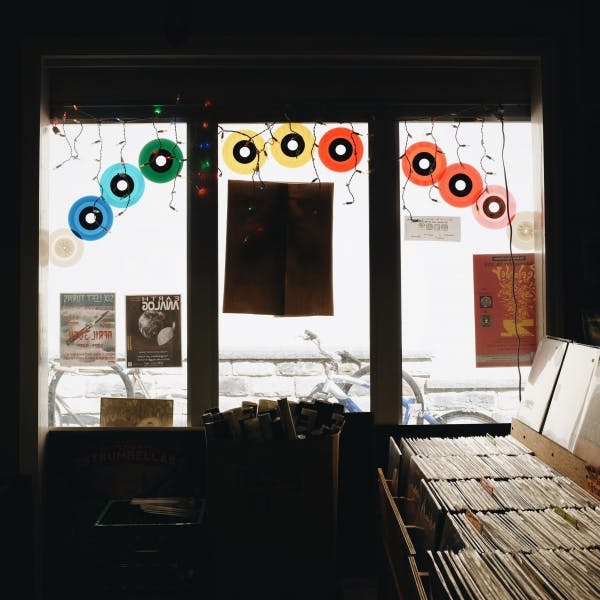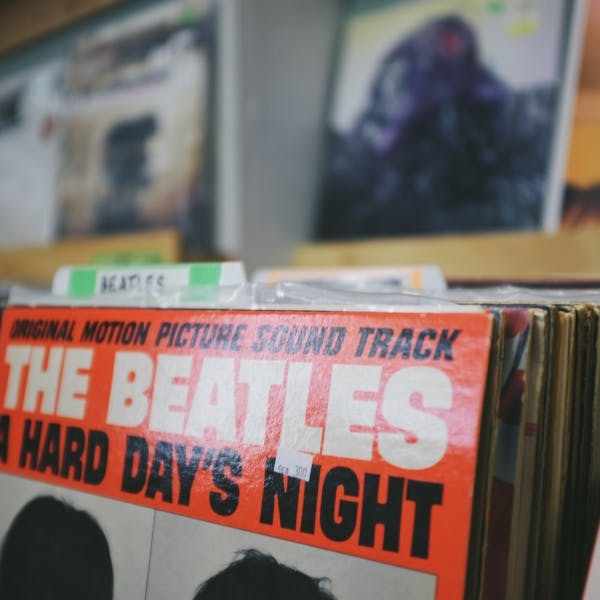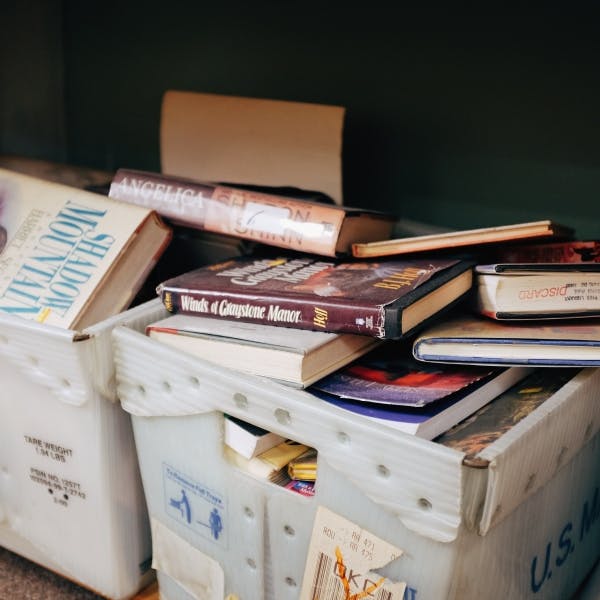 hg: how has Newark evolved over the years since Rainbow has been around?
todd: oh man (laughs). I moved to Newark for the first time in 1995. I lived in Town Court Apartments and did all the things kids do in that little apartment complex. This area is booming right now. The real estate is just unbelievable.
What we're trying to do, and what's important to the guys at SWITCH [editor's note: read our blog on SWITCH] too, is to promote local Delaware businesses. The Delaware Growler just opened a couple of doors down and is owned by Mike + his wife—both great, local Delaware people. We did stuff with them for Record Store Day.
"I think the Delaware businesses want to stick together, help each other out + promote each other…"
…especially with the growth right now. When you get 5,000 college freshman coming through each year, they don't know about your space. That's why the shows + events are so important to have people come in. Even though this shop has been here for 35 years, every day I work there's ten people who come in and say, "Wow I've never been here before." There's still a lot of folks in the community that don't know about us + we try to have special stuff to help get our name out there.
hg: how has Rainbow handled the recent resurgence in vinyl popularity?
todd: vinyl is just booming right now. I think the collectors and the hardcore fans of bands have been into vinyl forever, but now we're seeing vinyl + even cassettes take off. For a local band it's inexpensive to do cassettes as compared to doing a CD run. It's unique + vintage too.
One of the projects I'm working on with a friend of mine, Matt, is a record label called Instacrush Records where we've been putting out some cassette releases for local bands. A hundred here, a hundred there—sell it for five bucks (it comes with a digital download which you'd pay five bucks for anyway) and you get a cool cassette. If you want to get a tape deck to play it, cool. If you just want to have a cool limited edition piece of art, that's cool too.
We're trying to expand. We've doubled the capacity of our vinyl record selection over the last year and we'll continue to do that due to the popularity of vinyl right now. At first folks were just dipping their toes in the water a little bit, now you see people buying turntables on a regular basis. We're selling more turntables now than ever, just as we're selling more vinyl. Record Store Day keeps getting bigger and bigger + we keep having to order more and more vinyl to keep up with the demand.
hg: how do you feel about that recent increased interest in these types of media (vinyl records + now cassettes)?
todd: I think it's great! What's cool about it now is they're re-releasing stuff that's been hard to get for a long time. The thing I'm most excited about for Record Store Day (besides the Star Wars 10") is that they re-released all these old compilations from the 70's + 80's. Really impossible to find stuff that are now reality—even a lot of the old reggae releases are coming back. I think people are getting to experience records that you may not even be able to find a digital version of to play or stream. A new generation is being reintroduced to some of these classic genres of music that they've maybe never even considered (such as Jazz).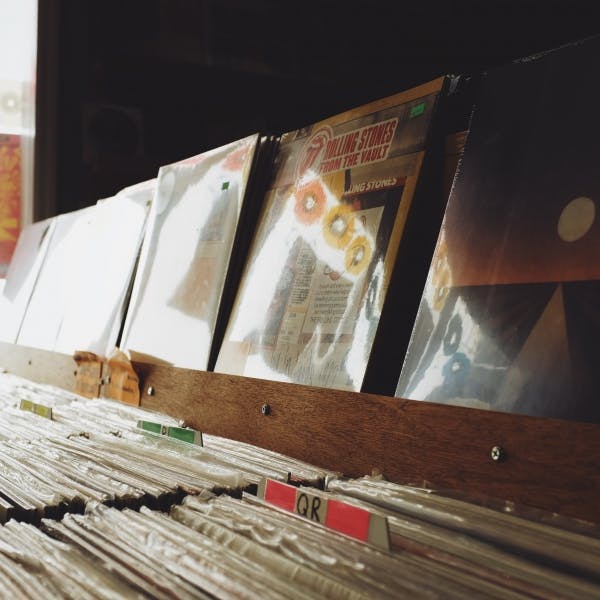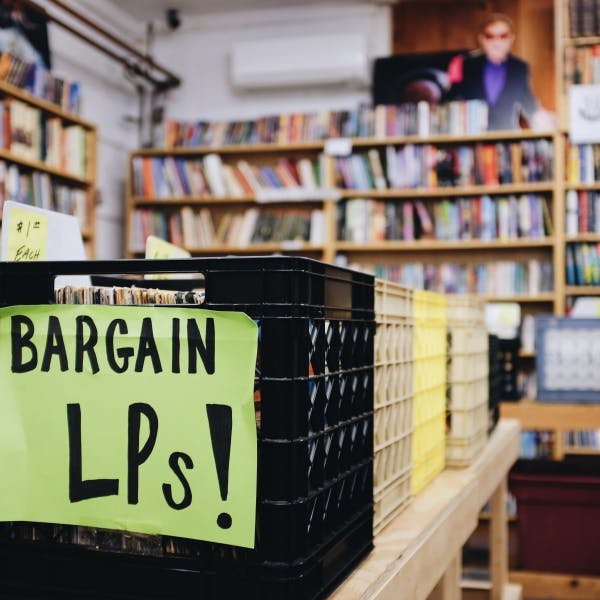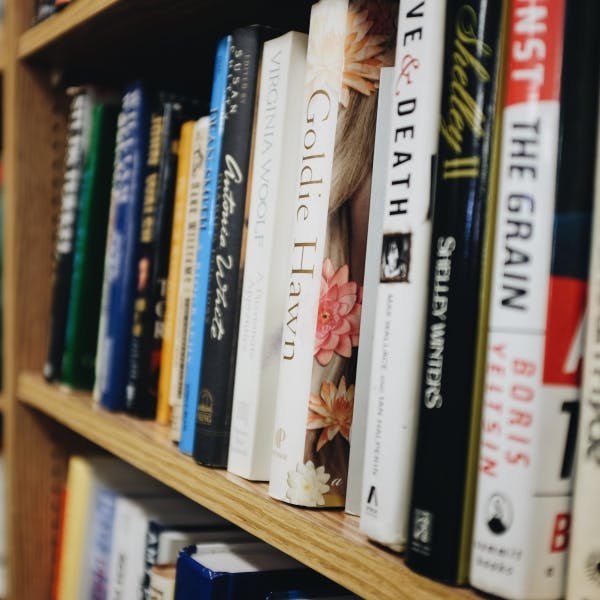 hg: what type of clientele visit Rainbow? Is it mostly record connoisseurs or music lovers in general?
todd: it's kids getting into vinyl for the first time + getting new artists like Grimes or The 1975. Then you have the collectors who come in + want to dig through 45s all day. One of the really challenging things about a music store is that your clientele varies so much—it's hard to get ahead of what someone will want to come get today. With limited space, we can't order everything so you kind of have to make a bet. We have a method to our madness around that. We really cater to everyone, but people still love Classic Rock. They still love The Grateful Dead, The Rolling Stones, The Beatles, Led Zeppelin, Pink Floyd, Queen. The staples never fade—we're always selling their stuff. It's the most varied group of people you can imagine + on any given day it's always going to be different.
hg: what type of promotions did you run for the annual Record Store Day? [editor's note: interview was conducted prior to RSD, which occured on 4/16]
todd: tons of stuff. Everything was on sale—used + new vinyl. We ran a buy one get one on anything that's under a dollar. We had tons of dollar books, records + 45s, all of those were be buy one get one. We also ran a promotion when you bought a turntable you receive a gift card, when you spent over a certain amount of money you receive a Rainbow t-shirt. We try to do a promo around a little bit of everything to connect with anyone who might be shopping. We're also really fortunate that Homegrown café ran a 15% off special if you buy something from Rainbow on Record Store Day. Dogfish Head executed a promo down there as well with giveaways + DJs.
One of the things that I'm most proud of is a charity drive we did with a local artist named Sean Flynn, who designed our logo for this years' Record Store Day. We had prints made up that folks purchased via donations + we are asking a minimum of $5 per donation. The proceeds all went to Brae's Brown Bags.
hg: you used to occupy a much larger area along Main St – selling music, books + movies. What brought about the downsizing of the space? Are there any intentions or plans to expand the shop again (either in a physical sense or in the variety of media that you carry in-store)?
todd: this is the setup we inherited. The previous owner had it a little bit bigger, but since we've owned the business this has been the setup. There isn't the same demand for movies as with other categories. Especially when you're dealing with a lot of used + pre-owned items to make things attractive at a lower price for college students. We went away from new books as an example—customers were telling us they really didn't want the new books.
"We want to be a record store. We want to be known for vinyl, for CDs + cassettes."
We have a huge population for books, so we aren't giving that up at all, but we do really want to be known for music first + foremost.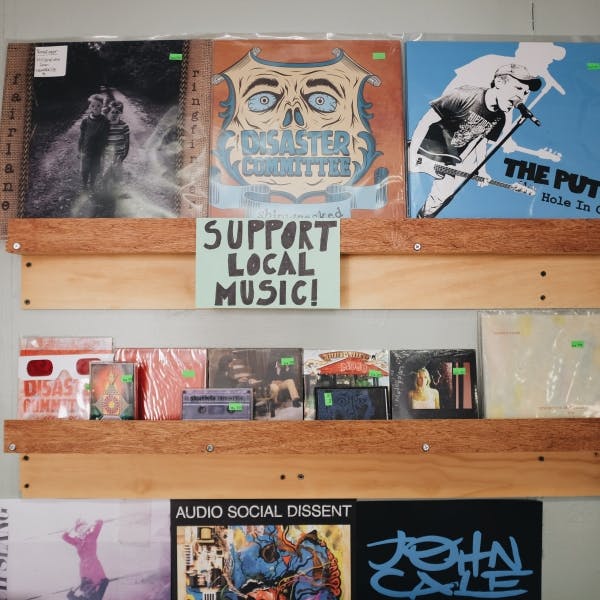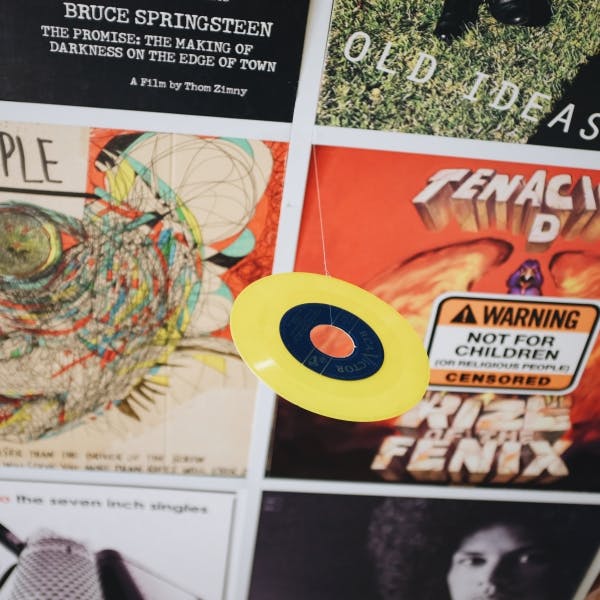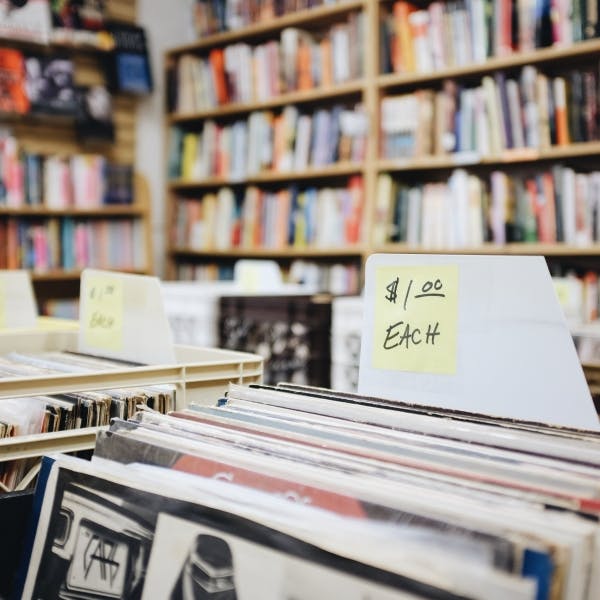 hg: what's the most unique or valuable record you've had pass through the shop?
todd: there was a collection a guy brought in about a year ago. He had worked for a company that had stationed him in Japan for ten years + while he was there he had purchased the entire Beatles' Paul McCartney, John Lennon, George Harrison collections on vinyl—the original prints. The unique thing with Japanese pressings is, even at a time when American pressings got a little flimsier at a lesser grade, Japanese pressings stayed at a heavier weight (180 gram). Japanese pressings have always maintained that standard for higher quality. We were able to buy that entire collection (over 100 pieces), which were all pristine. The entire collection sold out in just ten days.
hg: no pressure: What's your personal favorite record?
todd: the Fela Kuti + Ginger Baker "Live!" record from 1971 in South Africa. Ginger Baker was a jazz drummer and a drummer for Cream (which was considered a super group back in the day). As told in the Netflix documentary, Beware of Mr. Baker, he travels to South Africa + opens a recording studio to play with one of his idols, Fela Kuti. Fela Kuti is a premier South African jazz artist. He's unbelievable—a politician, revolutionary. He was like Elvis over there. Ginger Baker may be one of the best drummers to ever perform + Fela might be one of the best jazz musicians ever. When you combine them it's just unbelievable. I highly recommend it.
hg: how has the Delaware music scene evolved + where do you see it headed in the future?
todd: it's getting better I think. For a while, there were only one or two places you could play local music. Now (more in Wilmington versus down here) it's starting to grow, which is something we want to be a part of, too. We're really fortunate that Dogfish Head Brewery from Milton, DE is now the official beer of Record Store Day. We partnered with them on a couple different local concerts that featured local artists.
"It's part of our responsibility in this business—to be a catalyst for local artists to have a space."
We've had paintings on the wall for local artists + we'd like to expand to have art shows. We want to be a store + a community space at the same time.
Keep up with new arrivals, show announcements + other promotions at Rainbow Records by visiting their website + following them on Facebook, Twitter, Tumblr + Instagram!