Politics, Punk Rock, and Philadelphia: Tim Gough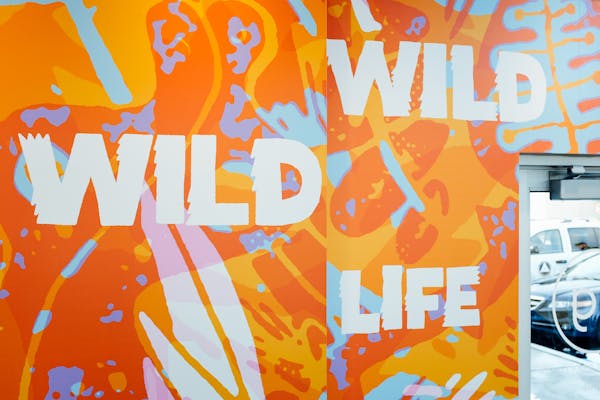 inspired by the fresh, bright, natural ingredients found on the honeygrow menu, Philadelphia artist, Tim Gough, took to designing a piece to add even more exciting color to our new Marlton, NJ location. Accentuated by the expression "wild, wild, life", Tim's mural challenges the viewer to form their own unique connection to the piece, and in turn, the space itself. We recently met with Tim to learn more about his past, present + future projects, as well as what role politics, punk rock + Philadelphia play in his creative process…
hg: hi, Tim! Tell us a bit about your artistic background + how you got your start in design/illustration/etc…
tim: I guess I got my interest like most kids that grew up in the 80's + 90's—it was mostly comic books, cartoons, skating + punk rock. Not only did the music and culture inspire me, but the punk rock aesthetic was hugely influential in my work.
hg: how would you describe your design + illustration style(s)—any common themes or stark differences between the two?
tim: I treat design + illustration differently. When I am taking on a design/branding project I am thinking strategically and trying to solve a problem for a client or brand whose tone + voice should come through in the work and is appropriate for the story they are trying tell. When I am working on illustration, people are coming to me for my style. I still apply the same strategic thinking to the work except the final piece comes from a more personal expression.
hg: what or who do you look to for inspiration? Who are the local, Philadelphia artists who you collaborate with, pull ideas from or just turn to for general inspiration?
tim: there have been a wide range of influences over the years. I tend to look towards mid-century artists like David Weidman + Saul Bass for inspiration. Or artists that have come from the punk rock scene like Raymond Pettibon and Gary Panter. I always come back to the poster art from Cuba and Poland as being hugely influential. Philadelphia has a crazy amount of talented artists that I am constantly inspired by. I think Philly's affordability has fostered a strong creative community.
hg: you were formerly part of the talented creative agency based in Philadelphia, 160over90, and have worked with clients like the Philadelphia Eagles, Under Armour and Temple University. Which project has felt the most rewarding to you, personally? What challenges do you face creatively by being part of a larger team or by being steered in a certain direction by a client?
tim: I recently left 160over90 to become part of the brand team for Xfinity Mobile, but my time at 160over90 was incredible. There is a talented crew of creatives there who are cranking out amazing work. Of the projects I worked on with them, I think working for the Eagles was the most rewarding account, especially with them winning the Super Bowl this year.
"To be part of the creative team working on a brand that means so much to the city you live in was incredible."
hg: are there any projects you'd like to take on someday or any clients you'd like to work with?
tim: I would love to work on beer packaging, a children's book + hopefully more murals.
hg: scrolling through your website + Instagram, it's clear that the current political climate is important to you + factors into your art every so often. What do you hope to convey with your more political pieces?
tim: growing up listening to punk rock, music + politics go hand-in-hand, so the idea that my work would contain political messages feels natural. When I am making a political comment it is mostly to vent my frustration, but. . .
". . .hopefully it might spark some interest in a viewer to take a look around + get involved."
hg: another common theme in your work: Philadelphia. How does the city fuel you creatively? Are there certain aspects of the city or its residents that you find more interesting than others?
tim: I was born in Philly, but moved to the suburbs when I was young and came back to the city once I turned 18. I've been here ever since + have spent some of my formative years skating and biking all around Philadelphia... back when it was a much grittier place.
hg: what elements factored into the final mural which is featured in our new Marlton space? Any significance behind the "wild wild life" phrase?
tim: I was inspired by the healthy menu options + wanted this vibrant plant life to take over the honeygrow space. The phrase is from a Talking Heads song and it may have been playing in the background as I was doodling for this piece. It seemed to fit perfectly with the mural but it is also open to others to interpret how they like.
hg: outside of the recent honeygrow project, are there any other exciting assignments you're currently working on that we should keep our eyes out for?
tim: I have a couple of exciting projects in the works, but I can't talk about them! Other than that, I hope to have a new website soon with new prints + shirts available for purchase as well.
visit Tim's website for more of his work + follow him on Instagram for updates on current projects!