Now Open : The Honeygrow Test Kitchen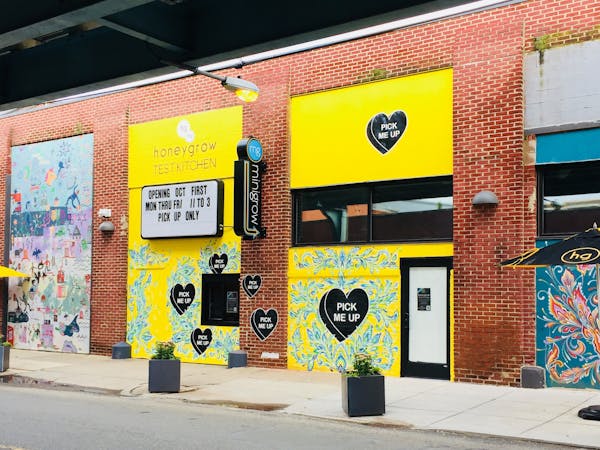 Since launching our first honeygrow in Center City back in 2012, we have been proud to call Philadelphia home. Despite our expansion into other markets, Philadelphia will always be the heart + soul of our operations. After moving into our HQ in Fishtown in May 2016, we've been working on a creative way to bring our wholesome noodles + greens to the Fishtown neighborhood. While the Fishtown community has no shortage of options for delicious dining, drinks, arts + wares, we are excited to unveil our Honeygrow Test Kitchen to serve up freshly made, easy to pickup, wholesome eats right on Front Street between Oxford + Columbia.
Starting today, October 15th, we'll be open Monday-Friday 11am-9pm. From our hg+mg App, choose the 'honeygrow test kitchen' from the locations, select your dish + pick-up time. Your order will be ready to swing by + pick-up from the window who's walls have been adorned by the amazing Amberella + Lawren Alice (both of whom have works as part of our Front Street Walls project). Need it delivered? You can order from the honeygrow test kitchen via Caviar! Dinner hours coming soon.
We envision our 'test kitchen' menu as a rotating selection that features some new takes on our favorite honeygrow dishes, a selection of minigrow dishes (previously unavailable in Philadelphia), plus an outlet to get creative + try out some new ideas on the hungry folks in the neighborhood.
hint: first time hg+mg App users receive an instant $5 credit.