Now Open : Christiana, Newark, DE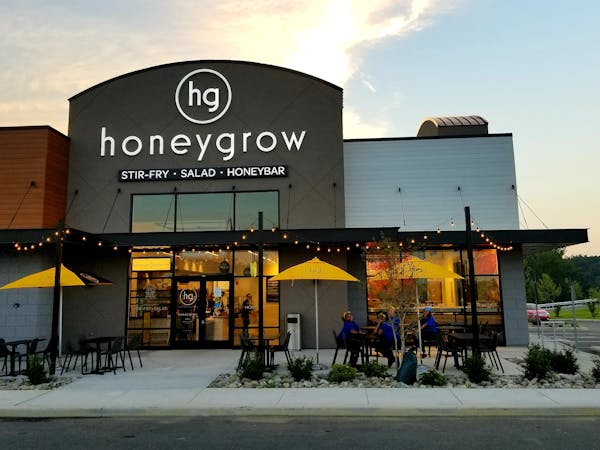 We're proud to announce that our third Delaware honeygrow location is now open in the Christiana Fashion Center at 3200 Fashion Center Boulevard. hgChristiana joins our Newark Main Street + Concord Pike locations in the First State. Located just outside of the Christiana Mall, our newest location features outdoor seating with patio lighting + plenty of free parking (including spots designated for those who order ahead via our App). Our new space will be open daily from 10:30AM until 10:00PM. hgChristiana will also support advance ordering via our mobile app, which has recently been fully redesigned with a more streamlined, more rewarding loyalty program for mobile ordering.
like all of our honeygrow locations, hgChristiana's key features include our proprietary kiosks which allow guests to fully customize their stir-fry, salad or honeybar, as well as our hand-drawn menu + seasonal local list, which highlights our local partners + purveyors. This location features the artwork of Philadelphia-based Ryan Psota, aka Lemon Sparkle Fantasy, on two walls of the dining room. Painted competely by hand directly onto our walls, the whimsical patterns echo the myriad of options available for every customizable dish.
hgChristiana features our new Fall menu items: the Spiralized Beet Caesar salad—our 'spin' on a Caesar featuring colorful spirals of golden beets, romaine, kale, Barlett pears, shaved Parmesan, candied pecans + a rosemary Parmesan dressing; and the return of the fan favorite—the Philly Roast Pork stir-fry—with freshly made egg white noodles, roast pork, organic baby spinach, broccoli, red onions, chili flakes, grated Parmesan + Yards Brawler au jus. Order either Fall menu item on the App thru 9/18 + receive double points!
And, the month of September just got even sweeter. To celebrate National Honey Month we're supporting the National Honeybee Conservancy by donating 20% of every honeybar added to an App order. Plus when you add a honeybar to your App order, your entire order's loyalty points will be doubled! Be sure to follow us on Facebook, Twitter + Instagram for updates on new menu items + more!
come see us in Christiana — 3200 Fashion Center Boulevard