Local Loves : Trail Creek Outfitters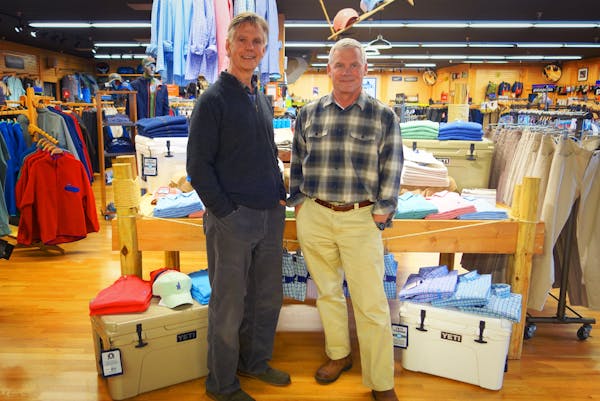 Our friends at Trail Creek Outfitters are more than just retailers for your outdoor needs. Consider it a community driven store with top-notch products and a host of events throughout the year that benefit various local charities. Co-founder, Ed Camelli (pictured left) talks us through their 33-year history, the importance of community involvement + how having a supportive, knowledgeable staff alongside the best quality merchandise sets them apart from the big guys and online retailers.
hg: how did you and Brian Havertine (pictured right) meet and how did you two come to be business partners?
ed: we both graduated college in 1980 from the University of Delaware—didn't know each other at the time. Our first jobs out of College were at the Union Park car dealership in the Service Department and we became friends there; we started on the same day. After working there for a year we thought, there has got to be a better way to make a living than having people yell at you all day long about their cars. One of my customers there was man named Sid Scott and he introduced us to Allen Singer who had been the President of Abercrombie & Fitch—back when they were an "outfitter." They used to outfit Teddy Roosevelt, Ernest Hemmingway and so forth. He was retired in Wilmington and had this idea of opening up a store, but on a much smaller scale. We offered that...
"...if he had the contacts and the funding, we had the energy."
That's how it began. That will be 33 years ago on the 23nd of March.

hg: what drew you to outfitting outdoor activities?
ed: Brian and I both were really passionate about the outdoors, we liked hunting and fishing and that was the early focus—our business started to evolve as hunting became less of important activity for people and moved more into general outdoor activities like hiking. Our original name was, Country Classics, as we were based more on the Orvis or LL Bean model—it was more country gentleman type stuff. Then we got tired of receiving calls from people asking, "if my curtains are ready?" because there was this store called Country Curtains. It caused a little confusion [laughs] so we decided we needed to change our name and Trail Creek Outfitters told more of the story about who we are.
hg: heading into your 33rd year (and still going strong) is an amazing feat for an independent business, what's the secret to your continued success?
ed: I say two words: customer service; but everybody says that, right? So what is that? It's really caring about your customers; really caring that they get the right product and that they are taken care of. Additionally, it's involvement with the community. You can buy anything on your phone. We are very active in the community + everything we do benefits a different community partner, and our Trail Run Series benefits a different non-profit for each race. We also have a Film Festival we just wrapped up that was wildly successful, benefiting the Land Conservancy for Southern Chester County and Stroud Water Research. So I think that's the key—to have...
"...great products, great service, friendly employees + to give back to the community. If there is a secret, that is it!
It sounds pretty simple, but a lot of stores don't execute on that level.
hg: do you have many customers that have been coming back for all 33-years?
ed: we do. In fact, a great story: we had a customer that came in about 6 months ago and brought us a t-shirt that was from back in the Country Classic days when I had my lab. We always have a dog in here and back then it was a Lab named Lucy—we did a t-shirt that said "Where Lucy Lives." The customer said, "I've been wearing this for 20 some years, it's torn and tattered, but I can't bring myself to throw it away; I thought you might like to have it." It was really cool and special.
hg: over your history, was there a conscious decision made to not expand beyond one store?
ed: we've thought about it many times … to the point where we had a lease in front of us for a store in Wayne. This was just before the last recession and we realized that was not a good time to expand. We thought about it some more and decided we wanted to do one thing and do it really well. It's hard to be in two places at once—the store needs to be managed and loved. The same thing goes for online, we decided a long time ago not to have an online store because that would be like having a second store.

hg: how did the trail creek series come about?
ed: that came from my passion for running. When I became involved in the Land Conservancy for Southern Chester County, they had a run that I helped to organize and get off the ground. There were already a few other runs that were organized by Velo Amis (another non-profit that benefits from our series), they contacted me and discussed starting a series. We thought that was a great idea and put it all under one umbrella—then added a couple additional races. Velo Amis has been an amazing partner! They do a lot of work with the trail maintenance and the promotion. They are an amazingly energetic group of people to work with.
hg: have you always been a runner?
ed: not always … I started later in my adult life. I played baseball up until my 40's, then realized I was a bit too slow and kept pulling muscles running around 2nd base. I decided it was time to do something else and that's when I started taking running more seriously (editors note: Ed ran his first marathon at 53).
hg: what inspired the name change of the Granogue Run to the Beau Biden Memorial Trail Run?
ed: Beau was a customer of ours for many years, so was his father and stepmother (editors note: Vice President, Joe Biden + Dr. Jill Biden). After Beau passed away his brother, Hunter, came in and said, "I know you guys do a trail run series, would you consider doing a memorial run for Beau?" I said "absolutely!" We already had a race in place at Granogue and we thought...
"...it made a lot of sense there. It's in Delaware, this is where he's from + Beau had run the Granogue race a couple times. Everything just meshed perfectly and couldn't have worked out better.
hg: what's the biggest trend you are seeing in fitness + outdoor adventure?
ed: if we had that figured out it would be much easier to buy [laughs]. I don't think we have a specific trend right now. Our tag line is Outfitting Your Free Time Since 1983 and what people do with their free time varies. We have just as many people who walk their dogs in the park on the weekends and want waterproof shoes as we do people looking for yoga clothes or sleeping bags.

hg: what kind of outdoor activities do you like take part in?
ed: my latest passion is fly fishing. It's the only thing I've found that can get me out of my head; like an active meditation. When you are fly fishing you can't do anything else but concentrate on the stream, the line, the fly … your mind can't wander. You're focused and present in the moment.
hg: what does the future hold for Trail Creek Outfitters?
ed: right now the focus is the Trail Run Series and the Monthly Yoga Night. We're also in the process of planning a few fun things that we're not quite ready to talk about.
hg: what is your favorite dish at honeygrow?
ed: I like to create my own rice bowl with chicken, broccoli, cashews, carrots + the sour cherry bbq sauce!
Find out more about the Trail Creek Series here, sign up for the Beau Biden Memorial Trail Run here + visit Trail Creek Outfitters in the Glen Eagle Shopping Center, where they believe, "There is no such thing as bad weather, just bad clothing."