Local Loves: Romanick Pottery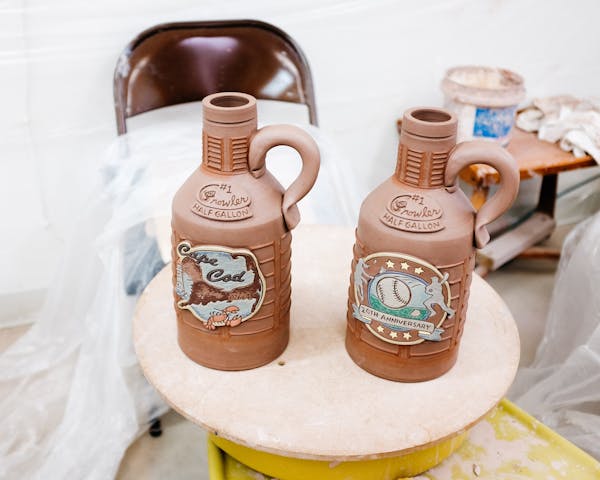 Paul + Tonya Romanick are two sculptors who've mastered their craft to create truly amazing creations out of clay. From intricate underwater scenes to polished dinnerware, the couple has created over 40,000 pieces (!) in their lifetime via their Newark business. We met with the Delaware duo to learn more about their pottery passion, their Newark, DE roots + how they have developed renewed interest in handcrafted goods with their line of custom growlers.
hg: tell us a bit about your background with pottery, clay + art in general. How did you come upon learning the skills required for the trade?
paul: as a kid, I was always into arts + crafts. There were teachers in my family and as things evolved, I went to college and became an art teacher. In my last year of college, I found how passionate I was about ceramics and pottery, and I thought "Wouldn't this be great if I could make a living doing this?" I spoke to my advisor at college in 1989 and he said, "You need to go and find potter who does this for a living and become their apprentice."
I went to some of the best craft shows in the tri-state area and I met a potter who lived in Northern Delaware, but was showing his work in upstate New York. I showed him that I was an art teacher that was passionate about ceramics and had just graduated from college. Ultimately, he agreed to let me be his apprentice. In that 18-month period of apprenticeship I learned a ton about pottery. With my business sense, I realized I wanted to make a living off this. I decided to design my business around having some security when selling my work, instead of worrying about transporting pieces from show to show, risking damage. I also realized that to work on this scale I needed a partner and that's where Tonya came in.
I was reading a Ceramics Monthly magazine in 1992, before the internet was what it is, looking through its classified section where people sell kilns and potter's wheels. In there was Tonya. She was looking to meet a male potter to share and explore ideas with.
tonya: I knew I had to find someone who could put as many hours into this as I knew I could.
hg: why did you decide to setup shop (+ stay) in the relatively small town of Newark? What are some characteristics of the town that appeal to you?
paul: I moved down here in 1990 + apprenticed with the potter in Northern Delaware. I needed to fall back on my teaching degree for a little while, so I took a job in a school district teaching elementary art. I wasn't passionate about it, but I had the degree. I was a good teacher, but…
"…I was dying inside—I wasn't able to express my own artistic abilities."
I would come home at night mentally exhausted. I just didn't care for all the politics that take place inside of a school district—I'm much happier doing what I am doing now.
tonya: we were living in a small apartment in Christiana, which was like ten minutes from Newark. We knew we didn't want to do shows, and we didn't have the space in our apartment to set up something. We also didn't want to be in an industrial strip or strip mall. In Newark, we would see people walking around all the time, which is what led us to Newark and the college. It was the fall of '94 when we decided to sign the lease for the little place we had on Main Street. When we moved in there we loved it, but we were like, "is this town going to make it?"
paul: things didn't start changing and evolving until the late 90's. It took until the early 2000's for things to fully evolve. It took several years for it to be able to support both of us full-time, but now it's been 14 years that pottery has been supporting us both.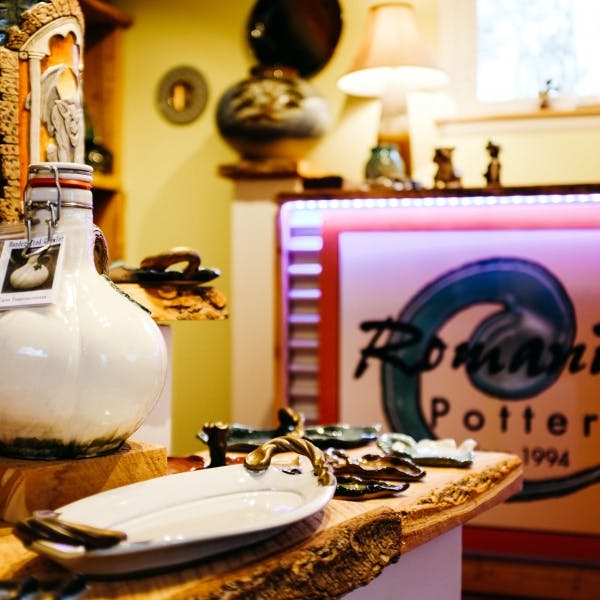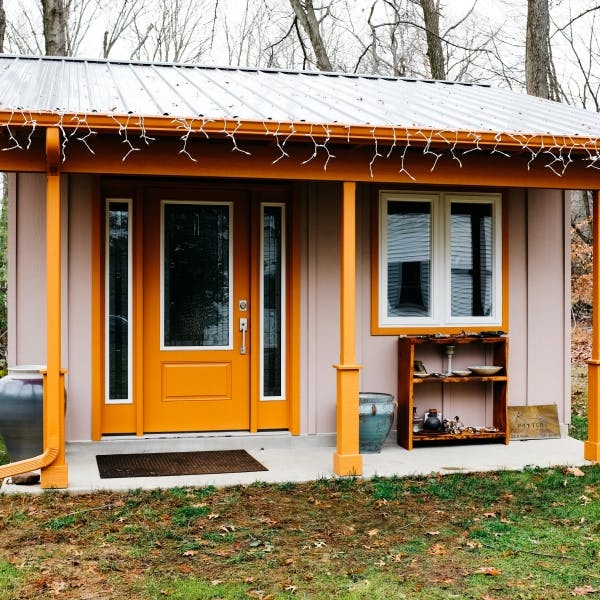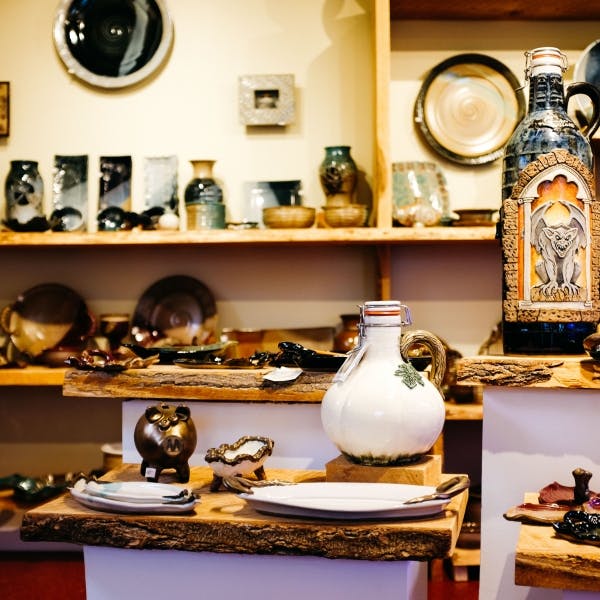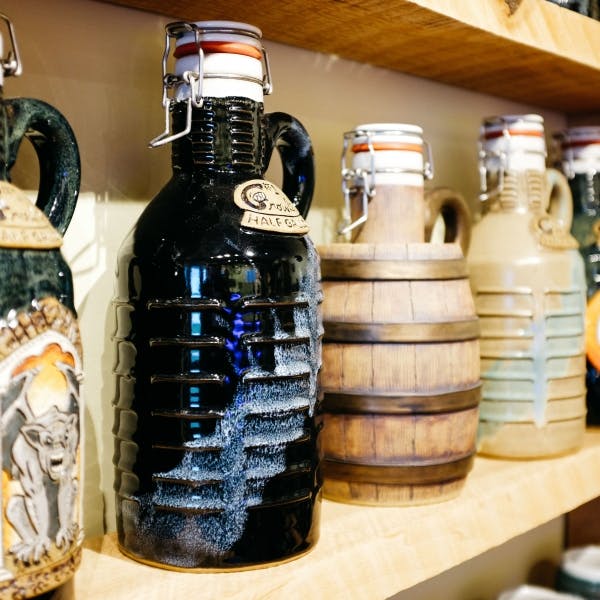 hg: you've been making pottery since 1994, over two decades! Is handmade pottery as popular as it once was, given technological advancements + automation? Why do you choose to create your pieces the "old-fashioned" way with your hands + a potter's wheel?
paul: there is a certain percentage of the population, I believe, that want the real thing. They want real, functional art that is handmade. Anybody could go to store and buy things that were made in a mold and mass-produced, but how many people can make things by hand + make a living out of it? As a kid, I was taught that you should have a great appreciation for people who make a living with their hands. That respect my parents instilled in me was an unconditional respect for the artists of the world. I think it's the pride you have in your work or the accomplished feeling after. Don't be afraid to try new things if you love what you do.
tonya: also, as far as the automation, you are pulling things out of the mold. For me, the feeling of clay in your hands just feels very good. When you pop things out of the mold your only relationship with the work is cleaning them up. You removed yourself from the tactile part of the process, which is the most important part.
"You remove yourself from the artistry."
hg: let's talk about those amazing, custom growlers + beer steins, some of which are made for Delaware brewery, Dogfish Head. What was the inspiration for making these products? Are you both beer fans yourselves?
paul: when we started making growlers eight years ago, it was the branding that started it all. We were making beer steins for a brewery in Woodridge, NJ called JJ Bitting Brewing Company. Right after the first order the owner said, "Growlers are getting popular, can you make a growler?" I didn't know if I could, but I wanted to try because I have always been somebody to challenge myself. I did some research and went to a local brew shop, How Do You Brew, and picked up a few top valves so that I could make a prototype. I was figuring out how much clay I had to use to create a half gallon jug. I never had to make something that was so meticulously specific before—the growlers are extremely technical. We have sold over 2,400 growlers the two of us have made by hand; I can sit at my wheel and have that feel. I know what it should feel like in my hand, how consistent they are.
I would rough the shape of the growler out on the wheel, and then I would shape it in with a sponge on a stick I used to use to make olive oil bottles. There are some tricks that I have developed over the years, it's almost choreographed in my mind. As time went on, they became easier and easier.
hg: how many growlers do you make monthly for Dogfish Head? What types of designs have you incorporated thus far?
paul: by 2010 we were starting to make a lot of growlers. We went down to Dogfish Head because we were delivering sea creatures for galleries in Rehoboth. I said to Tonya, "Let's take some of our growlers + go in to Dogfish and see if they will fill them." The General Manager looked at them and asked where we got our growlers. I told him I had made them by hand, but he couldn't believe it. A couple weeks later we decided to just send them a growler + see what happens. We never anticipated hearing anything, but after a few months we received an email from Dogfish Head saying they were very interested in purchasing our growlers. It started from there and we have been working with them for about four years now. Since then, we have created well over a thousand growlers for those guys.
Dogfish Head held a lottery for a pumpkin growler we had done for them. It was super exciting to know that people were that excited about owning a Dogfish Head growler handmade by us. I let them know if they ever had any design ideas, let us know because we are always up to challenging ourselves. That's how the pumpkin growler came to be, then the Dogfish Head helmet, and this year another original design we worked on.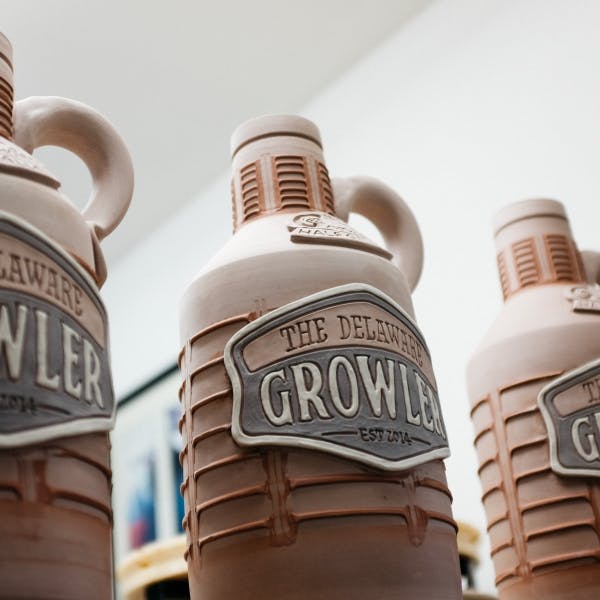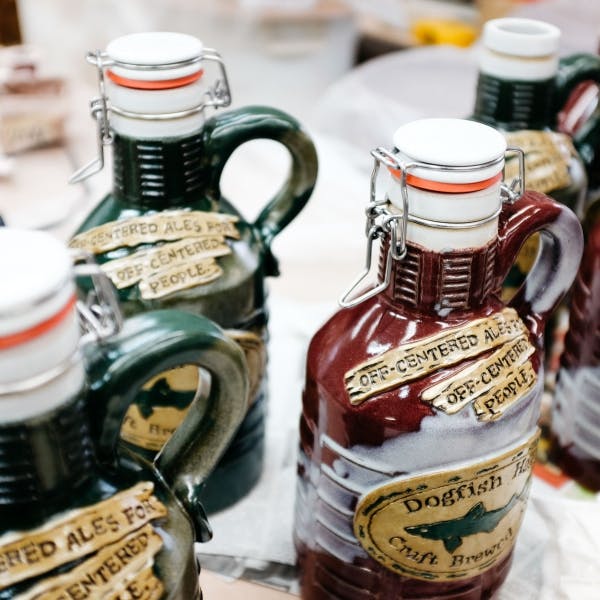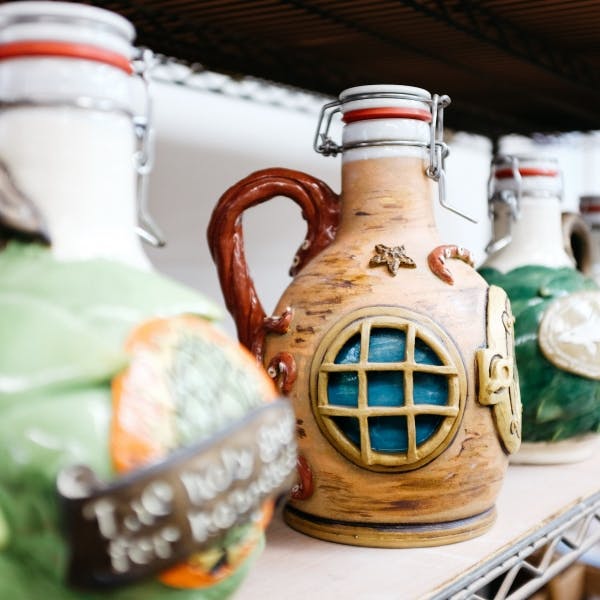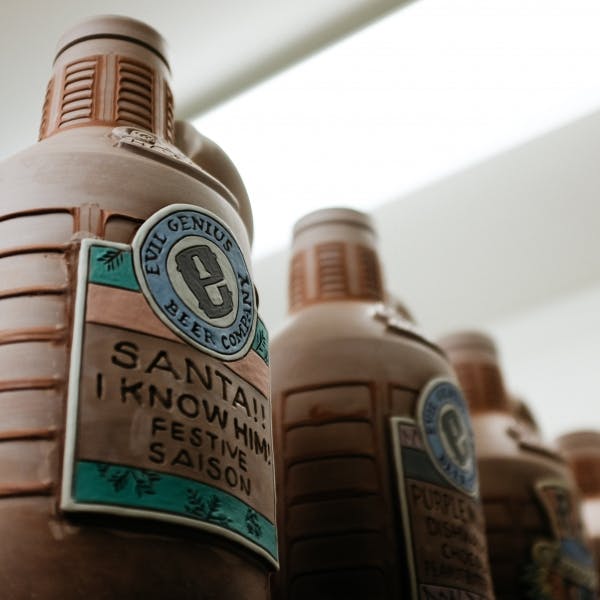 hg: what role do each of you play in the production of one of your products? Do you each create the piece start to finish, or are there separate roles needed for each production?
paul: in 2009 business wasn't doing so well, and we figured we'd have to reinvent ourselves. I came up with the idea of branding, and Tonya has always been awesome with having a great illustrative style.
tonya: that's really where my background is: design, commercial arts, where I started.
paul: …but clay has always been her medium. She has always been working with clay since the 80's.
tonya: I can't get the shapes he throws on the wheel. So, he throws on the wheel while I do more design + sculpture work.
paul: we design things together. We talk about things together. She might do one thing, and I might do another to come up with a set or final piece. We are always playing off each other, wondering, "Should something look like this or that? Where is the correct placement?" When we met and put our talent together, I saw her ability. Together, Tonya and I combined our talent to come up with something superior to what her + I would be capable of alone. That's what I think makes us extraordinary. We need each other to complete the project a lot of the time.
hg: do you offer any type of community pottery sessions or classes?
paul: yes, we offer pottery classes. Right away people would see what we could make and wanted to learn how. We normally have people on a waiting list for our classes every Wednesday night. Throughout the year we have about 4-6 people that come out on Wednesdays and work on different projects. Some of our students have been coming for ten years + other students even have their own studios, but come to learn different techniques that Tonya and I have mastered for many years.
schedule a visit with Paul + Tonya yourself to view their work in person, or visit their website for updates on new growlers or other merchandise!