Local Inspiration from Artist Nosego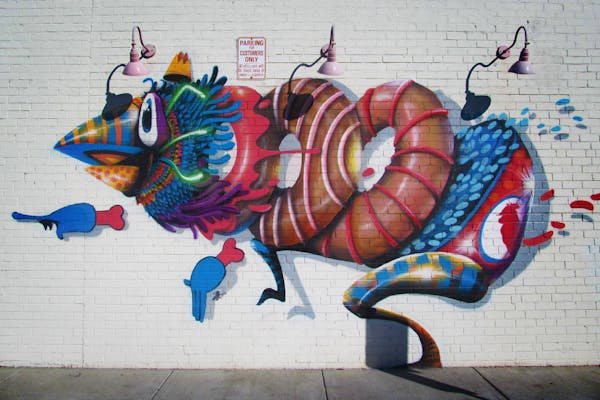 Yis Goodwin, aka Nosego, is a Philadelphia-born mixed media artist + illustrator whose work is known for being layered and energetic. Using vibrant colors, characters and his surrounding environment, he creates expressive designs that are reflective of his childhood. While being known for his paintings on the Philadelphia streets, he has also collaborated with many artists and companies from LA to the UK. He joined us for a one-on-one about his work and what the future holds.
hg: what about street art do you find most appealing?
nosego: I started doing street art in 2004/2005 and stopped in 2011. During the time I was applying for internships at different galleries so I could learn from people, but I wasn't getting any response. So, after stumbling across the movement of street art and seeing what other people were doing, I was drawn to having my own voice and making my own rules.
hg: what work of art or artist inspired you to become one yourself?
nosego: my mother. My mother is an artist…
"…and I just grew up in it. It's like it's embedded in me…"
…I was very fortunate to have supportive family members, so art is second nature to me.
hg: do you have formal art training?
nosego: a little bit. In high school I had an amazing teacher at CAPA (Philadelphia High School for Creative + Performing Arts). I got my BFA in film + digital video from UArts. I didn't take any painting or illustration classes in college. I just did it on my own time.
hg: where did the name "Nosego" come from?
nosego: it's changed over time. Nose-Go is completely fine, but I like the pronunciation of "Nosego" (no-sé go). It used to be two words, but now it's one. When I started doing text-based graffiti it was just: N-O-S-E. Then I decided later on to add G-O for my last name "Goodwin." But it doesn't matter—
"a name is just a name and it's all about the visual work. (laughs) They're just words."
hg: speaking of words, people are continuously trying to label your work: "quirky" or "totemic"—as the artist, what do you want people to know about your work?
nosego: it's just contemporary art. All these terms are so annoying, but at the same time I understand why we need them. The work itself is meant to, hopefully, give a feeling.

hg: when creating a new piece, do you have a general idea of how you want the final image to look? What's your process like?
nosego: sometimes I know exactly what the piece will look like and other times…
"…I just have to trust myself and my experience. For me, I can work on a piece for hours or days at a time. So, before I get started I have to make sure I am absolutely going to love this process because it's a commitment. Nothing is ever perfect, and you have to realize it."
hg: do you listen to music when you paint? Who's your favorite to listen to right now?
nosego: I listen to music, podcasts, documentaries... Lately, I've been listening to Soulection Radio via Soudcloud because they have an insane amount of music that just flows together really well. I guess it's mostly a radio show, but I find myself painting to that recently.
hg: what are some things you do when you're not painting?
nosego: what do I do? (laughs) See, painting is relaxing to me. I don't work—this is not work to me. If I don't find it relaxing, I step away from it and try to figure out why. For the most part, I'm in my element,m and I like to paint. Other than that I hang out and do the regular "whatever" (laughs).
hg: you've done pieces in Philly, California, Spain… If you could put your work anywhere in the world and on any surface, where would it be and why?
nosego: it's so crazy right now because quite honestly everything that has taken place is unexpected. So, the places that I have been painting seemed out of reach beforehand…
"…Everything seems possible at the moment. I'm more ambitious about the work + collaborations with amazing people + beautiful projects. I just want to make memories that are priceless because I'm just so grateful right now. That's all I've ever wanted as a person."

hg: any favorite food from your travels?
nosego: aww, yeah, man! In Hawaii, there's poké. It's kind of like sushi, but served over rice. It's so cheap and so fresh. I would eat it breakfast, lunch and dinner (laughs). I'd get up, go to the beach, get a bowl of poké and go to the wall and paint. I mean, who lives like that? It was amazing! So good! I miss it—I was in paradise! (laughs)
hg: how different was doing a piece on the West Coast versus in Philly?
nosego: I haven't painted in Philly in so long. I think it feels the same except the murals on the West Coast seemed bigger. People were willing to have a bigger budget for the work so we can paint a bit larger, have the proper amount of paint... That's always a perk (laughs). My smallest murals are in Philadelphia.
hg: you got into street art about 10 years ago in high school. How has the scene changed from then to now?
nosego: I'm so out of the loop that I don't know what's happening now. I've always done my own thing so I don't think I was in the loop back then (laughs). If I didn't see something that connected with me I kind of passed by it.

hg: what is the most recent development that has impacted your work?
nosego: I think the more people who become interested in my work, the more personal it becomes. It's definitely more personal than anytime before…
"…You have to block out what is constantly being said + posted on social networks. Remember how unimportant that is. By taking care of you + your well-being the best product will come."
hg: so, the more recognition you get, the more important it is for you to focus on making the work more personal.
nosego: oh, definitely. People try to pull you away from it, but it's a reminder to…
"…make sure you actually love what you're doing."
To catch up with Nosego + find out when his next exhibitions are follow him on Instagram, Twitter + Facebook!