Limestone + Rye: Sagamore Spirit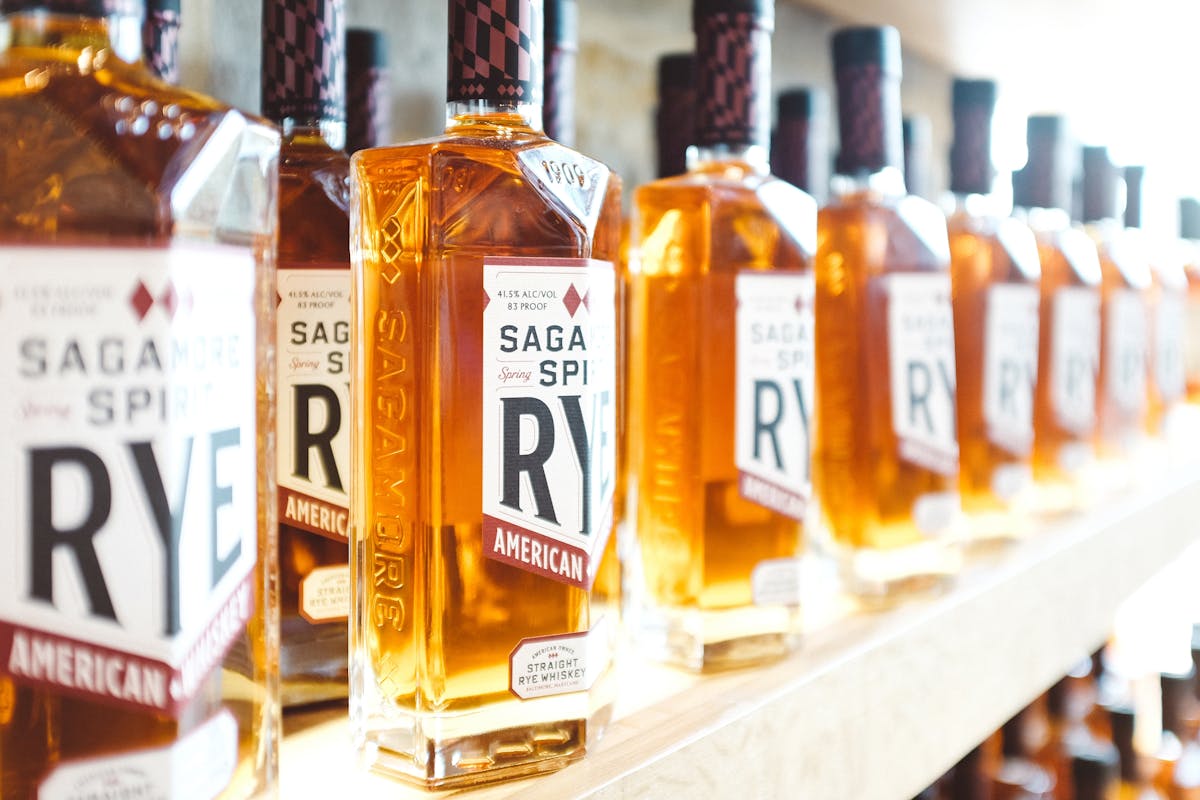 rye whiskey used to be as synonymous with Maryland as blue crabs—serving as home to much of the United States' supply, both before + after prohibition, only to fall dormant over recent years. Enter Sagamore Spirit—a vision of Kevin Plank (Under Armour), this charm city distillery gains inspiration + limestone-filtered water from the Baltimore County racehorse farm of the same name. They're working to revitalize interest in the industry, one bottle at a time, while preserving + expanding upon the rich history of Maryland whiskey. A few weeks ago, we visited their gorgeous Port Covington headquarters for a closer look at their distilling process, learn more about their inspiration, motivation + interesting connection to the sport of horse racing…
hg: Sagamore Spirit is another project on the resumé of visionary Under Armour founder, Kevin Plank. What inspired this pursuit into distilling (specifically whiskey)?
rachel: at Sagamore Spirit, we want to put Maryland back on the map as the premier distiller of rye whiskey.
Before + after Prohibition, Maryland Rye Whiskey was synonymous with quality, and there's an incredible history of rye whiskey distillation in Maryland. Before Prohibition, there were over 40 distilleries in Maryland, with 21 in downtown Baltimore alone. After Prohibition, Maryland held a third of the nation's rye whiskey supply. We are eager to revitalize a local tradition!
hg: tell us a bit about the unique link between farm life, horse racing + Sagamore Spirit. How does the land that the Baltimore County farm sits on impact/craft the whiskey you create?
rachel: Sagamore Farm is a beautiful 530-acre thoroughbred horse farm in Northern Baltimore County, which is home to over 100 racehorses. The entire farm sits on a shelf of limestone rock that naturally filters a unique spring water that bubbles beneath a 108-year-old spring house. We drive this water 22-miles down I-83, from the farm to our distillery in downtown Baltimore, to cut each bottle of whiskey to proof. We pay homage to the journey the water takes on I-83 by proofing our whiskey to 83. This unique spring-fed water adds an incredible smoothness to our 15-time award-winning rye whiskey.
hg: what about the Port Covington neighborhood made it the perfect space for Sagamore Spirit to setup shop?
rachel: "Port Covington is Baltimore's front porch."
We are a short drive from the Inner Harbor and right off I-95. We love welcoming visitors from up and down the east coast + sharing the spirit of Sagamore with them. This is first and foremost a neighborhood distillery and we wanted to build it in a spot where people would want to visit and want to spend time.
hg: why rye? What sets your whiskey apart from other brands? Is there a "signature" Sagamore taste? Any plans to pursue other spirits or variations of your current rye whiskey?
rachel: rye is synonymous with Maryland! It's the most difficult grain to distill, but the team is incredibly committed and always up for the challenge. We ferment, distill + age two different mash bills—a high rye and a low rye. After four years of aging, we blend the two barrels together to create our Signature 83-proof Rye Whiskey + Cask Strength Rye. Our spring water from Sagamore Farm adds a unique smoothness that pays homage to the traditional Maryland flavor.
hg: your distillery is gorgeous—explain a bit about what goes into the making of a bottle of Sagamore rye whiskey + some of the specialized equipment you use to get the taste just right.
rachel: thank you! We love this place. The distillery sits on five acres of waterfront property and is home to a 22,000-square foot distillery building and a 27,000-square foot processing building. The distillery houses the world's only 40-foot mirrored finished copper column still + the two buildings have over two miles of process piping between them.
We triple distill our whiskey to enhance the purity of spirit and increase proof. It's an extra step, but we believe it's worth it. Our distillers monitor this process closely to make sure the distillate that goes into the barrel is exactly what we want.
hg: Sagamore is a much larger project than just whiskey… how does Spirit fit into the rest of Mr. Plank's vision for the brand + the city?
rachel: everyone at Sagamore Spirit is committed to Baltimore and enhancing this city through business development and entrepreneurship. Our team is laser focused on whiskey (it's a tough job, but someone has to do it!) and we are proud to be a part of a larger redevelopment project taking place in the area.
hg: the ever-increasing numbers of craft beers + brewers have been tremendously popular in the Baltimore marketplace. Do you see a similar trend beginning within the distilling scene (both in Baltimore + nationally)?
rachel: absolutely! A high tide raises all ships. We are happy to be part of a distilling revitalization in the Maryland area. The Maryland Distillers Guild is a great asset as we work toward building a distilling trail + creating dynamic experiences for visitors.
hg: the city as a whole has been undergoing quite the transformation as of late—new businesses popping up, existing businesses seeking Baltimore out as a place to setup shop, neighborhoods being revitalized, etc. To what would you attribute Baltimore's rising attractiveness?
rachel: "We love this city and we are of this city."
Baltimore has always been a place for risk takers and history makers—it's an energizing place to build a brand. We are excited to see waterfront revitalization happening and would love to see guests visit us by boat!
hg: where can we get a taste of Sagamore Spirit Rye Whiskey? (Purchase, sampling events, local bars, etc.)
rachel: in the Philadelphia area, check us out at Barclay Prime in Rittenhouse, Valanni, Ashton Cigar Bar, Positano Coast, Buddakan, Boxers, + Stateside. In DC, you can enjoy craft cocktails at Graffiato, Irish Channel, Green Turtle + The Dignitary at The Marriott Marquis. In Baltimore, head out of honeygrow and head to Harbor East! Tons of good bars with signature Sagamore cocktails. If you're in the Baltimore area, we'd love to see you at the distillery! You can book tours online for any day of the week by clicking here.
visit Sagamore Spirit's website to learn more about their history + future, and join their Whiskey Thieves ambassador program for exclusive offers + savings! Follow them on Facebook, Twitter + Instagram for the latest news on events + releases!