Lil' Pop Shop: Meet Your New Favorite Pop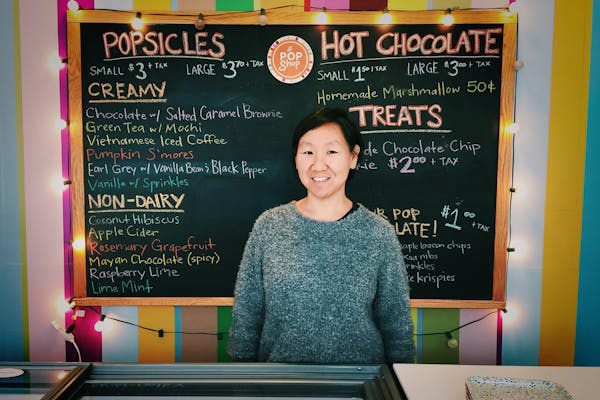 a West Philadelphia summer staple, Lil' Pop Shop has been serving handcrafted ice pops made from fresh, natural + locally sourced ingredients for over three years. We met up with Jeanne Chang, the creator of your (new) favorite pops, for a quick chat about the West Philly community as well as the shop's exciting future endeavors.
hg: what were you doing before Lil' Pop Shop?
jeanne: I worked full time in the kitchen as a pastry chef. I also worked for a homeless shelter doing their business development.
hg: what was the inspiration behind Lil' Pop Shop?
jeanne: I have always been passionate about food. There's a shop in North Carolina that I often went to called Loco Pop that served healthy pops. I recognized an opportunity since Philly, at that time, didn't have any popsicle shops that offered healthy options. [editor's note: no neon or artificial ingredients are ever used in their pops!]
hg: you recently opened a new location in the Woodland area of West Philly that doubles as a test kitchen + serves delicious, baked treats. What was the inspiration behind this second spot + do you have any additional plans to expand further?
jeanne: our original kitchen on 44th Street was super tiny and we desperately needed more space for popsicle production + storage with increased demand for our pops. I love making popsicles, but I'm really happy to be baking again and making other desserts now that we have a bigger kitchen with an oven. We can now make our own brownies for our best-selling Salted Caramel Brownies. The benefit of this is that we know exactly what goes into the brownie and can make it as gooey + carmel-y as we desire!
hg: Lil' Pop Shop is opening its third location in Center City, what can we look forward to there?
jeanne: the center city location will have a café with our new secret drink menu. We'll be located in such a nice neighborhood (Hint: Rittenhouse Square) with many grad students, families, and office workers. Now center city folks won't have to cross a bridge to get our pops anymore (laughs).
hg: what flavors are local favorites in the original West Philly location?
jeanne: generally, Chocolate with Salted Caramel and Green Tea with Mochi are our best sellers. Kids love Vanilla Bean with Sprinkles too. [editor's note: They also have Pumpkin S'mores that tastes just like fall] I personally like Earl Grey with Black Pepper. My oldest daughter is a fan of Cranberry Champagne while the younger one loves Key Lime Pie.
hg: your custom "Popesicle" for the Pope's arrival was an exciting success! Do you plan to have any unique creations for upcoming events this year (such as the Democratic National Convention, etc.)?
jeanne: creating the Popesicle was so much fun and we hope to have more opportunities like that in the future! We do have a few things up our sleeves but would like to reveal them in the near future. We love that Philadelphia is hosting the DNC and will definitely be concocting something special to celebrate this big event!
hg: as a Cali-native who now resides in Philly, what is it like living coast to coast?
jeanne: I miss California all the time, mostly because of my family is there and the weather is amazing, I used to live right by the water. Berkley has a great vibe and culture — but I really appreciate everything that is happening in Philly – it has a great community! The food scene is very innovative. We have a food truck and I love connecting with other vendors at events.
"I really appreciate everything that is happening in Philly – it has a great community! The food scene is very innovative."
hg: if you were a popsicle, what would you be?
jeanne: chocolate pop with salt + nuts!
hg: your Instagram photos are awesome! What is the concept behind those pictures?
jeanne: thank you! We work with a local media company called Small Wonder. They have done an amazing job. We aim for a modern and clean image, without too much distraction.
hg: what are some essentials you always have in your fridge?
jeanne: eggs! They are miracle food. We also have so many Greek yogurts — I can't even explain why.
hg: what is your advice for young aspiring entrepreneurs?
jeanne:
"It's super rewarding but definitely challenging, so do your research. Find the right people and do best of your ability. Think on your feet and deal with it."
visit both of Lil' Pop Shop's West Philly locations to cool down with their delicious sweet treats! Check out their superbly chic Instagram, Facebook + Twitter accounts for new pop announcements + new store updates!