KTL Philly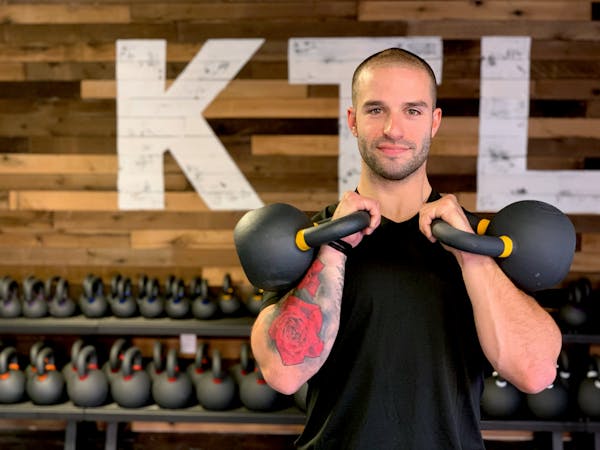 Have you heard of, or used, a 'kettlebell'? Originating in Russia as 'girya,' these handled cast metal weights are the centerpiece for Perry O'Hearn's latest fitness venture. You may know Perry as the owner of Philly Phitness, a personal training studio founded in 2012, which focuses on 'total transformation' to help each client achieve their personal best in all walks of life. Since opening, they have worked with nearly 1,000 people and have conducted over 35,000 personal training sessions. We caught up with Perry to learn about his newest venture, KTL, a brand new fitness studio at 1822 Spring Garden Street, focused on group classes using kettlebells.
hg: what inspired you to create a fitness studio focused on the kettlebell?
perry: most people don't know this, but one of my first jobs as a fitness professional in Philly was teaching a kettlebell class in a small local martial arts gym. I'd have upwards of 50 people in my class ranging from first timers to professional athletes—yet they could all work side by side. I've always loved kettlebells for that reason: though they are simple in nature, with a bit of creativity—there are endless combinations of movements that can be applied to all walks of life.
hg: how is KTL different than your other fitness business, Philly Phitness?
perry: Philly Phitness focuses 100% on helping people transform their life and regain control of their health through 1-1 personal training, nutrition and accountability coaching. While KTL will also be looking to help people regain control of their health—it will be via group kettlebell classes + nutrition workshops.
hg: what are your big picture dreams for KTL?
perry: honestly—my dreams aren't that big, I just want to have fun with it! When I opened up Philly Phitness I had no expectation for it to grow to the size that it has. My goal with KTL is simple—create an environment where people get amazing results, have an amazing time and can just be themselves!
hg: is this workout geared toward any fitness level?
perry: yup! That's the best part with how we are conducting our classes. Every member will be ranked: White, Black or Gold. Just like the belts in martial arts. Classes will be open to anyone, but the workout that they do will be based on their ranking. This way someone who is brand new to kettlebells can be in class, working out, next to someone who has been doing it for 10 years—because it is all based on their experience + skill!
hg: any special workout gear required? Or just show up ready to rock?
perry: nope! Just show up + get ready to move baby!
hg: what's the most common question posed to you as a trainer?
perry: "How do I regain control?" It's never actually worded this way—it's always disguised. But the people I've worked with at Philly Phitness, and even the Founding Members of KTL that I've spoken to, have all expressed a sense of wanting to regain control. They are all searching for a way to reclaim who they used to be, to rekindle the fire inside them, to become the better version of themselves. The weight, the toning, the strength gain, the six pack, etc. is all just a small part of it—from my experience, people just want to feel like they are in control of their health (whatever that means for them).
hg: have a favorite kettlebell move?
perry: honestly, my favorite is the kettlebell swing! I love how you can develop great power, endurance and get an amazing sweat going—all with such a simple move!
hg: you've been very open on social media about your family history + your personal struggles, how has sharing your personal journey helped both you + your business?
perry: I still remember the first post I made where I really opened up about my personal life. It was a picture of me crying, right before I went out for my birthday, a few days after my father had passed away. I don't know why I made the post…but the support I experienced was unbelievable + nothing short of life changing.
It is too common on social media (especially in the fitness industry) to try to be perfect. There is a pressure that if you are helping people with their lives that ALLLLL of your ducks need to be aligned! Or… you're a fake! And this pressure is brutal and ultimately not helpful to anyone. Being transparent and authentic has really helped me fall in love with my story + who I am. I hope that by allowing people to see my faults, my fears, struggles and my thought process—they (hopefully) realize that we really are not that different! And if I can overcome difficult situations…they can too!
hg: since Philly Phitness is right around the corner from our flagship, original location on 16th Street (+ because we have to ask), what's your go-to honeygrow dish?
perry: the cobb salad has won my heart over—time + time again.
hg: favorite totally unhealthy junk-food splurge?
perry: my weakness is Reese's Peanut Butter Cups… funny story—my old roommate (shout out to Carolyn!) made me an 8lb.—yes EIGHT POUNDS—peanut butter cup for my 23rd birthday—that should tell you how much I love them. And yes—I ate it all!