Honeygrow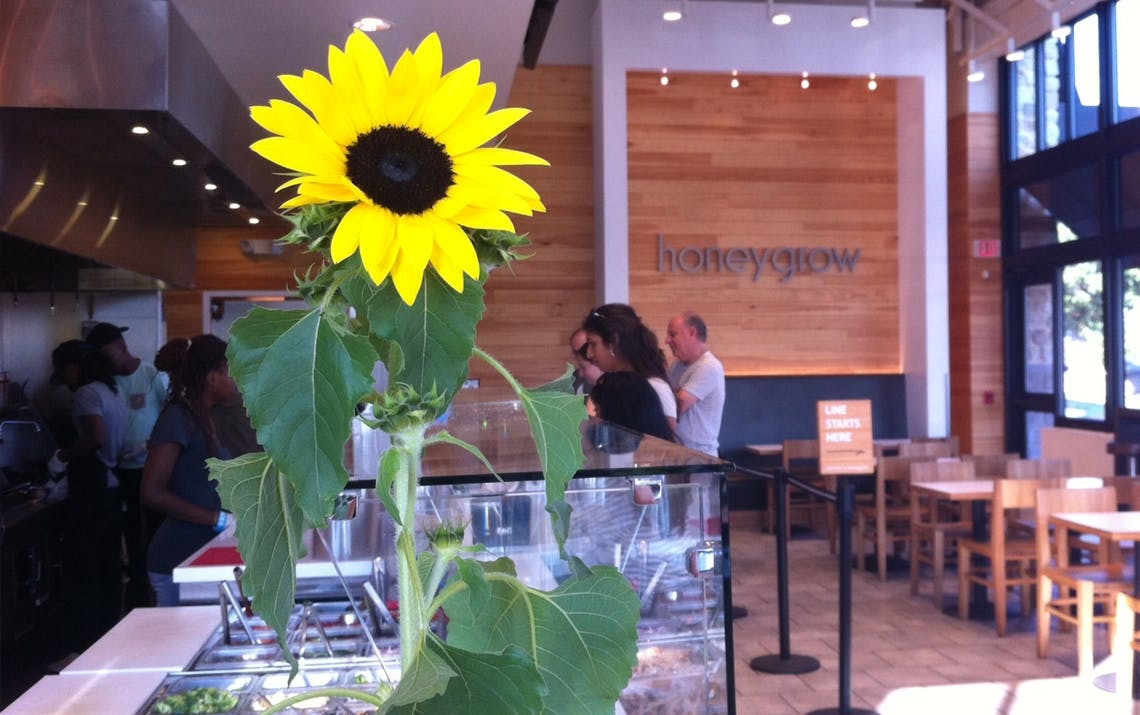 The most frequently asked question that I've received since creating honeygrow over a year ago: What exactly is a "honeygrow" and why bother creating a concept revolving around a name that from the offset, makes absolutely no sense? Top comments include:
I pass this place all the time – no bees and no honeycomb like things. I don't get it.
It doesn't smell anything like honey. I don't get it.
Is this a franchise that sells honey? (and for the record, we are definitely not a franchise.) I don't get it.
honey, grow, on what? I don't get it.
Forget it, let's get a sandwich. Di Nic's is awesome. (Agreed)
Fair enough, however to me, it was simple: the name needs to exemplify uniqueness while still communicating what we do and why we do it.
So for the first part, yes, the words "honey" and "grow" were and are essentially rarely used together, with the exception of the occasional Twitter and forum battles where people bizarrely exclaimed "HONEY, GROW UP!" to whomever pushed their buttons. Other than this, "honeygrow" was pretty standalone. When people talk about how bizarre our name is, I would like to thank them – they're taking the time to figure out who we are and what we stand for. They're triggering discussion about honeygrow. This was intended.
However, how does this convey what we do and why we spend the vast majority of our conscious day doing it?
For anyone that works at hg, be it a manager or runner, the answer is simple. We're constantly prepping fresh product, creating fresh sauces and dressings, and enjoying the excitement of cranking out a mound of tickets during a rush. But it's really more than just whipping up some awesome stir-fries, salads, smoothies, and honeybar treats. It's the challenge of sourcing local and organic ingredients as much as possible. It's about making sure that each guest not only enjoys their food, but also has an appreciation of where the ingredients come from and where the food was prepared. It's about honest eating. It's about growing relationships with our amazing team and guests while not only serving as local as possible but also educating our customers about it. honeygrow is a play on the following words: honest eating growing local.
So why do we bother? Again, the answer is simple: it's about doing what makes you happy. Why spend a life doing something that you have little to no interest in doing? Serving local makes us ecstatic for several reasons, largely because of freshness and taste. For example, our friends and partners at WeFeedUs in Carlisle PA provide us incredible Thai Basil and other greens from their aquaponics farm; the time between harvesting and serving these ingredients at honeygrow is somewhere between 3-4 hours! They pick it and you can eat it in less than 4 hours. This makes us pretty happy. (And I can assure you, it's massively less time-consuming to just blindly purchase ingredients without having any idea where they come from.) But why bother doing something that you're not proud of.
So with this rather brief snapshot into the aggregate mind of honeygrow, I hope that you get a somewhat better idea of what honeygrow means and what we stand for.
And just as important, I want to thank our awesome team and guests for helping us get this far – it certainly wasn't easy but we've had a lot of fun cranking out the goods at both our 16th St spot and at hg Bala.
More great things to come.
JR