Honeygrow Heroes, Vol. 6: Sean Agnew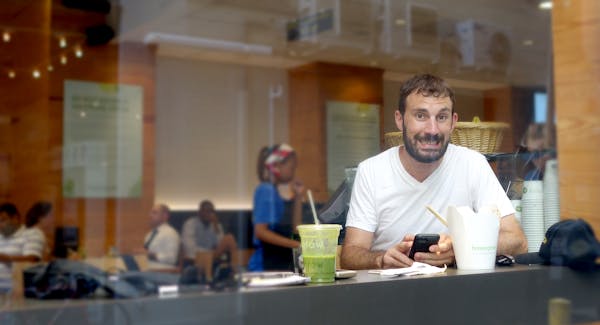 If you've seen live indie music show in Philly in the past 10 years, there's a good chance Sean Agnew, R5 Productions' founder, is responsible for bringing them into town. Our latest honeygrow hero has been enticing bands to make Philly a worthwhile stop on their tours since 1996.
Growing up in Ardmore (hence the "R5" of R5 Productions for those who remember the old R# system for Septa's regional rail), Sean was encouraged to visit Center City from age 12. Making trips to the city to record shops was a freedom that spawned an early interest in music.
Sean's interest in bringing bands into Philly started as a hobby. When he started at Drexel, he joined the radio station which led to putitng his first show together in 1996. Although the show was a huge success (1500pp!), he quickly realized that the booking business came with a cast of characters and a host of issues, leading him down the road of "F-this, I want to do things on my own!"
What started out as a hobby to bring in his favorite bands soon grew into a real venture. From seven shows in year one, 10 in year two, 20 in year three and so on. By 2000, an opportunity to help Uuniveristy of Pennsylvania with an all ages venue on campus gave the former 'hobby' a full-time focus. Although the venue at Penn didn't last, Sean started getting bigger and bigger bands and kept booking shows at the First Unitarian Church.
Sean began to expand the type of shows being booked at the Church, and his success led to a 2003 L+I shutdown. L+I claimed the Church was not a "venue." Likely tipped off by a competitor (a corporate booking company, another local promoter…), L+I shut down all types of events at the Church, not just bands, creating a news frenzy.
That media coverage led to media segments from Howard Stern to MTV, culminating with an cover story on Clear Channel in Harper's Magazine making Sean the focus of that article comparing him as a DIY concert promoter to Clear Channel, a classic David-vs.-Goliath analogy.
The media attention from that article generated tons of interest from bands wanting to play Philly, finding more independent venues and eventually, the introduction to his business partners at Four Corners (which led to the creation of Union Transfer). And the rest, as they say, is history…
A vegetarian for the past 17 years, Sean sat down with us over some red coconut curry stir-fry to chat food and how R5 has changed the way we see live music in Philly.
hg: What's your favorite food?
Sean: My Grandmother's Italian cooking, pastas, especially her Italian Wedding soup (with vegetarian meatballs)
hg: You're an avid world traveler, where have you found the best vegetarian food?
Sean: Indonesia for sure—Bali; so much of their food is naturally vegetarian, tofu to tempeh; it's a part of their culture, it's naturally that way and so good.
hg: So how did the name R5 Productions come about?
Sean: The first flyer I made, I think there was some kind of inside joke at the time. It was just the R5 train schedule with the band names cut out, and we kinda went with that "joke" for a while. And the name stuck.
hg: How did you get from the Church to Union Transfer?
Sean: We found a bigger space at The Starlight Ballroom, a 1000 capacity venue and started doing our own DIY shows there. At that point, that's where I met my partners, Four Corners. They basically said, "hey, you're doing a great job getting all these people out to all these fun spaces, what if we built you a new space that you could call your own." That was an easy, "yes."
hg: Did you influence the design of Union Transfer?
Sean: None of us were really designers, but we brought in Fishtank, who had a great proposal and they were young and really got the idea of how wanted the space to flow and of course the moveable stage.
hg: What's next for R5?
Sean: No timeline in place yet, but last year we opened Boot & Saddle at Broad and Ellsworth, a smaller venue, and next up we're looking to do a bigger venue than Union Transfer…
hg: What's changed the most about Philly since you started R5?
Sean: Philadelphia used to be a city that most bands skipped over due to a bad reputation with the worst venues and the worst crowds; but now there's all these new places opening up, way more options for people to play…I think we're still a bit behind the 8-ball, but it's starting to catch up. Though, I do miss—back in the 90's—there were alot more DIY spaces all over Philly and if it weren't for those spaces, R5 wouldn't be what it's become. That's actually something I want to work on, as the city gets "nicer" there are less and less DIY spots. The next project I want to work on on my own will be to work with City Council people to work together to foster new DIY spots for all ages that are safe, legal, cool and supported by their communities.
Music is a passion for us here at honeygrow and we can't wait wait to see what's next for Sean Agnew. Keep up the great work making Philly a place bands will love to play. Find out who's playing Philly next at R5Productions.com.