Honest Eating, Going Mobile: Welcome to The HGapp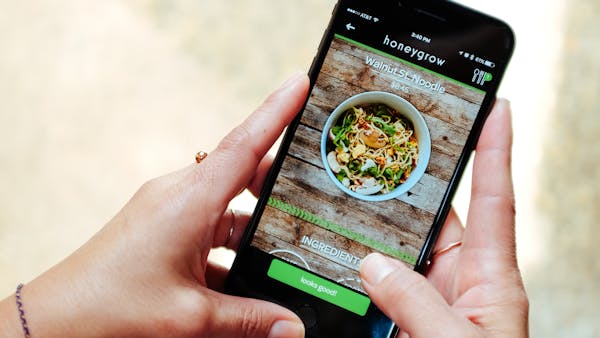 we're thrilled to announce the launch of our first-ever mobile App, complete with mobile ordering + an innovative, unmatched loyalty program featuring a unique-to-honeygrow mobile gaming experience!
available to all iOS + Android devices today, the honeygrow App aims to provide you, our loyal guests, with a more accessible, convenient ordering platform. Once downloaded, you will be able to create an account to build up your honeygrow loyalty points (via purchases + game!) + place orders for pick-up at least 15 minutes in advance at your favorite honeygrow location.
the arrival of our mobile App also features the debut of our honeygrow loyalty program! Our program allows you to accumulate + redeem loyalty points via the mobile App for each order (coming soon to in-restaurant kiosk orders).
hgApp features:
custom user profile, complete with previous order tracking (previous order functionality in App-only, coming soon to kiosks!)
loyalty program: each honeygrow order results in loyalty points, culminating in rewards such as $ vouchers good for your next order
order ahead, save time: place an order at your favorite hg location for pick-up + pay via App
order customization: all of the customization options found on our kiosks have been implemented seamlessly into our hgApp
Time'sPan: our unique mobile gaming experience. Play the game, earn loyalty points—anytime, anywhere (more on that below!)
menu + map: full access to each location's complete menu, as well as a map that pinpoints the nearest hg to your location
per our CEO + founder, Justin Rosenberg: "We wanted to approach loyalty from a different perspective. How can we have our guests appreciate hg loyalty from both an in-store experience, but also while outside of the honeygrow physical environment? Why not think differently about loyalty + gamify our loyalty experience? So we did. We worked with a great video game designer to create something that was straight up fun to play, but would also reward our guests simply by playing. That's who we are as a company…
"…creatives that love figuring out how to approach what we do from a different perspective to create amazing experiences for our guests."
meet Pan—a cybernetic wok from the future sent to our present-day to collect healthy ingredients, and it's up to you to help him on his mission. Control Pan through nine unique honeygrow locales such as Philadelphia, Washington D.C., Baltimore + Brooklyn, collecting ingredients, loyalty coins + portal pieces along the way. The loyalty coins you collect in-game translate to real-life loyalty points that you can redeem as you reach each loyalty tier! We're proud to be the first wholesome fast-casual concept with a mobile game that rewards players with real-life loyalty progression.
download the hgApp today—visit the Apple App Store or Google Play Store to download now, order ahead + start earning loyalty points!