#hgmusic: Denise Kinney of Musicopia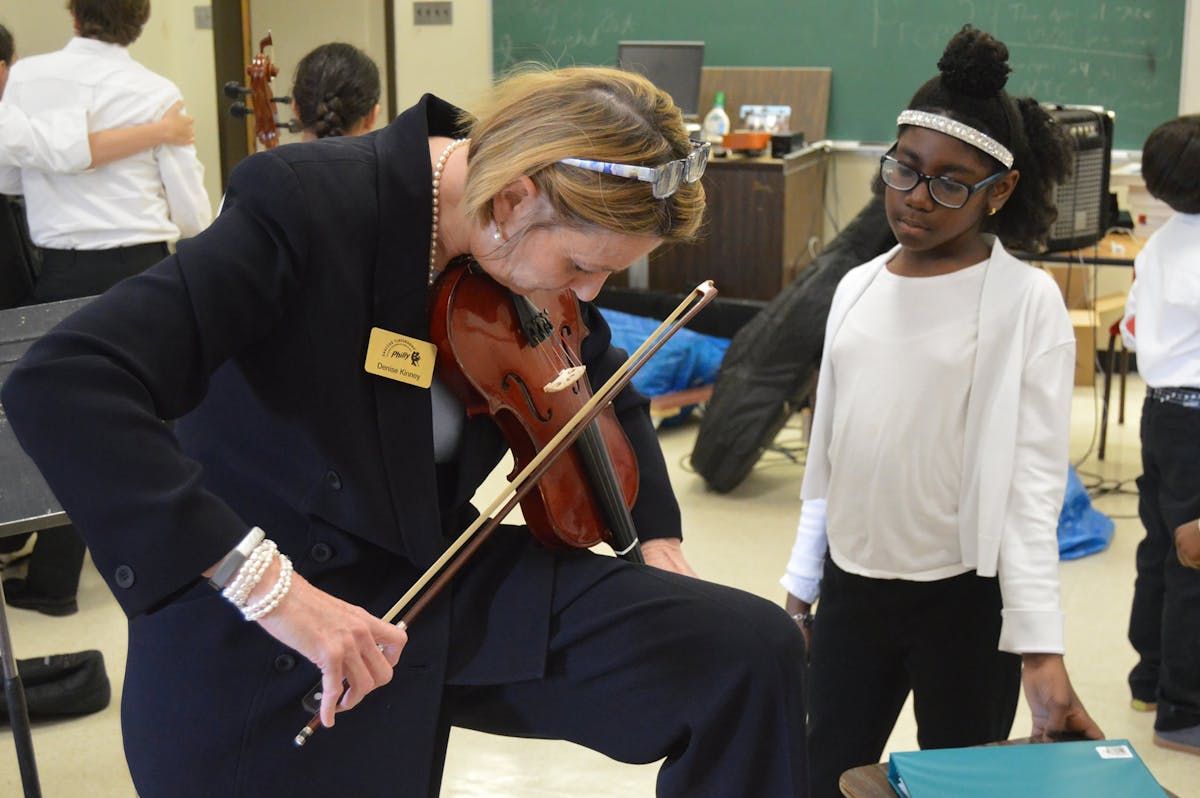 Musicopia was founded in 1974 as "Strings for Schools," as a collaborative effort between a quartet of local string players looking to address cutbacks in music education funding that was beginning to plague public schools.
More than 40 years later, the organization—now known as Musicopia—has continued to provide opportunities for children to experience, learn, perform + appreciate music. Now run by Executive Director Denise Kinney, daughter of co-founder Welthie Fitzgerald—Musicopia places an emphasis on reaching students who are underserved through a variety of programs, assemblies + ensembles throughout the region.
honeygrow is proud to partner with Musicopia this year to help show that music transforms lives, through our #hgMusic campaign. We sat down with Ms. Kinney, who grew up playing the violin, to find out how her experiences have led her to champion music education in the Philadelphia region.
hg: Denise, you were brought on as the Executive Director of Musicopia in 2005 after a career in healthcare administration. Has music always been a part of your life, even when it wasn't part of your career? What are the benefits of having music in your life?
denise: I often say that I was born into Musicopia! My mom was a professional violist so Musicopia was very much about our family + the family of the other founders working together. People would come into our house, the doors were always open, and musicians were always stopping by to play. I still remember friends coming over, being like, "What are you doing?" And I said, "Doesn't everyone play quartet all the time?" It was a real shock that this wasn't how people grew up. I just thought it was normal to have music + family so closely connected.
Above everything, my mother believed—and still does—that every child should have a foundation in music, especially her children. And it wasn't an option! She came from a family where her mother had all three of her girls play an instrument. They played piano, violin + cello. With my children, we're on our third generation of musicians. That's a good legacy to carry on, so I've continued to play violin.
As a child, I didn't appreciate being forced to play an instrument, but it unquestionably taught me that hard work is measurable. You can see it pay off moving up, chair after chair in an orchestra, for example. That was a good thing because I was competitive, and I wanted to be in that first chair. But you take that work into a challenge that you're confronted with every day in life, even just trying to get the most mundane tasks done at work.
"Succeeding in life takes incredible perseverance + persistence, and that's what music has taught me."
hg: your mother helped to form Musicopia in part because music programming was disappearing from your school growing up. What inspired her to get involved?
denise: my mom is very humble. When we play quartets and she plays Dvořák's String Quartet #12, "American"—which has this super hard viola solo—we'll be like, "Wow! That was great, Mom!" But she never believes us. So, when they started to cut music programs in my school, she asked (very timidly, I might add) if she could come in and help. She thought it was a gift.
The school started to see cutbacks in the amount of teaching time, and that was where she thought she could help. She was so grateful that the school would allow her to come in and play and bring her colleagues. And then that music teacher told other music teachers how great it was to have the quartet, and so on. It was really her humility that drove her. It's just who she was—and is!
Our school was not one of the hardest hit, but all schools in the state were affected. Eventually, these cuts became a national problem. Reductions in my school at the time were focused around the instrumental teaching time. We started out with a full-time string teacher and it became part-time. It wasn't an immediate crisis—initially, it was just the elimination of teaching positions. But my mother saw where it was going and she knew she had to help.
hg: being a lifelong musician (+ the daughter of a musician) has probably helped you understand the types of programs that schools + community groups need. How have Musicopia's services changed over the years?
denise: For one, the genres of music we offer have changed dramatically. We started out very traditionally with the string quartet. But during the organization's first few years, the world was becoming more diverse; new world music was emerging + other modern genres.
In the 80s, I was the Chairman of the Board for Musicopia, and we set out to deliberately expand to world cultures + music. We were actively looking for those artists, who could not just play Middle Eastern or African drumming, but also teach—so that kids of differing ethnic backgrounds could find Musicopia more relatable.
We've even updated our programs with more relevant instrumentation. Most kids would prefer guitars, drums + maybe keyboard—typical rock instruments. Now, we're looking at technology + music. Programs have to stay consistent with the times and not reflect the age of the founders and their children.
In terms of how school funding has changed us, the organization was designed in the 70s with the assumption that there was musical infrastructure in every school. As schools lost their programs completely—particularly in low income areas—it became our job to fill the void.
For example, at that point we developed the "Adopt-a-school" program to help schools build, or rebuild, music programs from the ground up. We added the instrument donation program to help get those programs instruments. It has reached a point where the basics of music education aren't even available to many students, and that's what we're looking to change.
hg: Musicopia is partnering with honeygrow to spread the word that music education transforms lives through our #hgMusic campaign. What do you think children get out of music education that they can't get out of, say, math or science? What are its benefits?
denise: there's plenty of research on the impact of music on academics, of course. The National Governor's Association issued a brief called "The Impact of Arts Education on Workforce Preparation," in 2002. And along with other papers, it re-states that children who study the arts are four times as likely to achieve academically! The arts also add jobs + generate revenue in the community. The impact is huge there.
But the most important thing kids get from music is that music often becomes the reason why some kids come to school. It engages students in learning much more effectively than traditional academics. It's easy to fall in love with music, and sometimes it's hard to fall in love with math. Because of that, music can be leveraged to gain interest from students, to keep them in school + participating.
hg: how do you think working with honeygrow can help Musicopia have a greater impact in the community?
denise: both Musicopia + honeygrow are very much about nourishing the community—only honeygrow does it through delicious, freshly-prepared food + we do it through music education and programs! In this way, #hgMusic pulls together two very different, but mutually supportive ideas.
honeygrow founder Justin Rosenberg has also been a huge fan of music throughout his life, and he's a guitar player himself. We even collaborated with honeygrow + Fender last year to help provide a number of acoustic guitars to students at the Philadelphia Montessori School in South Philly. By working together through these types of initiatives…
"…we're able to reach community members more holistically—helping more people and enriching lives along the way."
hg: how can schools, community groups or people looking to volunteer learn more?
denise: Musicopia has a lot of ways for people to help—or, as we like to say, "Play It Forward!" If you have a gently-used instrument you'd like to donate, or you're able to help us coordinate instrument drives + drop-offs, our Gift of Music program is a great way to help us find instruments for local schools.
We also have some great ensembles that could use support, like our Musicopia String Orchestra (MSO), which builds skill + performance opportunities for many under-served youth in the city. The MSO always provides snacks to our students, because we feel that our young musicians should always have one reliable meal each day. Snack donations—like the one honeygrow is planning for this Fall through #hgMusic—are helpful because they allow Musicopia to use the funds used on snacks to benefit the program in other ways.
Lastly, if people are able to donate funds, we accept contributions both through our website, www.musicopia.net, and through the United Way—we're number 9159 there! Everything is tax deductible and will go toward helping continue providing much-needed programs to kids around the Delaware Valley.
stay tuned for more updates on our #hgMusic campaign by following Musicopia on Facebook, Instagram + Twitter!