Hello Again, Boston — Hgseaport Is Now Open!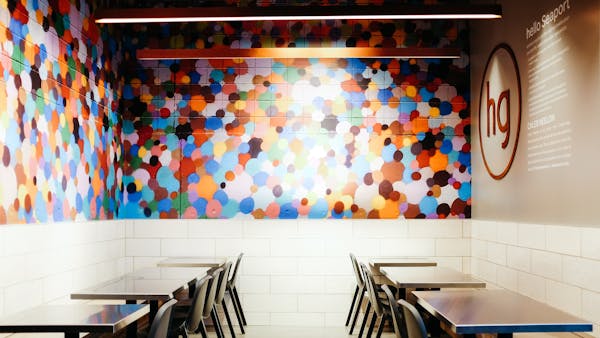 our second Boston location is now open at 100 Northern Ave in the city's booming Seaport district! Located just steps away from the Institute of Contemporary Art + The District Hall public space and just a few blocks from the Boston Convention Center, hgSeaport will be open daily from 10:30AM until 10:00PM, providing the area with quick, wholesome options for both lunch + dinner.
in true honeygrow fashion, our proprietarily-designed kiosk ordering system is once again present, allowing guests to fully customize their meals + experience. Jennifer Carpenter Architect have delivered another great interior build of our space, complimented by an eccentric, colorful dotted design by Boston-based artist, Caleb Neelon.
per our Founder + CEO, Justin: "It's been a crazy year for us + we're excited to keep the momentum going for Boston—a city that really welcomed us from the get-go. It's a surreal feeling to be taking something that started on 16th Street in Philly and now bringing it to other major metros throughout the US."
hgSeaport will feature our signature salads including our new, seasonal Fall The Things (maple cider vinaigrette, arugula, bacon, roasted spiced yams, red onion, pecans, dried cranberries, goat cheese), as well as our popular stir-frys including the (now seasonal) Roast Pork (freshly made egg-white noodles, roasted pork, spinach, broccoli, red onion, asiago, chili flakes + Sam Adams brew au jus). In addition to our salads, stir-fries + honeybars are our original hgJuices—better off red, orange you thirsty, green is good—all cold-pressed with no sugar added + created exclusively for honeygrow. hgSeaport accommodates advanced ordering via the official hgApp (which is available now for iOS + Android) + will also support delivery by Caviar beginning Monday, October 16th!
experience hgSeaport for yourself — visit us at 100 Northern Ave today!