Healthy Habits for A Kickass Finals Week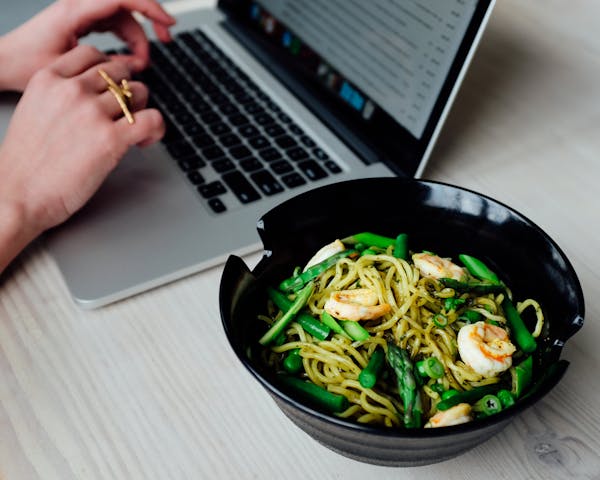 keep your mind + body healthy while acing your exams
Finals week is the pits. You want to be excited for the upcoming break, but between then and now, there's nothing but hours of studying, lost sleep, and stress-eating. Although it seems impossible to maintain a normal exercise regimen and eating schedule, it's important to continue your healthy habits through finals week so your body (+ mind) aren't worn down.
We asked our honeygrow College Representatives to share what tips and tricks they have to stay healthy for a kickass finals week.

What do you do to take a break from studying?
Tsoline: My favorite break away from studying is taking my dog to the dog park! It's always so fun and relaxing to be able to break away from reality for a little bit and spend time with dogs.
Grace: Every 90 minutes I take about a 15-minute break from studying. I get up + stretch, walk around, get a snack, or take a quick shower. By breaking up my study time with these breaks, I'm able to remember so much more information without going absolutely crazy!
Anna: Whenever I take a break, in the back of my mind I always feel like I am wasting my time and there is something productive I could be doing. However, having a little break of social time really puts me back in a good headspace and makes me feel less anxious and more motivated.
How do you keep healthy during finals week?
Tsoline: I am a huge meditator! I have incense + sage that I like to burn. Usually, I'll start my meditation by clearing the room and turning on Tash Sultana. After that, I'll burn my incense and meditate for at least 20 minutes.
Grace: I make sure that my regular routine is not ruined by finals week! I typically work out 3-5 days a week at Orangetheory Fitness. I find that working out helps give me 60 minutes of my day to forget about school, work + everything else.
Anna: If I find that I have some extra time I can spare, I'll go on a run in the morning to wake myself up and de-stress.
Do you find that your diets change during finals week?
Tsoline: Unfortunately, there isn't time to properly eat all 3 meals and make sure that they're all healthy, but I always try to make sure that I am eating vegetables in any meal that I eat. Honeygrow stir fry is honestly probably my favorite meal during finals week because it's hearty, healthy + fills me for hours!
Grace: When I was a freshman, I definitely followed the pattern of what I thought you "should" do during finals week. Red Bull, constant snacking on junk food, and staying up until 5 AM. It didn't take me long to realize that by treating my body so horribly, I was actually setting myself up for failure. I instead make sure to eat full meals instead of constantly snacking, and swapped the energy drinks for water or tea!
Anna: My diet is super weird during finals week and fluctuates a lot. Sometimes I'll be so into studying that I'll forget to eat + other times I'll be so stressed that I'll eat everything. I think that's why it's important for me to take meal breaks with my friends so that I can maintain a healthy eating schedule while also allowing myself to take a healthy break.
What do you eat to keep your brain happy and healthy?
Tsoline: I love chicken + seafood so anything that has either of those food groups in them is the best! I love adding chicken in my salads at honeygrow because to me, it completes any meal.
Grace: I definitely live off of honeygrow this week because of how fast it is. I know that I can stop in, put my order in + have a full, healthy, whole meal that nourishes my body. Especially since the app came out, a few clicks and I'm on my way to pick up a meal that I know will fuel my brain + fill my stomach!
Anna: During finals week, I try and keep a healthy diet so that my brain can continue to be energized + I won't go into a food coma. I tend to eat a lot of to-go salads that I can bring to the library. Also, I drink a LOT of coffee!
What's the weirdest thing you do while studying to retain information?
Tsoline: I didn't think it was weird to do this until my roommate told me that it was weird, but I read my notes to my dog in story form. I'll read it out loud so that I can hear myself say the information + I say it in story form because I feel like I can remember stories better than just straight facts.
Grace: First of all, I absolutely cannot listen to music that has any lyrics while I'm studying. If I'm reading something, I have to read it out loud, as I read it helps you remember more.
Anna: The weirdest thing I do to retain information is that I only choose one song to listen to + put it on repeat for the entirety of my studying. There have been days where I have literally listened to the same song for 10+ hours.
Feeling particularly rushed to cram some quality studying time into your week? What if we told you there's a quick and delicious way to get a boost of caffeine in your system? In addition to the healthy habits our #hgCollegeRepresentatives suggest, we recommend grabbing a few AWAKE chocolate bars before heading to your study sesh. Available in full-size bars or bites, these sweet treats have enough caffeine to get you through a gnarly study session without having to chug coffee or an energy drink with a nightmarish ingredient list. Enter to win a box of AWAKE chocolates for yourself by visiting our Instagram page from 4.30.2019 until 5.3.2019. Good luck!