Going Meatless, One Day at A Time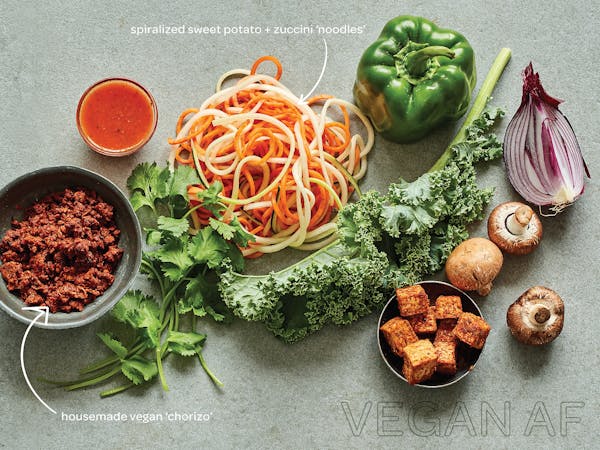 Meatless Monday is a global movement launched in 2003 with a simple message, 'one day a week, cut out meat.' At honeygrow, our touchscreen kiosks make accommodating a meatless diet simple + easy, plus our newest Winter seasonal dishes (launching Wednesday, January 2nd)—the Vegan AF (all-spiralized vegetable noodles with smoked paprika sauce + housemade vegan choirzo) stir-fry + the S.O.S. salad (vegetarian, or vegan without the cheese, with housemade multi-seed crackers made with Soulfull Oats)—make enjoying a meatless lunch or dinner even easier. We sat down with Dana Smith, Campaign Director of Meatless Monday, to learn more.
hg: how did Meatless Monday come to be? we hear it has a 100 year history, despite starting in 2003?
dana: in 2003, our founder, Sid Lerner, a former advertising executive along with Johns Hopkins, started Meatless Monday as a public health campaign. Sid remembered that Meatless Monday was used as a wartime conservation effort in World War I and World War II. In 2003, the recommendation was to decrease cholesterol by 15%, and it was known that consumption of meat was linked to higher rates of cholesterol. Sid thought one day a week (3 meals) was an easy way to promote this, and thus, Meatless Monday as we know it today began. Over the years, with more and more research showing the link between meat production + climate change, Meatless Monday also touts the environmental benefits in addition to health benefits of going meatless one day a week.
hg: what are some tips for those who are new to the idea of Meatless Monday? What are some simple steps they can take on their first 'Meatless Monday'?
dana: going meatless one day a week can be simpler (and tastier) thank you think! With more and more restaurants and brands providing delicious plant based options, I recommend just trying it! You will likely not miss the meat. One question we often get is how to get enough protein without eating meat. There are plenty of plant-based foods that are delicious and great sources of protein! Learn more about Plant Protein Power here.
hg: why just Mondays?
dana: we believe that small, incremental changes inspire a greater number of people, enable a lasting commitment, and therefore lead to more significant changes in the long term. Additionally, our research shows that people who start the week by eating healthy on Monday are more likely to eat healthy the rest of the week.
hg: for those skeptical about going 'meatless,' what are the biggest benefits?
dana: going Meatless Monday is beneficial for both your personal health as well as the health of the environment. Adding more plant-based foods to your diet could add years to your life by reducing the risk of a variety of chronic diseases. Learn more about health benefits here. In addition, raising livestock for our current level of human consumption requires an extraordinary amount of resources and takes a devastating toll on our planet. Plant-based foods require less land, water, and energy to produce. Learn more about the environmental benefits here.
hg: do you find that those who adopt Meatless Monday regularly often find themselves going meatless on other days of the week also?
dana: Our research shows that people are not only most receptive to health messaging on a Monday, but they are also more likely to continue with healthy behaviors they start on a Monday. Since Monday has a special significance as the start of the work and school week, it's the perfect time to start a new healthy practice, like going meatless. We like to say "Happy New Week"!
hg: what's your favorite way to incorporate protein into your meals on 'meatless mondays'?
dana: from beans + legumes, to quinoa +leafy greens, there are so many ways to incorporate protein into your diet besides meat. People often overlook whole grains + leafy greens as sources of protein. Some of my favorite meals include meatless chili, quinoa bowls + veggie burgers!
hg: how does a brand like honeygrow help further the initiatives of Meatless Monday?
dana: Meatless Monday partners with brands like honeygrow to bring awareness for delicious plant based eating. honeygrow + minigrow offer customers the opportunity to create custom dishes, making meatless work for them. Meatless Monday is all about meeting people where they are, and simply encouraging everyone to go meatless one day a week. Restaurants like yours provide an easy, delicious way for people to do that. editor's note: our Winter seasonal items pictured below (+ above) make going meatless easy!
hg: can you say 'Meatless Monday' in all 20 of the different languages?
dana: I can say 'Lunes sin carne!'

if you are interested in learning more about Meatless Monday visit MeatlessMonday.com or email info@MeatlessMonday.com