Education in Action: Living Classrooms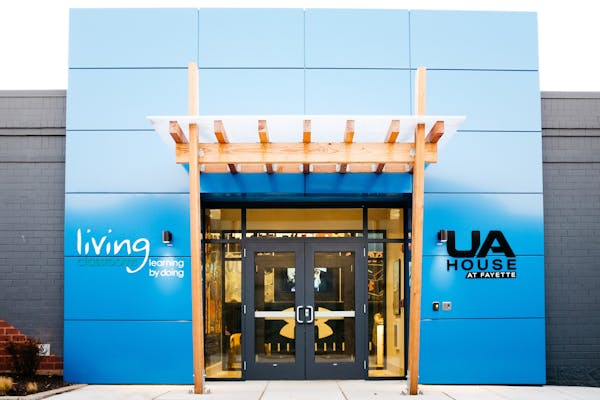 Living Classrooms has been empowering Baltimore communities since the 80's—offering the city's youth (at risk, underprivileged or otherwise) the guidance, education + resources necessary to expand their horizons while furthering their ability to achieve their goals + dreams. Upon setting up shop in Baltimore's new Harbor Point development (located directly behind Living Classrooms' East Harbor Campus), we met with Living Classrooms' Development Officer, Analeigh Smith, to learn more about the organization + the strides they're making in Charm City, DC + beyond. Together, we toured their brand new, state-of-the-art UA House at Fayette, learning the history of Living Classrooms along the way.
hg: what inspired the creation of Living Classrooms first location in Baltimore's Inner Harbor in 1985? How did this vision eventually spread into DC + Virginia?
analeigh: the organization was founded in Baltimore, Maryland in 1985 with a philosophy based on the concept that students—especially those in need of extra guidance—placed in small classes in challenging settings respond to real-world applications of academics and the "work world" far more readily than they do in traditional classrooms. Participation in Living Classrooms' programs has grown from 100 students in a single program in 1985—building the historic schooner Lady Maryland—to now tens of thousands of students a year enrolled in diverse programs that take place on Living Classrooms Foundation campuses in Baltimore + DC, in schools, in community centers, on athletic fields + aboard ships. Living Classrooms provides youth development programming that also links to economic development efforts along Baltimore's waterfront and in many of Baltimore's neighborhoods.
As the foundation grew, we were seeing that a lot of the barriers to success facing Baltimore youth were being mirrored in DC. We also knew that DC had a similar geographic setup to Baltimore in that it was located on the water. Those two synergies ignited the first conversations about bringing shipboard programming to DC, and our programming grew from there.
hg: tell us a bit about the Living Classrooms' mission + the core values that you aim to instill in the city's youth.
analeigh: Living Classrooms Foundation is a nonprofit organization that strengthens communities and inspires young people to achieve their potential through hands-on education + job training, using urban, natural + maritime resources as "living classrooms." All of our programs aim to instill a sense of community stewardship within our participants, while enhancing their academic and/or professional skills + performance.
"Our ultimate goal is to remove barriers to success and help break the cycle of poverty."
hg: what are some of the tools + resources you provide to children who attend Living Classrooms? How are these resources different from those provided in traditional schools?
analeigh: Living Classrooms offers a distinctive competency in experiential learning—literally learning by direct experience, or what the Foundation calls "learning by doing." We have developed effective education, health/wellness and job-training programs + interventions for individuals with diverse backgrounds and academic needs, including juvenile and adult offenders, at-risk youth, unemployed young adults, and students of all ages and capabilities.
hg: how does "learning by doing" serve as a better practice for kids in these communities (as compared to standard educational practices)?
analeigh: each Living Classrooms student is unique, and we offer many different types of programing. That said, many of our students do perform well in traditional classroom settings, and they benefit from a reinforcing of those lessons outside of their traditional classroom setting, such as doing a fun water quality testing experiment on a boat, seeing how that can affect wildlife rather than simply reading about healthy ecosystems in a textbook. Other students, such as those in our Fresh Start program, have not succeeded in a classroom setting, and come to Living Classrooms to get professional skills training while receiving individualized tutoring as they work toward earning their GED. Additionally, our participants benefit from a range of "wrap-around services," meaning those services provided in addition to what is being offered in direct programming. This might mean individualized case management for adults on our workforce development programs, where we not only teach hard professional skills and offer industry recognized trainings and certifications, but where our case managers can help an individual with their specific needs, such as obtaining a driver's license, or help finding housing.
No matter the program, or the age of the student, Living Classrooms aims to provide students with the resources they need to be successful, and we know that can be different for each student.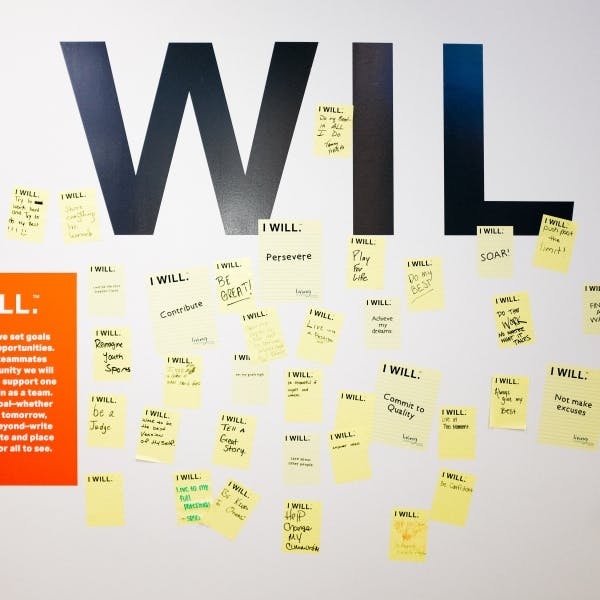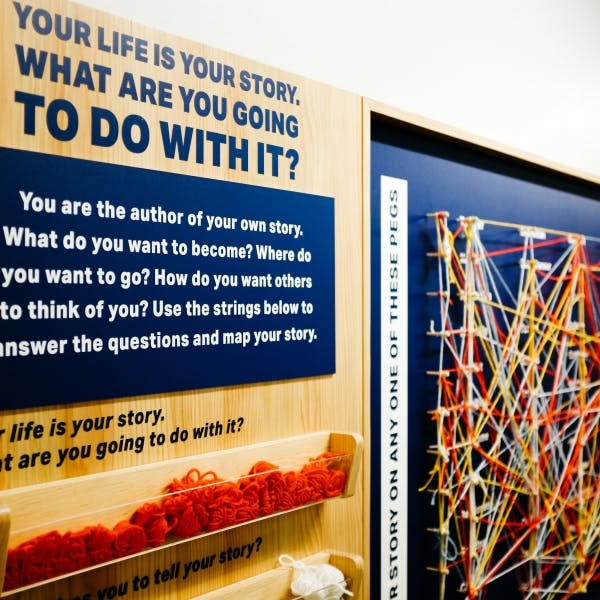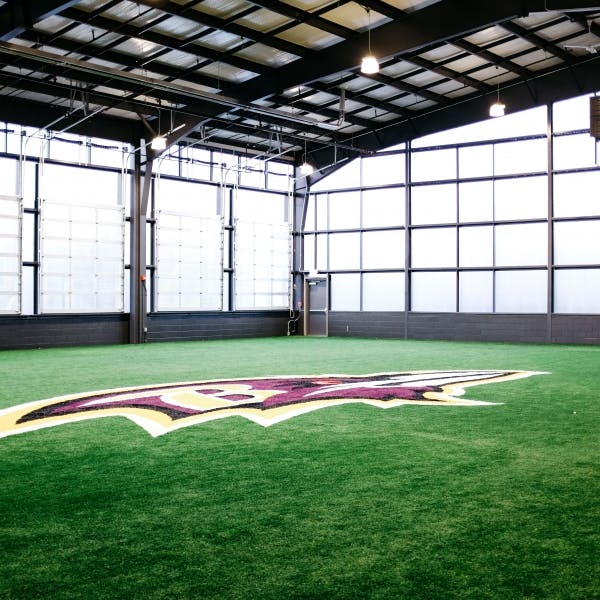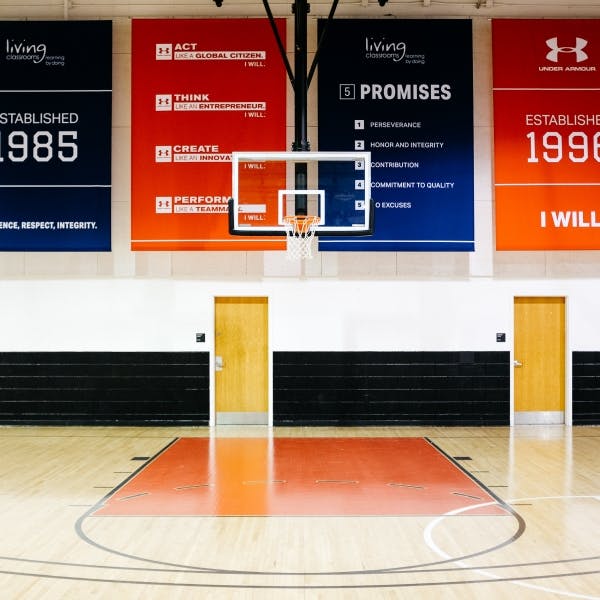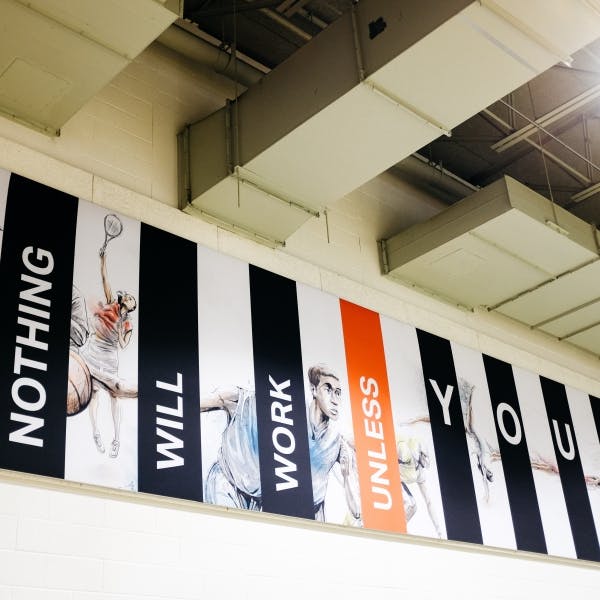 hg: how do you help kids gain a better understanding for sustainable living while in an urban setting?
analeigh: Living Classrooms STEM (Science, Technology, Engineering, and Math) programming utilizes real world examples that are applicable to our students lives. For example, students learn about how pollution in their neighborhoods can affect the health of the Harbor. All of our programs put an emphasis on students being stewards for their communities, highlighting how their actions can impact the broader community, for better or for worse. So, a seemingly small action, such as throwing a plastic bottle on the ground, can have dire consequences for a turtle in the Harbor. One program in particular, our Baltimore Urban Gardening with Students (BUGS) program, engages students in building a working garden on our campus. Students learn about the importance of eating healthy, local food not only through building, maintaining + eating from their own garden, but also by visiting local farms.
hg: as the kids work their way through your programs, they are eventually met with job training opportunities. What lessons are taught + how are your students better prepared to enter the competitive job market?
analeigh: students in our job-training programs receive not only "hard skills" training in specific fields such as hospitality or construction, but also professional "soft skills" such as professional dressing + communication, punctuality, etc.
hg: you recently opened a state-of-the-art UA House at Fayette, with help from Under Armor + the Baltimore Ravens. What does this new facility provide the community in this section of the city? Are there plans to open additional UA House facilities throughout Baltimore, DC + Virginia?
analeigh: the UA House at Fayette operated by Living Classrooms is the heartbeat of the Living Classrooms Target Investment Zone and serves over one hundred students daily with academic enrichment, health, sports and physical fitness education and career development. It also serves adults with workforce development, career services, entrepreneurial development + GED and ESL support. Services have been developed as a response to the community's assessed need for intervention that supports the academic and social development of disadvantaged youth by providing year-round out-of-school-time programming for elementary, middle and high school students, as well as adults living in East Baltimore. The youth and adults served at this center reside primarily in the Pleasant View Gardens community and other nearby public housing and low-income neighborhoods whose communities lack many of the services found in more affluent areas.
The revamped UA House at Fayette features 30,000 square feet of space that now includes the addition of a covered turf field, sponsored by the Baltimore Ravens, a revitalized tutoring center, workforce development and entrepreneurship lab, a dance and yoga studio, a music education and recording studio + a neighborhood kitchen.
Services at the center are focused in five cornerstone areas: Education; Character + Leadership; Health, Wellness & Fitness; Community Engagement & Service; and Entrepreneurship & Workforce Development. In addition, the Center hosts a number of community events such as youth workshops and conferences, health and wellness and job fairs, financial literacy workshops, family engagement activities + basketball tournaments.
We currently do not have specific plans to open another location, though it is certainly a possibility!
hg: Living Classrooms has their very own drone photography team made up of students. What are some other interesting or cool clubs/teams/groups the students have formed or been a part of?
analeigh: Girls on the Run of the Greater Chesapeake—our Patterson Park Youth Sports + Education Center enters a team of their middle school girls from our after-school program into this annual event. The goal of the program is to inspire girls to be joyful, healthy and confident using a fun, experience-based curriculum which creatively integrates running. The girls coordinate practice runs and training exercises all year long to prepare for the fall event each year, where girls from around the region participate in a 5K run. They run alongside positive role models, who help to encourage them in their running and serve as mentors throughout the year.
POWER House Run Club—similar to the Girls on the Run club, but inclusive of both male + female students, interested elementary + middle school students at our POWER House community center have formed a club that works regular run/walk exercise into the after-school programming. Members of the club participate in various fun runs + competitions around Baltimore. This year, a brother/sister, Braziah + Camar, ran in the Color Run and Braziah (4th grade) placed first in the Under 15 category at the 6 Dot Dash benefit 5K. The club focuses on teaching healthy lifestyles, both physically + mentally, as well as confidence, empowerment and goal-setting.
Soccer Without Borders—our Patterson Park Youth Sports + Education Center also partnered with the local chapter of this program. They have several middle-school students who participate in this international soccer mission that uses the sport as a vehicle for positive change, providing under-served youth with a toolkit to overcome obstacles to growth, inclusion and personal success.
First Monday Empowerment Group—A support group for adults, and their families, who are returning to the community from incarceration. The group meets on the first Monday of each month and offers a time for people to come together to reflect on the challenges they are facing and to celebrate their triumphs.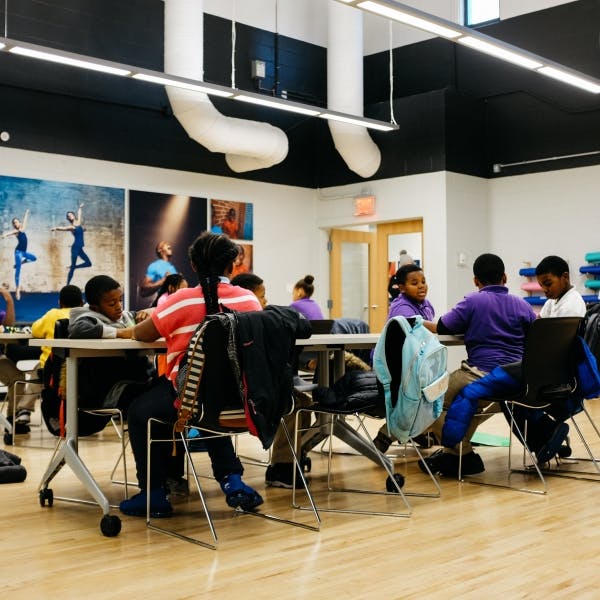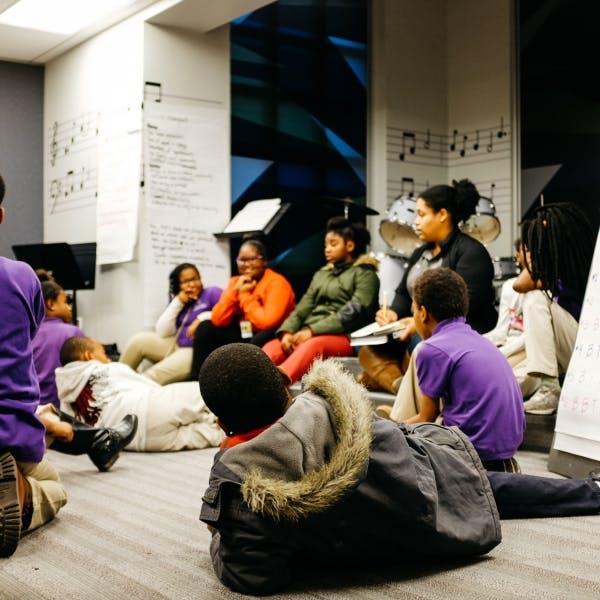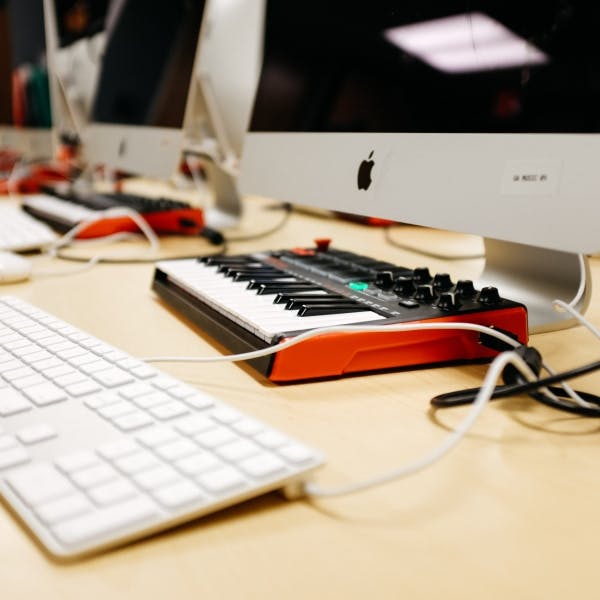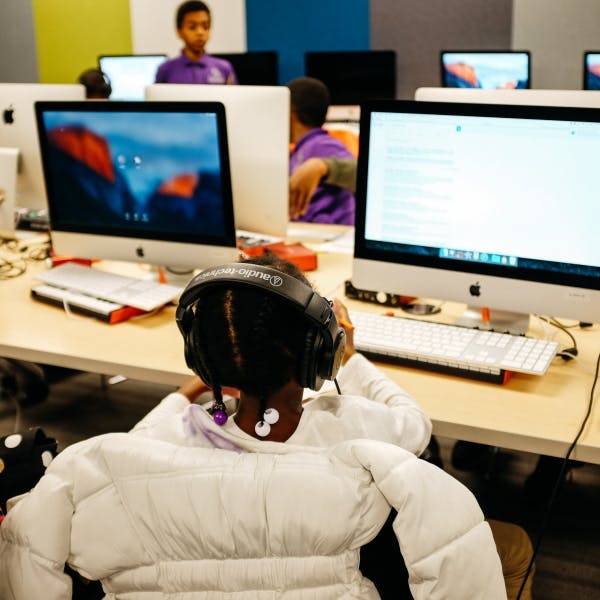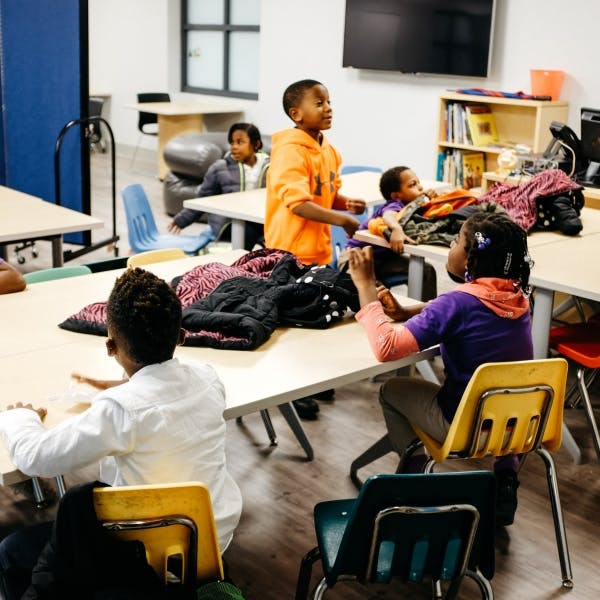 hg: you're helping shape the Baltimore/DC area for the better, specifically in less-than-fortunate communities. Besides the education + community services that Living Classrooms provides, in what other ways can these areas improve to provide a better quality of life to more folks?
analeigh: "Community engagement is essential to improving quality of life for everyone."
We have found that listening and being responsive to community needs is the best way to inform what will serve each area + family best. When we opened each of our community centers, most recently the UA House at Fayette serving the Pleasant View Gardens neighborhood, we spoke with the residents, reached out to the school administrators, community groups + leaders, listened to their goals, their struggles, and we designed our programming to meet them where they were. Everyone is looking for an opportunity, a place to turn to get the resources they need, to make their family stronger. Whether it's a child who wants to join a sports team when their school has none to offer, an immigrant parent looking for ESL education to support their family, a young adult who wants to earn their GED, an adult recently returning home after incarceration who's looking for gainful employment; everyone has a different story and the best way for us to help Baltimore + DC families is to listen to the needs of the community, leveraging private + public support to make it possible.
hg: how can we learn more about Living Classrooms + follow along on your journey? How can folks help with your mission?
· Visit our website: www.livingclassrooms.org
· Follow us on social media: @livingclassroom on Twitter + Instagram and Living Classrooms Foundation on Facebook
· Nominate yourself or someone else to be a Living Classrooms Rising Star
· Volunteer (more information on our website)
· Subscribe to our monthly newsletter
· Attend our Events
get involved! Utilize any of the resources listed above to stay updated on Living Classrooms' news or events + visit their website to volunteer or donate!