Creative Ways to Get Moving in + Around Philly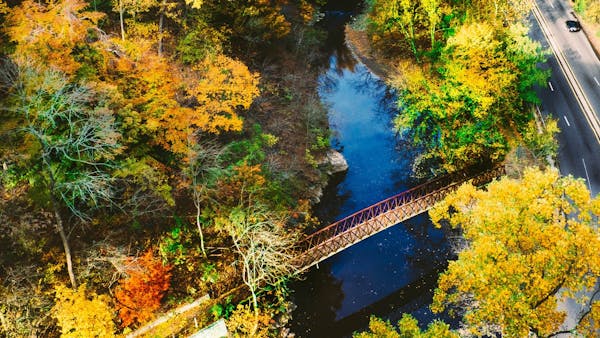 Winter can make or break a fitness commitment. As the resolutions pile up in January, the popularity of traditional gym memberships rises. By February, those resolutions are all but forgotten. Our solution? Creative workouts. Instead of hitting the same boring elliptical machine at the gym, keep your resolution going with more interesting ways to work up a sweat in Philadelphia.
Hiking in Wissahickon Valley (pictured)
If four walls + dumbbells just don't do it for you, think outside of that drywall box. Wissahickon Valley Park takes outdoor enthusiasts miles away into the wilderness without technically leaving Philly's city limits. With over 50 miles of well-maintained trails, you'll never need to hike the same spot twice. Wissahickon Valley Park is open all year round from dawn to dusk.
Learn more
Cat Yoga
Namaste a different way—with a few adoptable feline classmates. The appropriately-named Kat Livingston leads Cats and Mats Yoga every Monday night from 7-8PM at Le Cat Cafe in Brewerytown. Bring another level of focus to your practice as you bend + breathe around Le Cat Cafe's residents—who may want to join in your savasana.
Learn more
Pole Fitness
Warning: pole fitness is way more challenging than it looks. A combination of core strength, grace and tough skin (literally) come together for a fun + adventurous way to work up a sweat, and not just for a bachelorette party. Classes at Pole Haus in Center City range from beginner to advanced with the option for private lessons if you're feeling shy.
Learn more
Rock Climbing
As rock climbing soars in popularity, it's hard to say whether or not this full-body workout is still considered non-traditional. Skills in balance, strength + flexibility are tested as you make your way up the wall via small, large + damn-near-impossible-to-grip holds on paths recommended by the staff.
Learn more
Jiu-Jitsu
Grappling-based martial arts such as jiu-jitsu challenge not only your strength and flexibility, but also challenge you to think about your opponent's next move. "Prior to starting jiu-jitsu, I practiced martial arts for 10 years but had zero ground game; if I was matched against a wrestler, it was an automatic loss for me," says Justin Rosenburg, honeygrow CEO + founder. "I signed up at Balance Studios for the long-term journey of learning jiu-jitsu. It can be painful, but it's a really fun and rewarding process that you need to commit to. There's nothing like getting your rolls in to start the day."
Learn more
More Ways to Keep Your Heart Rate Up
If you love the reliability of a gym-based setting, there are still a few gyms in Philadelphia that keep it interesting with non-traditional workouts, locations, and/or equipment. Below are a few Philadelphia gyms and workouts that do things a bit differently.
F45 Northern Liberties
The new F45 gym in Northern Liberties promises a new workout every day with revolutionary technology and industry-leading staff to help you reach your fitness goals. The staff's favorite non-traditional workout is anything involving the weight sled. Whether pushing or pulling, the versatile, low impact weight sled demands a total body commitment. Twenty minutes with the sled is all anyone needs. It will test your strength, cardio and will! Learn more.
KTL
KTL is a kettlebell-based fitness studio based in the Spring Garden area of Philadelphia. Best for those who want to maximize their time at the gym, KTL claims that their workouts burn the most calories in the shortest amount of time by combining strength training and cardio. Learn more.
November Project
Although not technically a gym, November Project is a group-based workout that costs exactly $0 to join. Founded in Boston under the simple premise of accountability through community, the Philadelphia November project meets every Wednesday on the Art Museum steps and every Friday at a TBD location at 6:45AM. Learn more.