Community First: Brewed Awakenings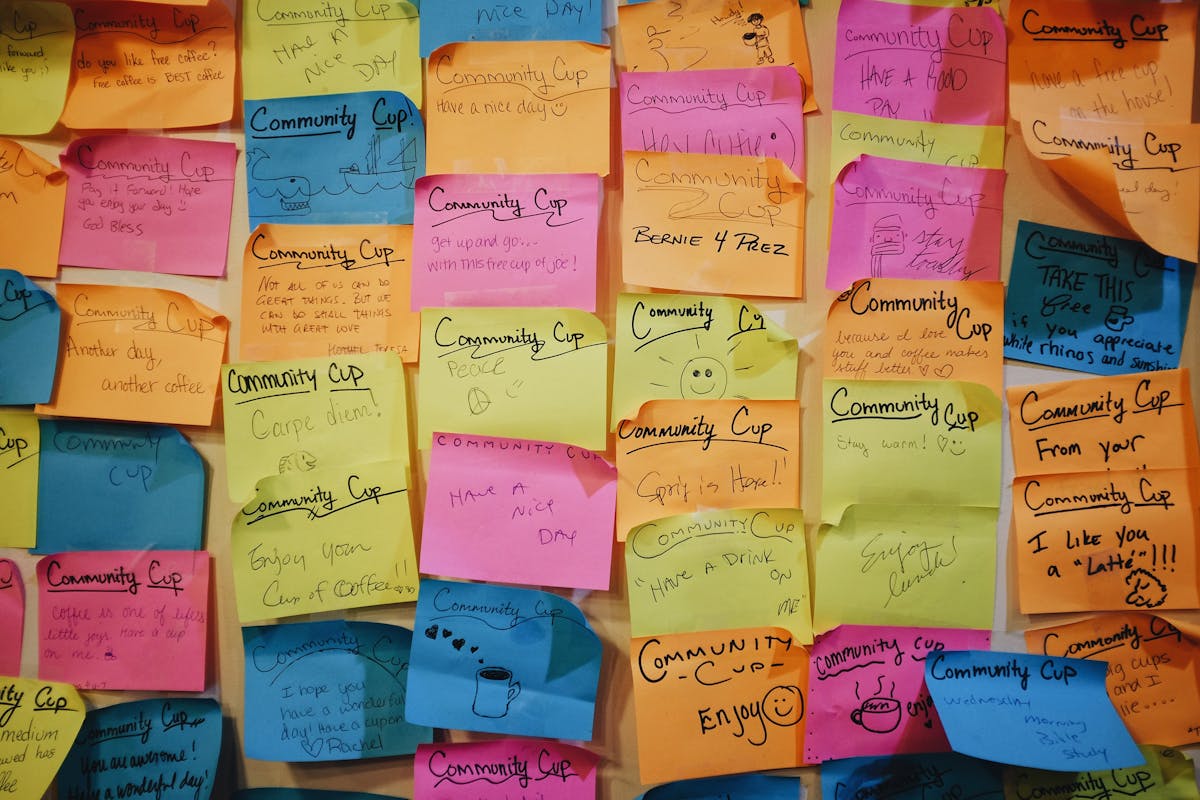 community + togetherness, with a side of some really, really good cold brew. That is the focus of Newark's small town coffee shop, Brewed Awakenings, and its owner, J.D. Willetts. Since purchasing the café in 2015, J.D.'s goal has been to create, maintain + expand a space where residents and students alike can gather, hang, talk things through and most of all — enjoy a cup of coffee, all without taking a cent for himself. Read on below to discover how this vision came to be, and what inspired J.D. to turn Brewed Awakenings into something more than just a coffee shop.
hg: what inspired you to purchase Brewed Awakenings?
jd: I've been a psychologist for, well, I'm not sure how many years at this point, and I'm also a pastor of a church. It was during this process when I got the idea of why I wanted to do the coffee shop. I was looking at the whole aspect of church and the idea of people being in these buildings all dressed up and thought, "This isn't what church is supposed to be." I don't think that it's supposed to be, "come on in + if you're acceptable then it's okay." I think the idea is that the church is supposed to be the people, with the intent that if you put the love out there that I don't want to proselytize, I don't want to judge and tell people what they're doing is right or wrong. I don't want to be an arbitrator of that. I want to be for people; I want to build community;I want to spread the love. I want this to be a place where people are physically, emotionally, spiritually safe. They can talk about whatever they want to. I love when we have communication as a group. I expect that people will come in and disagree with my values, and that's okay. I'm not here to put my values on people; I'm here to make it a safe environment and build a strong community. That's what inspired me to purchase Brewed Awakenings. I wasn't even a coffee drinker when I decided to buy the space. I don't drink coffee or hang out at coffee shops, but I thought, "Where do people naturally congregate?" I wanted to find out where people are, go there, be loving + helping—to add a sense of community to wherever I am, and a coffee shop is a place where people are already congregating.
"This is my church."
My overall philosophy, in my psychology practice + at Brewed Awakenings, is that I don't have a goal to make money—I have a goal to serve people. If I serve people, the money will take care of itself. If I just try to make money, the service is probably going to really suffer. That's why we do a lot of things we do. We don't make much money here because what we make I try to pour back into employees' salaries + the community in whatever way we can. A lot of people have figured out that if they come in looking for someone to sponsor them, 90% of the time we'll say yes. If we can scrape together enough money to sponsor someone, we will.
hg: how did you come upon purchasing the space?
jd: I had been looking for about a year and a half + during that time I was training myself to try + drink coffee. I'm still only at the latte phase—the idea of a black coffee… (laughs).
Part of why I did this is, as a psychologist I would have people come visit and ask if I had time to sit and talk with them. So instead of setting up appointments with people + charging them $150 for 45 minutes of my time, I started going to coffee shops. I would send out a text blast saying "Today I'm at BrewHaHa, if you want to come and talk." No appointments—sometimes a few people would come at the same time. By and large I would sit there and work on some writing and people would show up so I would put away my writing and talk.
My idea was, for when I get a shop, to have my manager Chris, schedule me as little as possible, so I'm not working the counter. I'll help behind the counter, but I want to be free whenever I need to be in order to sit down and talk with people. Since I own a practice with about 17 therapists, if they want to give back to the community just come to the coffee shop + meet with the people. Kids at the university are going through some tough times, sometimes they just need someone to talk to.
I found out about the space because all my friends knew about it. I was at a graduation party and the mom said, "Weren't you looking for place?" She had heard from a friend that someone had a coffee shop they were looking to get rid of. So I called the next day + I found out I got the poor girl in trouble because they weren't really looking to sell yet, they were just talking at home about maybe retiring in 3 years.
So we ended up buying the space + started in June of 2015 as the owners. When I first got here I had to repair a number of different things. The ice machine broke within the first week, the espresso machine started acting up, the grinder stopped. Those things happen—the stuff has been around for a while so it's gonna happen. I'm fairly handy, so far I've been able to fix everything (besides the espresso machine). I'm always in the process of making improvements where I can.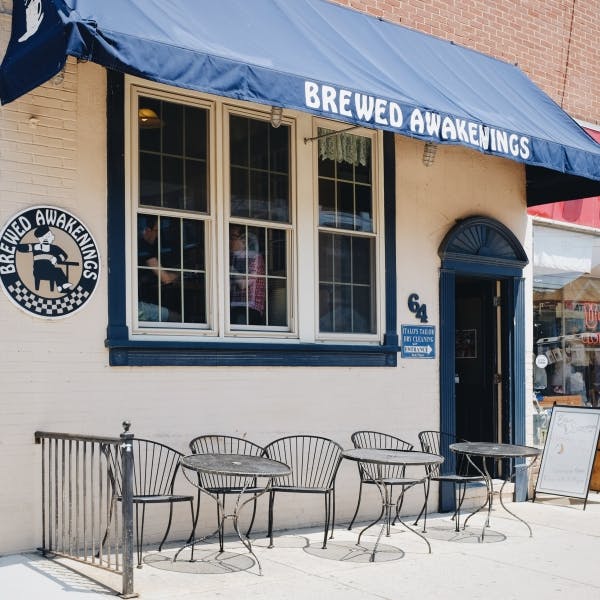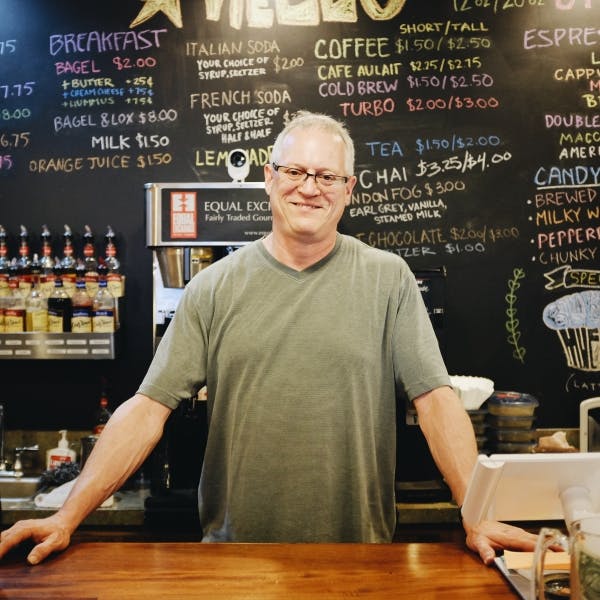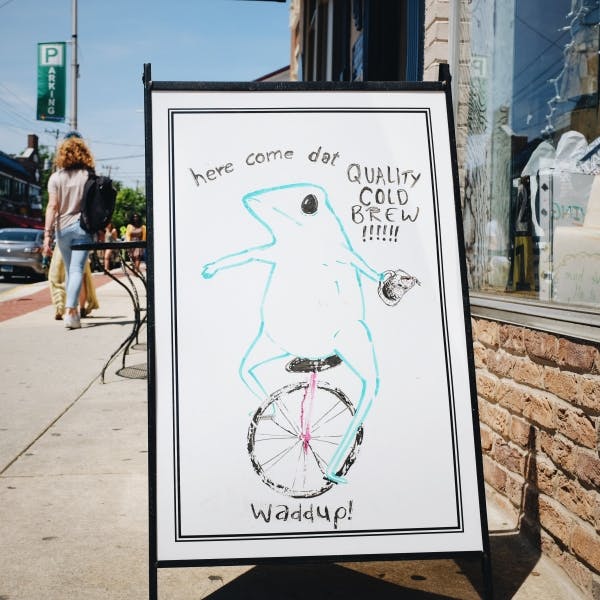 hg: Brewed Awakenings was one of the first coffee shops of its kind to open on Main Street (or in Newark in general)—is there any of that legacy carried over into the new version of the space? Did you find yourself having to improve upon certain aspects of the shop to "keep up" with larger chains such as Starbucks?
jd: when we came in it had been the same paint for 21 years so I said, "We need to clean + freshen it up." We needed a cleaner style, but I was very intentional about keeping that "homey" feel. The bookshelves, the colors that we choose, the games on the shelves for people to play. We want to invite people in to feel comfortable + stick around.
I don't even think about Starbucks—they're not even competition for us as far as I'm concerned. Starbucks is about selling coffee. We're about experiencing a cup of coffee together. It's a very different thing. If you want a quick cup of coffee that you pay too much for, go to Starbucks. If you want to sit down with a friend, spend some time together + have a relationship over a cup of coffee, then this is the place to be. Or if you're a guy like me who doesn't drink coffee, we still have plenty of things for you to enjoy.
"Coffee is not our identity; community is our identity."
We're not in this to make a lot of money. If someone came to me and said "I want to do this. I want to be rich," I would say, "don't do this." This is not a way to make a lot of money. Selling a lot of caffeine is not a life goal for me. Building relationships, getting to know my customers is something even more rewarding.
hg: what is your mission with the café space? How do you intend to "give back" to the community with this space?
jd: I want to improve the community in our own way. The partnerships for downtown are nice. It's a nice community-oriented group of businesses. Mike from Delaware Growler a couple doors down has 49 beers + 1 coffee (our cold brew) on tap.
My overall mission is life transformation. I want to see lives changed for the better. I believe that transformation happens best in community. I see that here daily. I see it in Africa—I see it everywhere I go. Transformation happens best in community. In September, I'm supposed to give a TED talk about it.
hg: how has the community, particularly the UD college crowd, taken to the "new" goal of the space?
jd: like a duck to water—they love it. You see the wall over there with all those stickers [points to wall behind counter, lined with colorful post-it notes each with their own unique signature]? Those are Community Cups. You can walk in, buy a cup of coffee for someone else; you just don't know who you're buying it for. You write a note on it, stick it on the coffee machine, and when people redeem them we will stick them to the wall. A cup of coffee—the Community Cup is worth $1.50. Sometimes we will have people walk in + ask, "Can I get a sandwich with this?" Even though the sandwich might be $7.50, we still say yes + let them redeem it. We also always make sure we never really run out. If we run out, we just write some up ourselves for customers to redeem.
"I've been blessed, I can work here for free. I've done well enough that I can give back." Just because I've done well doesn't mean I need to spend all that on myself, I believe I've been blessed so that I can bless others.
hg: do you host any events at Brewed Awakenings (such as jam sessions, poetry slams, etc.)?
jd: we have done a music night, book signings. We're trying to ratchet that up. Part of it is me getting as many customers as possible take part in that so that they can take charge of those things. For example, we have a gentleman that handles the art for us, he coordinates all the people, gets everything lined up + tells them what to do. I like the customers to feel that they have ownership of this space. This is our place, not my place. The community hikes, even our internet presence, is all handled by customers.
hg: do you partner with any neighboring businesses on projects or promotions?
jd: when there's things going on I always let them know I'll market what I can. I'm always looking for what I can do partnership-wise—but that's one of the areas which hasn't quite taken off yet. It has only been a year doing this so I keep telling myself to not be too impatient.
hg: you are also a part of The Abide Foundation. Could you tell us a bit about the foundation's mission + goals?
jd: The Abide Foundation, I guess is what you would call the church that supports this. I'm the President of the Abide Foundation + these are the people that help pay the bills if I get too carried away with giving stuff away. These are the people that bail me out + say, "It's okay, we're still going to make it." They are the financial and philosophical support. They're mostly an older crowd (in their 40s + 50s) and we're like "What're we doing with college kids? What do we know?" What we started to recognize is that college kids need parent-type levels of influence as well. At first I was like "I can't do this, I'm too old. No one wants to come talk to a guy in his 50s." But I realized that I'm only too old if I decide I'm too old because the kids have really accepted me. They'll come in and tell me I'm part of their "squad," which I had to go home and find out what that meant. I've helped people that worked for me get other jobs at other places. Nobody comes to school thinking "I'm going to be a barista for the rest of my life." I realize this is a stop-gap for them + I would love for them to be successful in whatever they're choosing to do.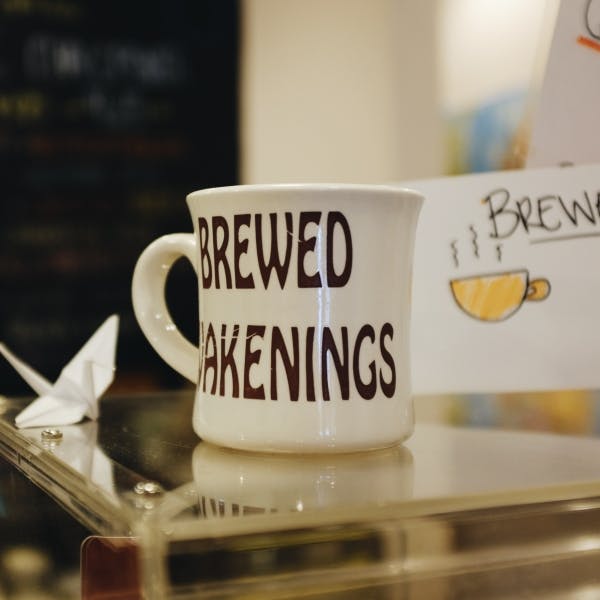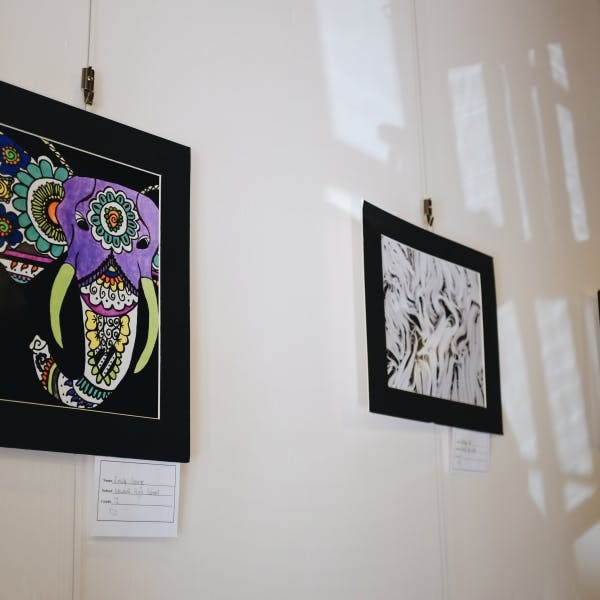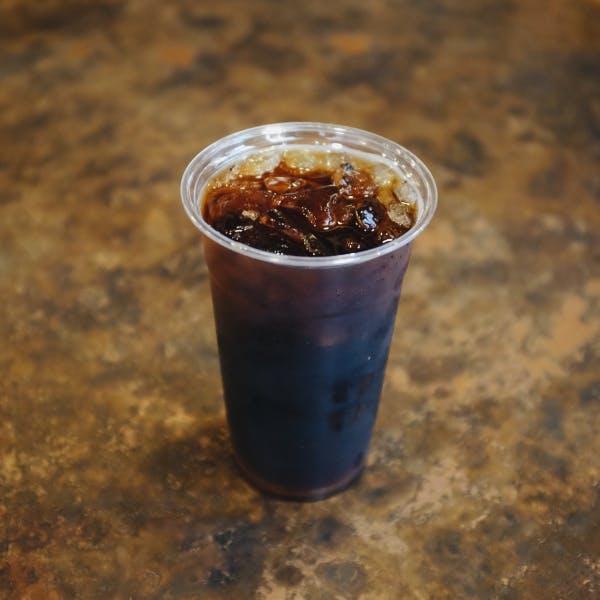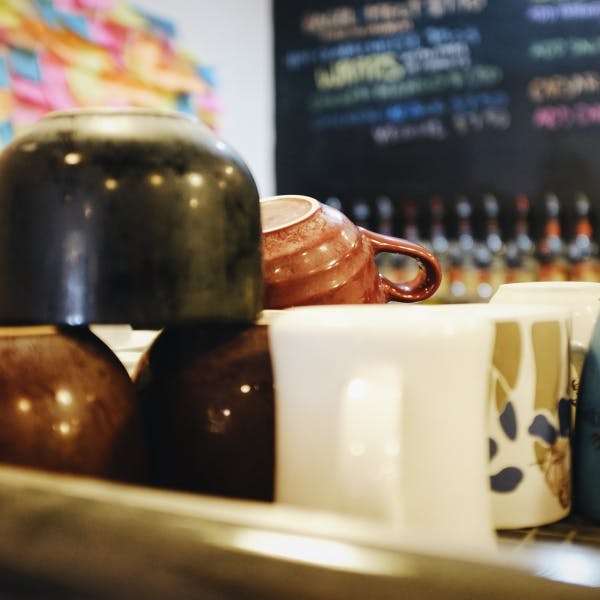 hg: Community Cup, LLC was formed when purchasing Brewed Awakenings. Do you have plans for Community Cup to occupy other cafés in the area?
jd: I formed the Community Cup, LLC to give an arms-length distance for both sides. I didn't want people to say "Oh, that's that church coffee shop." The word "church" has all the wrong connotations—people think we're going to judge them or it's a religious place. The way I look at it is there are two kinds of churches—the traditional sense where everything is put together, or the ones where in order to be a part of it you have to be sort of a mess. That's more my style. When people ask where my church is—this is it, here. Thanks for coming to "church."
One of the things I would like to do besides build community is revolutionize the way people think about church. I hope people start to think of it as a positive influence in community that contributes + generous, loving + serving in nature and people can go "I don't believe what they believe, but I sure do like being around those people."
"People don't have to agree with my beliefs or think what I think, but if they are blessed by my presence then I'm doing my job."
As far as other cafes, my wife says "Don't you dare go there." I have a psychology practice with two locations (Pike Creek Psychological Center) + I am still involved in the running of the practice; my wife handles the day to day operations. I have 17 therapists right now, 25 employees total. That's what allows me to do this without getting a check. I would love to take over another space, not move on from here, but in addition to. My board, rightfully, says let's get this one paid off before you do anything else. The biggest problem is not enough space. Throughout the day the place will be filled up, people will stick their head in + see it's full, then walk out because there's no place to sit down. I would love to have a bigger space. I'd love to have every coffee shop in Newark so when people think of the town they think, "That's the friendliest place in the world to get coffee." If we provide excellent customer service, put the customer first, I think people will come. Having excellent coffee doesn't hurt either.
hg: Main Street has seen an influx of national chains lately; to what do you attribute this? Is there still room on Main St. for the independent one-off shops that originally populated it?
jd: absolutely. In fact, I think it's the little independent shops that give Newark that "hometown" feel on Main Street. Newark is fairly proud of Main Street, not because we have Starbucks, but we have the little shops, the private owners, the people that know their customers + take pride in their place. It's that stuff that makes the Main Street great.
I don't think of Starbucks or BrewHaHa as competition, there is more than enough business to go around for all of us. I hope they do well. If someone comes in asking if we have frozen drinks I'll let them know we don't + send them a few doors down to Central Perk because they do.
follow Brewed Awakenings on Facebook, Twitter + Instagram to stay updated on community events! Visit them in Newark, DE for a cup of cold brew + give back by buying a Community Cup while you're there!