Behind the Open Source for Mural Arts Project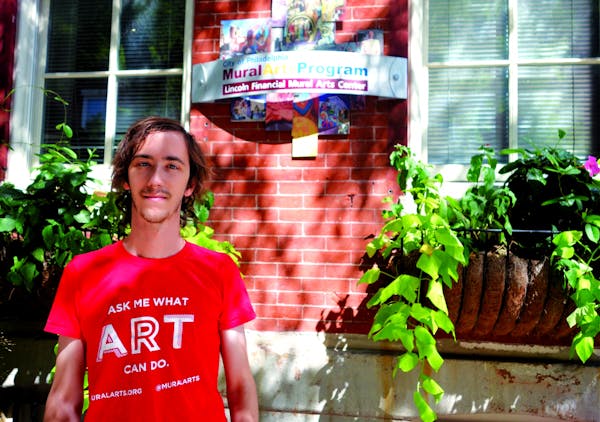 If you've been catching up with your street art you've probably come across RJ Rushmore's blog Vandalog. He sat down with us to give us an inside look at his day job at the City of Philadelphia Mural Arts Program as the social media / marketing manager, where lately he's been working on their upcoming public art exhibition Open Source.
hg: is your hometown Chicago where you and your father started seeking out street art?
rj: we actually sort of fell into looking for street art in London. I was living in London with my family and every weekend my father and I would travel to East London to see what was new on the walls or head down a different alley to find something else. That exploration aspect was really exciting.
hg: do you have a favorite medium in murals or street art?
rj: I don't have a huge preference of medium. To me, what's really interesting is when an artist uses a space really well. There was a piece by Ben Eine—it was a mural in London that says "scary." It's this bold lettering that's beneath an underpass and right across the street from a club…
"…so, when you're walking out of the club at night the first thing you see is this "SCARY"! (laughs) Seeing that there actually made me feel better."
hg: that sounds really cool! So, as the Social Media and Marketing Manager what does your job entail?
rj: a lot of tweeting (laughs). I think I really lucked into something. I also get to manage some mural projects—for me, that's what I really love.
hg: what was the driving force behind creating this public art exhibition, Open Source?
rj: Jane Golden, our Executive Director, wanted to do a street art festival, so Pedro Alonzo came to Philly to help develop the project. Jane said "Pedro, we really want to do a street art festival. What do you think?" And he said, "no, you're not thinking big enough." Pedro came up with the concept to bring in several artists with different artistic backgrounds.

hg: did the artists choose the sites for their murals?
rj: it's a collaborative process. Sam Durant already had a couple of ideas. He wanted to be somewhere with a connection to the criminal justice system. Jonathan Monk wanted to do skate-able sculptures, so he just wanted us to find a skate park.
hg: So, the key factors for site selection vary from artist to artist and each artist's needs.
rj: yes. Absolutely. What they need, what we're able to get them, and timing.
hg: what was the developmental process for Open Source on a larger scale?
rj: "this thing is massive."
We hired my friend Monica Campana who ran a street art festival in Atlanta to manage all of these projects. We needed someone with the experience of managing 14—almost simultaneous—projects that are interconnected in someway. And there's been a huge fundraising push—in October, there's going to be about 40 events. So, now we have to plan all of these events. Luckily at Mural Arts we have partnerships—I can't even count—PAFA, the PMA, Institute of Contemporary Arts, The Franklin Institute and so many more.
hg: what are some of the challenges you personally faced?
rj: Jonathan Monk's skate-able sculptures was the project that I managed. Jonathan lives in Europe so I was trying to bring his vision to life by communicating with him over email. We had to find someone who could make a very specific sculpture that was light enough to be transported and moved, wouldn't be destroyed and also looked like concrete. It was just something new and different.

hg: you said you connected to art once you discovered public art. What about public art appeals to you most?
rj: it can be decorative. It can make a neighborhood nicer by bringing people togethe. It can make people angry, happy or sad. And then there's the element of 'surprise.'
hg: your blog, Vandalog, explores different places around the world to find street art. What's your favorite city for public art?
rj: I think I have to say Philadelphia, right?
"I love traveling to other places and exploring, but nobody rivals Philly. Most people have murals in one or two neighborhoods. In Philly it's everywhere."
hg: you talked about the concept of 'Open Source' and where it came from. What does 'Open Source' mean to you?
rj: I think Open Source shows, to me, that we can do projects that get people in the contemporary art world excited, but also do community, public art. I think a lot of people don't think those things can intersect—Open Source has shown that they can.
Open Source will kick off on October 2nd with a launch party, 14 public art exhibits (some are already up), tours, lectures, artist talks and more! Find out more at the official website and catch some of RJ's Mural Arts tweets here : twitter . facebook . instagram