All Hail World Cafe Live at The Queen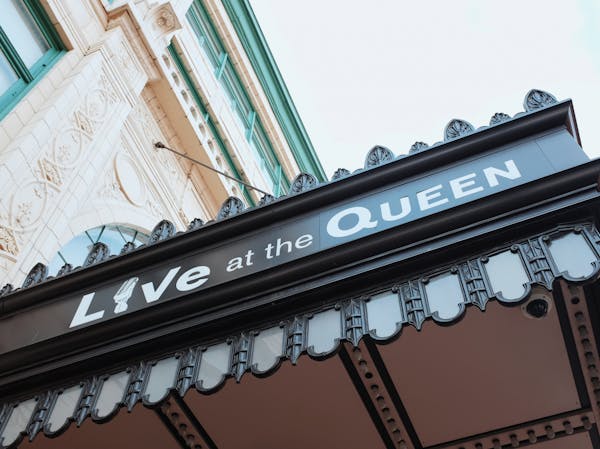 we met with Christianna LaBuz, Director of Programming for World Cafe Live (both in Philadelphia + Wilmington) to learn more about what has made The Queen such a historic + prominent venue in Wilmington, DE for the past five years.
hg: could you share with us a bit of the history of World Cafe Live?
cl: over 10 years ago our Venue Founder + Owner, Hal Real, decided he wanted to create a music venue for grown-ups; a venue with seating options, nice meals, where the shows start on time, your feet don't stick to the floor + most importantly, really great sound. He decided to take matters into his own hands + started talking with the folks at 88.5 WXPN, who produce the World Cafe radio show. He envisioned the venue to be the physical representation of that radio show.
After lots of fundraising, planning + strategizing, our first venue opened in Philadelphia 11½ years ago, sharing a space with 88.5 WXPN. Hal was wooed by the city of Wilmington which is why he wanted to open a second location here. After discussions, more fundraising, and help from the Light Up The Queen foundation + the surrounding community, The World Cafe Live at The Queen space was "lit up" in April of 2011. We are approaching our fifth anniversary on April 1st!
hg: what is The Queen's affiliation/relationship with Philadelphia's 88.5 WXPN?
cl: in a similar way to our Philadelphia venue, we have a great relationship with the station. They can broadcast here in a studio on our balcony level that can be turned on at the flip of a switch. They welcome a lot of our shows here such as Amos Lee + Lake Street Dive coming up in May. We license the name "World Cafe" from their World Cafe Program + they use our spaces to host their events such as Free At Noon at the Philly venue. When they throw parties + events for anniversaries or retirements we're their go-to spot.
hg: what are the aspirations for the music communities in Wilmington + Philadelphia?
cl: our aspirations for the music communities in both cities are pretty similar. We cater not only to national touring acts, but local scenes as well. We are able to do that by having both a larger theater downstairs + a smaller space upstairs both available for those developing + emerging acts.
"We've become a clubhouse of sorts for the local music community in both cities."
hg: could you tell us a little more about the history of The Queen? What was it prior to being a music venue?
cl: it was a lot of things actually. My understanding is that it was first erected as a hotel (one of the nicest on the east coast, hosting Presidents + other high profile socialites). It was also a burlesque theater at one point; our box office was a hat shop; our event space on the fourth floor used to be a gym called the Olympia Gym (now called the Olympia Room). For the longest time, it was a silver screen movie theater until April 19, 1959 when The Queen Theatre shut its doors. It sat vacant for five decades before World Cafe Live + Wilmington came to light it back up. The movie showing that night was Vincent Price's House on Haunted Hill, so each April we screen the classic version of the film to acknowledge + commemorate that history.
In fact, when we came into the space before renovation + demolition, we discovered two of the original theater projectors and one of them still had the House on Haunted Hill reel inside of it. That's how abrupt the closing was—they closed up for the night, locked the doors behind them and never came back in.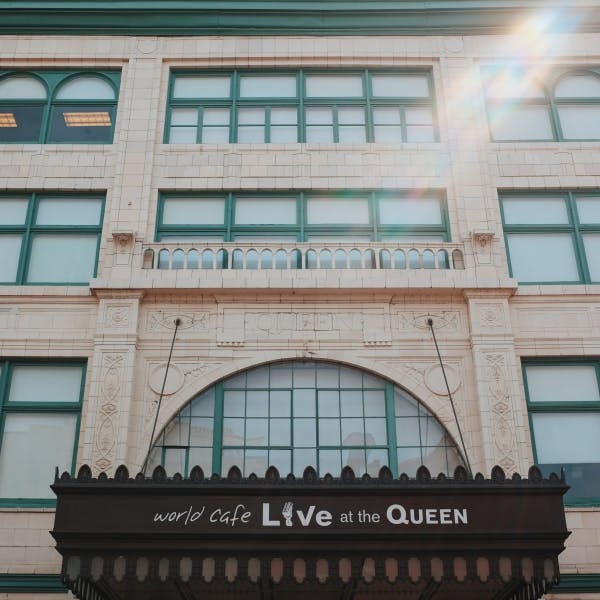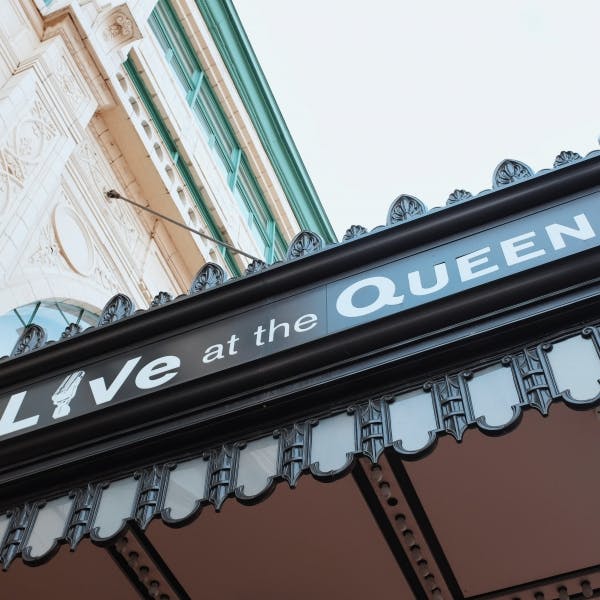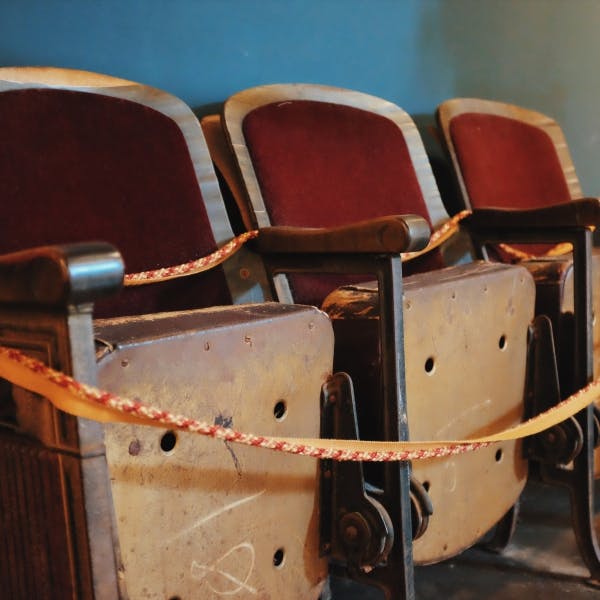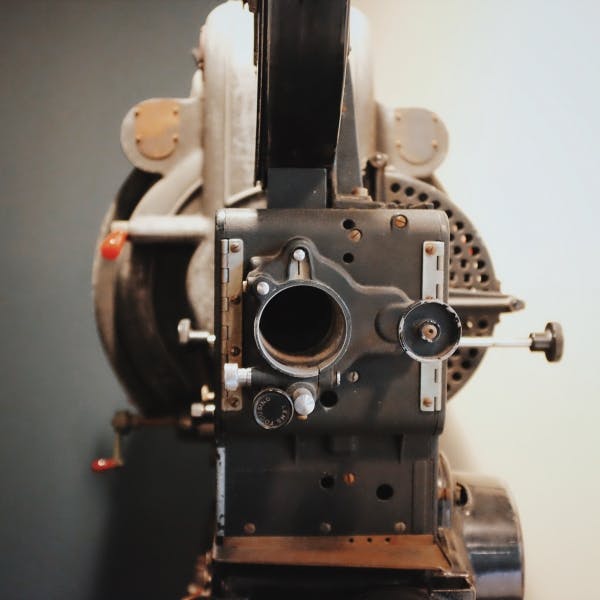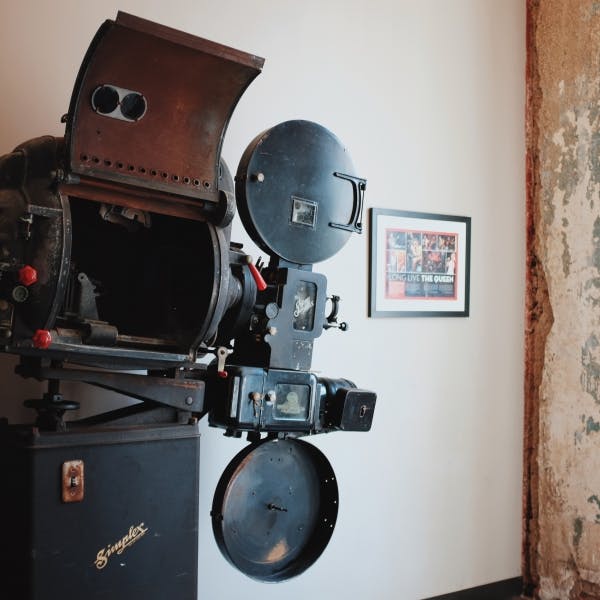 hg: how does The Queen play a significant role in the Wilmington, DE history books (what has its impact been on the area)?
cl: it's prominently located downtown at 5th + Market. It's a beautiful structure and has always been a focal point for people in the area. I would say both us and The Grand Opera House down the street are what a lot of people picture when they think of downtown Wilmington. Our immediate impact was providing jobs, but more importantly providing a viable space for performers and artists to feel at home to be able to do their art.
hg: can you tell us a bit more about the connection between The Queen and World Cafe Live in Philadelphia?
cl: I think the plan was always to have multiple World Cafe Live venues. The Philly venue was doing really well and had grown significantly when the city of Wilmington approached Hal about opening a second space. The market was ripe; it was just the right building, location + partners. We have the same owners, and we share staff. Since we're only about 35 minutes apart, we only have one General Manager, one Assistant General Manager, one Programming Manager (myself) and one Operations + Box Office Manager that look over both spaces. Some of our Techs, Engineers and Bartenders are also able to fill in at each location. It's convenient if we need a specific dish, linens, or a piece of audio gear, we can run them back and forth.
"Having that shared team helps us to ensure we have a cohesive brand + create consistent experiences."
Similarly, people from all over (Philly, Wilmington, West Chester) go to shows at both venues as well. There is a distinct Wilmington crowd + Philly crowd, but for the right show they don't hesitate to drive to a particular venue.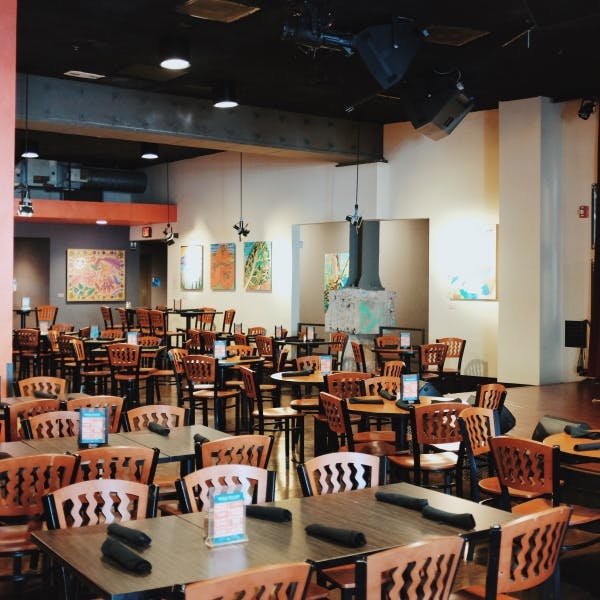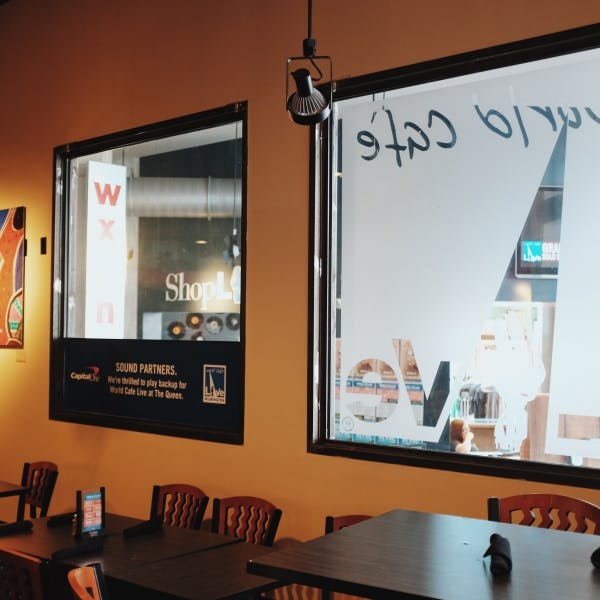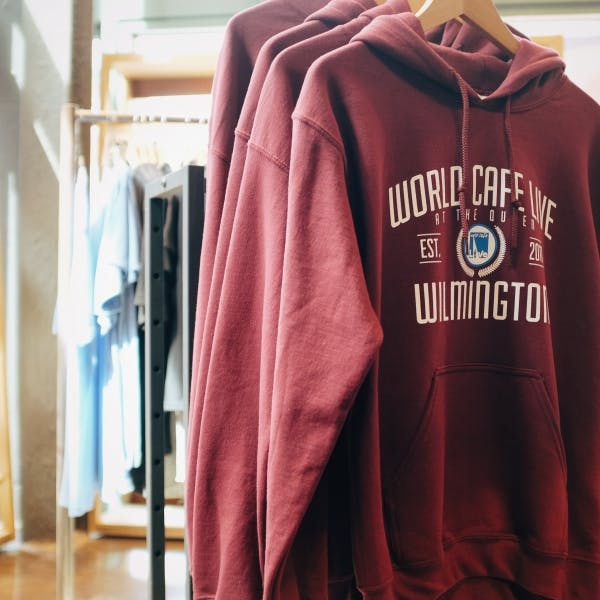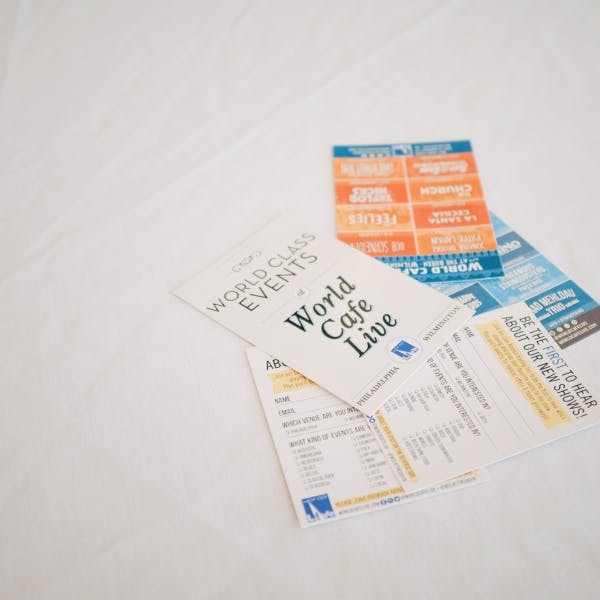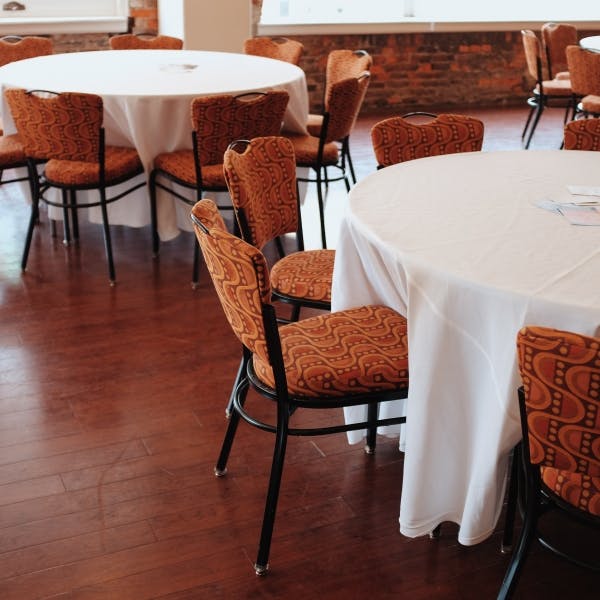 hg: you mentioned earlier that World Cafe Live at The Queen is celebrating its 5-year anniversary on April 1st. Congratulations! What do you attribute to the success of the venue?
cl: thanks! We have a really great team that works really hard + understands the nuances of what we do. There aren't too many music venues that also host weddings, bar/bat mitzvahs + fundraisers regularly (often times on the same night). It's unique, and our staff has this amazing ability to jump from one headspace to another. They work together to create a flawless experience. I also attribute our success to the Wilmington music + arts community as a whole.
hg: what are you doing to celebrate the milestone anniversary?
cl: on April 1st we are having a 'Free At Noon' performance with Ben Harper which will be broadcast live on the air by WXPN. Starting immediately afterwards, David Falcone will perform a 'Free At One' performance in Upstairs Live. Then we will have a free show upstairs with the different bands and side projects of the musicians who are involved in our annual Shine A Light fundraiser.
Five different breweries have made anniversary beers for us; breweries such as Dogfish Head, Third Wave + Yards, among others. Downstairs will also hold a free show with Universal Funk Order, celebrating their album release alongside Spokey Speaky and Atlas Gray.
[Learn more about World Cafe Live at The Queen's weeklong anniversary events, such as grilled cheese tastings, ticket giveaways + other fun activities, by visiting their website!]
hg: what do you hope for WCL + The Queen in another 5, 10, 20 years?
cl: I hope that we continue to get really great shows. We've had a lot of awesome bands that surprised some people—we've hosted Neutral Milk Hotel + Conor Oberst; Animal Collective is coming in May. I want to see more of that and more of the annual shows that everyone looks forward to—Spokey Speaky playing their annual Bob Marley Show, Mad-Sweet Pangs playing Pangsgiving Eve (the night before Thanksgiving). They're a lot of fun and contribute to the community vibe.
I hope people continue to think of us as a fully customizable event space, not just a music venue. We enjoy customizing our food + drink menus to a specific audience. I hope people keep spreading the word, coming to visit us from far and wide + that the city itself continues to expand as more people move here.
"It's an exciting time to be in Wilmington—it's a cool little town and I hope more people continue to realize that."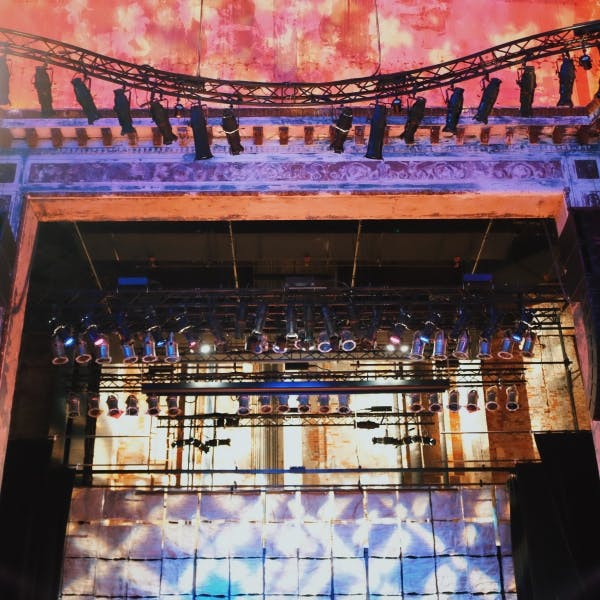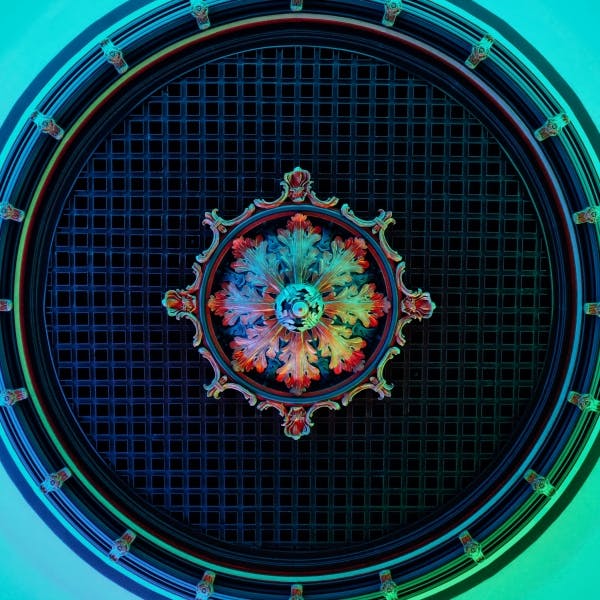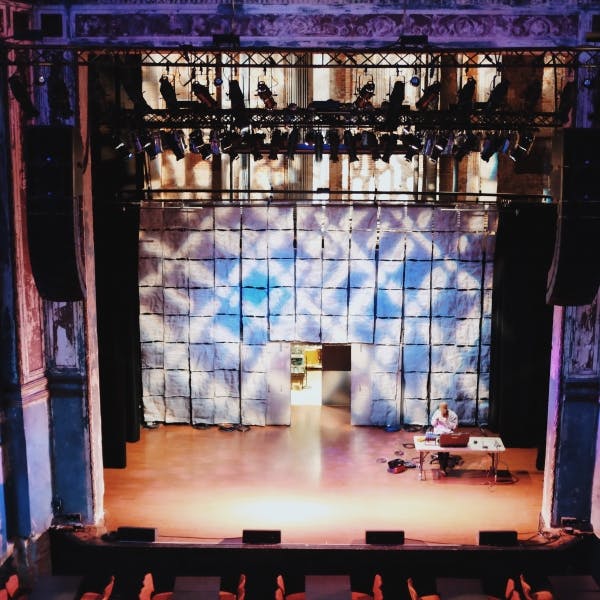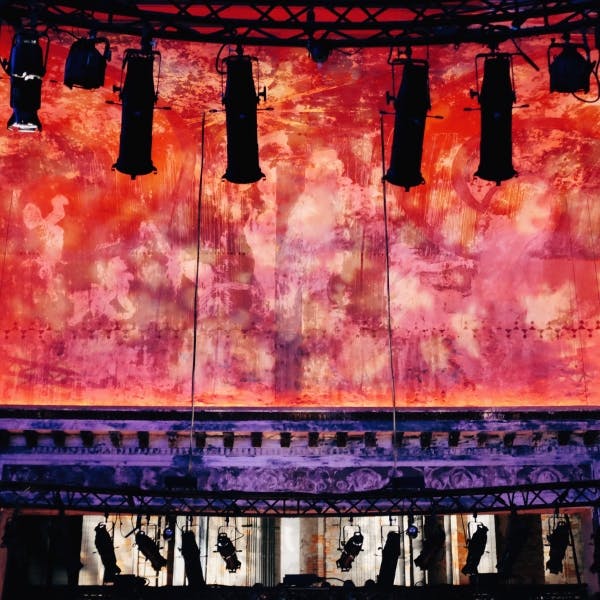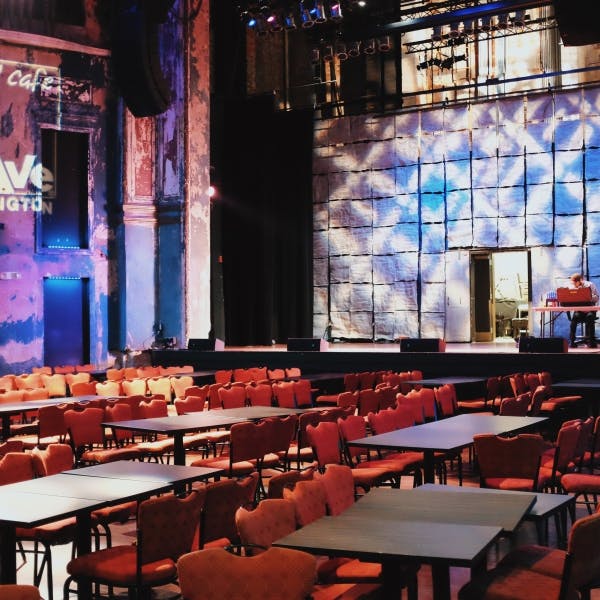 hg: what types of acts tour through The Queen?
cl: all types. We are not genre specific—we don't just do folk; we're not just a jazz club. We do jazz, blues, singer/songwriter, progressive rock—you name it. I like to say that we offer something for everybody, from a younger demographic finding their new favorite bands on YouTube, to fans of Stanley Clarke and Ani DiFranco—legends and professionals who've been doing it for decades.
hg: what are some of your personal favorites you've seen perform at The Queen? Any notable appearances by legendary artists?
cl: oh boy, that's a tough one. If I had to choose, definitely XX (they played our third anniversary show) and Conor Oberst for sure. I get the most enjoyment and personal gratification from seeing folks evolve. Like local Nadjah Nicole, who would came to our Open Mic and would be on showcases, then she gets on The Voice and is now selling out downstairs.
hg: does the venue attract outside audiences to Wilmington, DE? Has it become a "required" stop for those who love live music?
cl: yes! Definitely. We do get a lot of folks who base their trip here around a show. The outside of the building is beautiful, but you can't really picture how dramatic the downstairs space is. I think a lot of people are blown away by that. People come from Philly, West Chester, the 'burbs, and even Baltimore.
hg: are there lesser known facts about the space? Features the general public may not pick up on during their initial visit?
cl: we do so much more besides live music. We do whiskey tastings, grilled cheese + craft beer tastings once a month (they always sell out). In summary, a lesser known fact is that…
"…we take food + beverage as seriously of an art form as we do music."
We have a lot of fun with it for sure!
hg: does WCL offer any free public events at The Queen?
cl: yes! Every Wednesday we have 'Wilmo Wednesday,' which is a showcase of whatever the producers want—sometimes it's music, standup comedy, sometimes it's spoken word. April 1st from noon-midnight is free + on April 12th we have the 4W5 Blues Jam for free as well. We try to do our fair share of free stuff, especially during the summer.
keep up on the latest show announcements + pre-sale opportunities by visiting World Cafe Live's website + signing up for their mailing list. Follow them on Facebook, Instagram + Twitter for more news and concert photos!